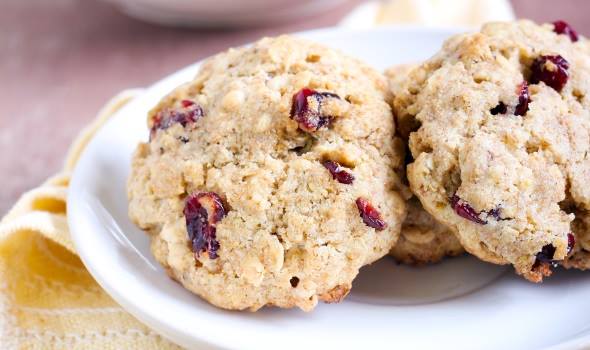 Sugar Free Cranberry Oatmeal Cinnamon Cookie Recipe
Let's Get Ready for Baby!
Sign up for our monthly pregnancy email series, and you'll get regular updates on your baby's development, helpful timelines to get ready for their arrival, must-have baby needs and so much more! PLUS, you'll get instant access to the MomsWhoThink "Ultimate Guide to Baby Naming in 2022."
CLICK HERE
to get started!
As the world becomes more aware of the health problems caused by certain ingredients in food, there has been more of a conscious effort to eliminate sugar in recipes. Diabetics will need to avoid sugar as much as possible.
But even when thinking of those of us who do not have any dietary issues, it has been said that eliminating sugar can make us happier and healthier boosting our immune systems, our attention spans, our energy and improving the look of our skin.
Of course, despite the health risks associated with sugar, many of us choose to keep it in our diets. Why? Because it makes so many of the foods we eat taste so darn good. This is especially true in the case of sweets.
Take cookies for instance. Finding a good sugar free cookie that doesn't taste like sawdust can be difficult. After many disappointing attempts to find a great tasting cookie that even the kids would like, a diabetic family friend passed this one along from her nutritionist.
These cranberry oatmeal cinnamon cookies use Splenda instead of sugar. While Splenda comes with its share of health risks, it is sweeter than sugar so you can use less of it to get the same effects. The vanilla extract, cinnamon and brown sugar also help to up the sweetness factor.
And as a treat, these are relatively healthy. Cranberries are full of vitamins and have been linked to the reduction of cancer and other diseases. Oatmeal is a good source of whole grains and cinnamon has many benefits including its ability to, get this, lower blood sugar levels!
It can be difficult to find recipes for great tasting sweets but I'm so happy that the search finally paid off. These are moist, chewy and full of flavor without the unwanted sugar many of us are trying to avoid.
Sugar Free Cranberry Oatmeal Cinnamon Cookies
Ingredients:
1 cup butter, unsalted
1/2 cup Splenda brown sugar
1/4 cup Splenda for baking
4 large eggs
2 teaspoons pure vanilla extract
3 cups old-fashioned oatmeal (not instant)
1 1/4 cup whole wheat flour
1 1/4 cups all-purpose flour
2 teaspoons baking soda
1 1/4 teaspoon cinnamon
1 teaspoon salt
1 1/2 cups dried cranberries, soaked in warm water for 30 minutes before use
Directions:
1. Preheat oven to 375 °F. Lightly oil 2 cookie sheets.
2. In a medium size mixing bowl, mix the butter, Splenda brown sugar and Splenda for baking together until light and creamy.
3. Add eggs and vanilla extract. Mix until well blended.
4. In a separate large bowl, stir together the two flours, making sure to thoroughly combine them.
5. Gradually add the oatmeal, mixing while adding.
6. Add the baking soda, cinnamon and salt.
7. Add this mixture to the egg mixture. Stir until well blended.
8. Drain the cranberries and pat dry with paper towels. Mix into batter.
9. Drop tablespoon size pieces of dough onto cookie sheets.
10. Bake for 8-10 minutes or until lightly golden brown.
Makes 4 dozen cookies.
Nutrition Information (Serving Size 1 cookie)
Amount Per Serving
Calories 100
Total Fat 4.6g
Saturated Fat 2.6g
Cholesterol 26mg
Sodium 136mg
Total Carbohydrates 11.9g
Dietary Fiber 1g
Sugars 3.2g
Protein 2g