Looking for the best artificial and natural sweeteners has become increasingly popular. This is especially true as people go on health journeys yet still want a sweetener to satisfy their sweet tooth. Every sweetener has its pros and cons. This article will explore the difference between Truvia and Stevia, two of the more popular natural sweeteners.
In a nutshell, there are not many differences between the two, considering they both come from the same Stevia plant. However, a few fundamental differences will play a role in your choice. These differences are found in the two's ingredients and possible health benefits. Let's take a look at the differences below.
Truvia vs. Stevia: Differences & Which is Healthier
One question is prevalent when choosing an artificial or natural sweetener, which one is healthier for me? This question remains the same when choosing between Stevia and Truvia. To figure out which one is, in fact, healthier, it is important to look at the specific health benefits, cons, and ingredients in each one.
Ingredients in Stevia
Stevia is a zero-calorie sugar alternative that comes from the stevia plant. This specific plant's historical roots are in South America. Furthermore, Stevia is labeled as a natural rather than an artificial sweetener. This is because it comes from the stevia plant and undergoes a process that includes extracting the compounds from the leaf. 
This specific natural sweetener has been around for several centuries. When you explore the baking aisle searching for the best natural sweetener, you may see many different brands of stevia sweeteners. Some brands will be stevia-only products, while others will be a mixture. Therefore it is important to research when choosing the best artificial or natural sweetener.
Ingredients in Truvia
Truvia has become increasingly popular and for a good reason. Many people praise this artificial sweetener for the way it tastes. Truvia has more sweetness than sugar, not to mention the fact that it is zero calories! However, what exactly is in Truvia?
The first ingredient that is in Truvia is Stevia. This is the reason they are so similar in taste and health benefits. However, when Truvia is made, erythritol and chicory root are added. Erythritol is a sugar alcohol that helps keep the aftertaste of Stevia at bay, yet it can come with its possible side effects. One other ingredient in Truvia includes natural flavoring. The ingredients are simple enough to keep the label of natural sweetener.
What is Stevia?
Stevia comes from the Stevia, or the Stevia rebaudiana plant, and is a sugar alternative used for hundreds of years.
It is possible to use raw Stevia found on the grocery shelves and a mixture of Stevia with other sugar alternatives or sugar. The taste and texture will be dependent upon the brand that you buy.
Stevia is considered sweeter than typical cane sugar, and one should use less.
After the steviol glycosides are extracted from the Stevia plant, it undergoes a purifying process.
Possible Health Benefits of Stevia
One of Stevia's first and more popular health benefits, and that of any artificial and some natural sweeteners, is the ability to keep the sweet taste many crave while cutting calories. This allows consumers to forgo cane sugars while still enjoying the taste they love.
Also, using less sugar is possible because Truvia and Stevia are sweeter than typical cane sugar. This means using Stevia over sugar may also control dental erosion and issues.
Some studies suggest that Stevia may also help improve blood pressure. However, the studies need to be more in-depth and worth exploring.
Possible Cons of Stevia
Stevia also is more expensive than typical cane sugar. Another con of buying this specific sugar alternative is that some products mix Stevia with other sugar alternatives or sugars. Therefore, it is important to read each label before deciding which Stevia brand to choose.
What is Truvia?
Truvia is a natural sweetener alternative. The ingredients used in Truvia include Stevia, erythritol, and natural flavors.
The Stevia leaf is extracted for its steviol glycosides, and then erythritol is added to balance the sweetness of this plant. It has a very similar taste and flavor to Stevia sweeteners.
The flavor of Truvia is very sweet. Therefore, it is important to use less Truvia than you would sugar. Truvia can also be used in baking and cooking, making it a favored natural sweeter.
Possible Health Benefits of Truvia
Truvia carries the same benefits as Stevia, cutting calories and less dental decay. Another health benefit of Truvia that may be possible is due to erythritol. Erythritol is thought to have anti-diabetic and antihyperglycemic consequences. This means it doesn't affect a person's glucose or insulin levels like sugar. Therefore, if a patient is trying to level off their blood sugar levels, Truvia may be able to help.
Antioxidant properties are also considered a possible health benefit of erythritol itself.
Possible Cons of Truvia
One of Truvia's cons is that it can cause gastrointestinal issues. Erythritol is a polyol, and some studies suggest that polyols can act as a laxative when consumed. Also, another product that Truvia has is chicory root. Chicory root is a fructan and may cause gastrointestinal issues, such as bloating and gas. 
Another con of Truvia is that it is more expensive than typical cane sugar. The price may be enough to drive people towards a cheaper alternative.
Can You Substitute Truvia for Stevia?
In short, you can substitute Truvia for Stevia. Both of these sugar alternatives are excellent for substituting cane sugar as well. Truvia undergoes more processing and includes erythritol. However, when it comes to flavor and health benefits, the two are very similar.
Therefore, it is possible to do this if you want to interchange one for the other. Remember that while Truvia and Stevia are great sugar substitutes in beverages, they are also wonderful sugar substitutes to cook and bake with. They may need some trial and error experimenting before perfecting baked goods.
Truvia vs. Stevia: Nutritional Value
When it comes to Truvia and Stevia, the nutritional value is mostly the same. Erythritol is a sugar alcohol; therefore, it contains carbohydrates, pushing Truvia higher in that regard. However, these artificial sweeteners offer zero calories and can be a great alternative to cane sugar.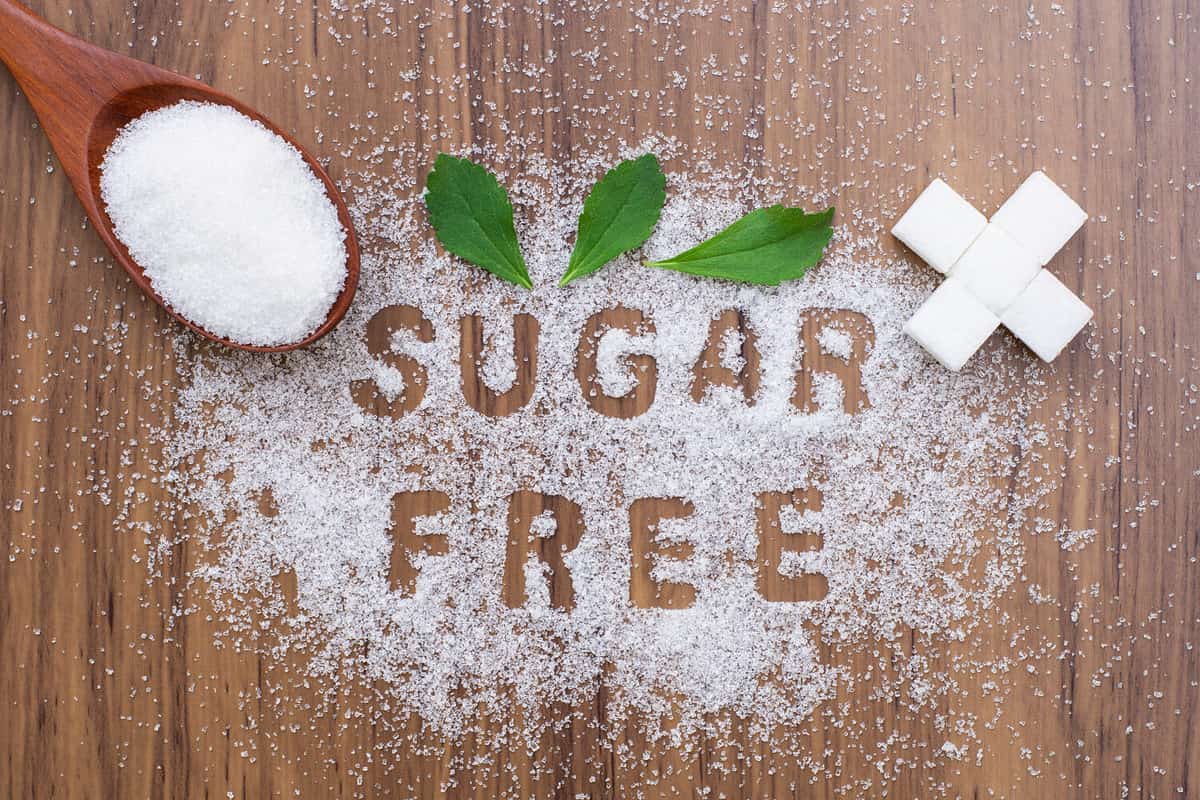 In Conclusion: Which One is Healthier? 
Now that we have discussed the differences between Truvia and Stevia, we return to our original question. Which one is healthier? The truth is, it's pretty hard to say which one is truly healthier for you.
Both Truvia and Stevia are similar in regards to the fact that they contain Stevia and offer a zero-calorie alternative to sugar.
Also, they both have the capabilities to help one lose weight and ward off dental decay.
They may also offer more varying health benefits. Truvia may offer consumers anti-diabetic properties, and Stevia may have the ability to help lower blood pressure. Truvia does come with the possible downside of causing gastrointestinal issues; however, whether or not you choose Truvia over Stevia is truly a personal preference.
While both of these natural sweetener alternatives may be pricier, if you are looking for a way to cut calories and still maintain a level of sweetness that you enjoy, going with either one of these choices can satisfy your sweet tooth and keep you on your health journey. 
Here are some of the differences between Truvia and Stevia:
While Stevia has a bit of an aftertaste because it's all-natural, Truvia is sweeter with help from the added erythritol and chicory root.
Both may have certain health benefits. Truvia may improve blood pressure, while Stevia is said to have anti-diabetic properties.
Truvia has been known to cause gastrointestinal issues, while Stevia is all-natural and has no such claims.
Comparison Posts
The image featured at the top of this post is ©Dionisvera/Shutterstock.com.