Key Points
A high-quality Montessori school in San Diego can be costly. They can cost up to $23,000 annually.
There are a couple of cheaper options for quality Montessori schools in San Diego, but you can still expect to pay several thousand dollars for this type of education.
The Montessori method of education is highly regarded, making it worth the cost for many parents.
When you're looking for the top Montessori schools in San Diego, there are numerous options to choose from. Deciding on the right place for your child depends on a lot of factors including tuition and distance from your home.
San Diego has lots of excellent Montessori schools ranging from preschools to middle schools for grades 6-8. If you've decided the Montessori approach is the right fit, there's an excellent school out there for your child. Let's first take a look at why you might choose Montessori education.
Why Choose a Montessori School?
Looking for a new school for your child is an exciting, and often overwhelming, step. It can be even more overwhelming when you also have to decide what method of education makes sense for your child. Even though the creator of Montessori education opened the first school in 1907, this form of education has significantly grown in popularity since the 1980s.
Simply put, Montessori education is an approach to education that's child-centered. This type of self-directed learning may not be a fit for every child, and like any method, it has its share of criticism. But for many children, there are numerous benefits regarding academics and creative skills. If you've learned about Montessori education and believe it's the best fit for your child or are looking into this method of learning, here are some of the top Montessori schools in San Diego.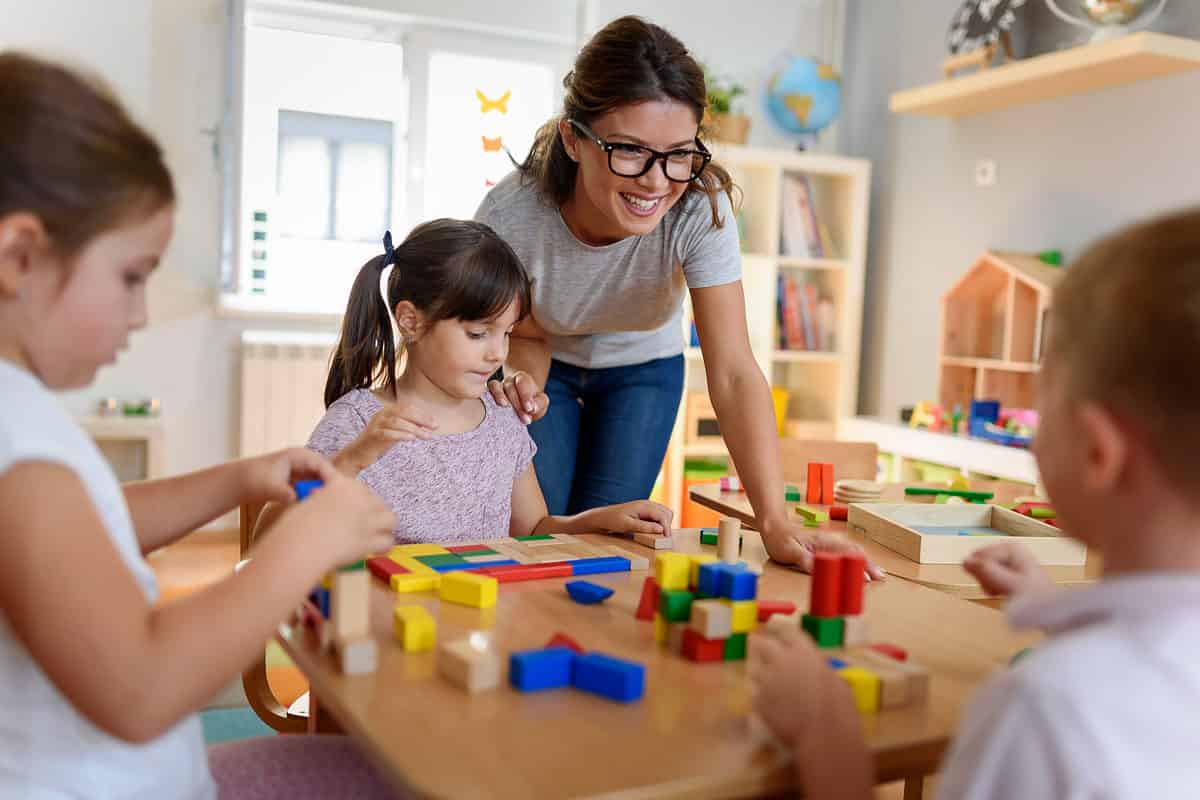 Top Montessori Schools in San Diego
When choosing the right Montessori school for your child, there are several things to consider. You might think about the age range of students, the quality of the teachers and staff, tuition, and the location of the school. To help you get started, here are the top 5 Montessori schools in San Diego:
Montessori School of San Diego
1323 West Spruce Street San Diego, CA 92103
Highly rated for excellent staff, cleanliness, and quality of education
Full day: $12,360
Half day: $10,300
The Montessori School of San Diego is one of the top-rated Montessori schools in the area. This school has been open since 1972 and has five separate classrooms to accommodate children ages 3-5, 5-7, and 7-9.
Their staff members are certified Montessori teachers, and the school also offers special classes for dance, art, and P.E. Like many Montessori schools, their classes allow children to practice independence and learn alongside other children of different ages.
Lifetime Montessori School
14727 Camino De La Luna, San Diego, CA 92127
Highly rated for authentic Montessori teaching, supportive environment, and qualified staff
Grades 1-6, Full day: $16,150
Primary and Kindergarten, Full day: $16,150
Primary and Kindergarten, Half day: $13,610
Toddler Program, Full day: $17,090
Toddler Program, Half day: $14,050
Lifetime Montessori is a private Montessori school for children between 18 months and sixth grade. One of their unique features is an English/Spanish Bilingual Immersion program for their primary students. The goal of this program is to help all their primary students speak English fluently by the end of Kindergarten.
With a focus on personal growth, Lifetime Montessori School allows students to learn at their own pace and help students of all levels excel.
The Lulus Montessori Bilingual Preschool
3575 Van Dyke Ave, San Diego, CA 92105
Highly rated for patient and loving staff, bilingual education, and family feel
2 days a week: $220
3 days a week: $300
5 days a week: $420
The Lulus Montessori Bilingual Preschool is a small, but well-loved, Montessori preschool in San Diego. With room for only 12 students at a time, there is a waiting list for admission. At Lulus Montessori, there is a focus on the Spanish-speaking program while still having a Montessori approach.
This Montessori school welcomes students between the ages of 2 and 5. They pride themselves on motivating students academically and creatively while meeting the needs of each child individually.
Montessori Children's House of Lemon Grove
8121 Braddock Pl, San Diego, CA 92114
Highly rated for caring staff, quality Montessori education, and affordable tuition
2 days a week: $4,800 annually
3 days a week: $6,000 annually
5 days a week: $7,800 annually
Montessori Children's House of Lemon Grove is open to students between the ages of 2 and 5. It has a home-like feel and is located within a place of residence, although the school has a separate entrance to the classroom and playground.
Children at this Montessori are able to build connections with teachers and other classmates due to a small class size and the ratio of one teacher to every six students. The director of Montessori Children's House of Lemon Grove has worked in Montessori education since 1994 and worked in preschools for over 10 years before opening this school.
Kinderhouse Montessori School
6540 Flanders Dr, San Diego, CA 92121
Highly rated for quality education, positive environment, and helping children love learning
$14,861-$23,532 annually
Kinderhouse Montessori School has an elementary, primary, and toddler program. They aim to help students learn at their own pace through self-directed and hands-on learning. For their primary students ages 3 to 6 years old and their elementary students, they also offer an optional Spanish Bilingual program.
This Montessori school has been providing quality education for students since 2001, and part of its vision is to provide this education in a home-like environment. Children of all cultures and backgrounds are welcome at Kinderhouse Montessori School.
How Can I Know Which School is Right for My Child?
Choosing the right Montessori school for your child can be a daunting task. Each of these schools offers something unique. If there isn't a particular one that stands out above all the rest, consider paying a visit to each school you're interested in. You may be able to have your child shadow a class for a day to get a feel for how they'd like it.
There's nothing wrong with reaching out to each school and inquiring if you could meet with a teacher or with an administrator. A conversation with one of these individuals can help shed light on which school is the right choice for you. Alternatively, you can see if it's possible to connect with the parents of a student that attends one of these schools.
San Diego Montessori Schools in the News
On August 6, 2023, the San Diego Union-Tribune reported that Blooming House Montessori had settled in Encinitas. Blooming House is a Spanish-immersion school aims to help students become bilingual as they grow. Spanish is spoken in classrooms the grand majority of the time, allowing students to grow and maintain their Spanish skills in a real-world environment. The school encourages families to not shy away from their program if their child is not fully fluent in Spanish; some English is still spoken, allowing for children without a full grasp on Spanish to attend.
For other stories about San Diego Montessori schools, check out this article from May 2023 or this article from February 2023.
Conclusion
When you've decided Montessori education is the right fit for your child, you're going to look for the best Montessori school in your area. San Diego has a number of excellent Montessori schools for kids of all ages. Whether you choose a charter or private school, you know your child is in good hands with one of these San Diego schools.
The image featured at the top of this post is ©Monkey Business Images/Shutterstock.com.