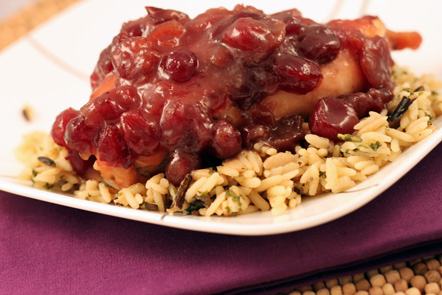 Cranberry Chicken with Wild Rice
Ingredients:
1 (16 ounce) can whole-berry cranberry sauce
2 tablespoons orange liqueur or orange juice
2 tablespoons lemon juice
½ teaspoon dry mustard
1½ pounds skinless, boneless chicken breasts
1 (6 ounce) package long grain and wild rice mix
2 tablespoons grated orange rind
¼ cup chopped green onions
Directions:
1. Preheat the oven to 350°F.
2. In a medium saucepan over medium heat or in a microwave-safe pan, combine the cranberry sauce, orange liqueur, lemon juice, and mustard, cooking until hot.
3. Place the chicken in a baking dish, and pour the cranberry sauce over the chicken. Bake, uncovered, for 45 minutes, or until the chicken is done.
4. Meanwhile, cook the wild rice according to the package directions, omitting any oil and salt. When the rice is done, stir in the orange rind and green onion. To serve, place the rice on a plate, and top with the chicken and cranberry.
Serves 4 to 6
Per serving
Calories 357
Fat 2g
Saturated 0g
Cholesterol 66mg
Sodium 511mg
Carb 53g
Fiber 2g
Protein 29g