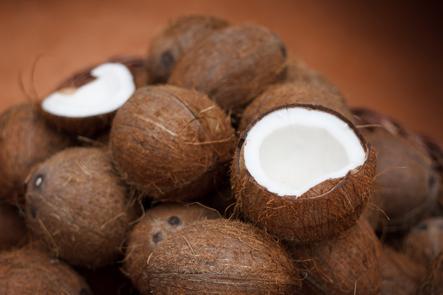 Fresh Coconut Layer Cake
Let's Get Ready for Baby!
Sign up for our monthly pregnancy email series, and you'll get regular updates on your baby's development, helpful timelines to get ready for their arrival, must-have baby needs and so much more! PLUS, you'll get instant access to the MomsWhoThink "Ultimate Guide to Baby Naming in 2022."
CLICK HERE
to get started!
Ingredients:
For coconut:
2 coconuts, about 1½ pounds
¼ cup sugar
For cake layers:
3⅓ cups sifted cake flour (not self-rising; sift before measuring)
1 tablespoon baking powder
1 teaspoon salt
1½ cups whole milk
1½ teaspoons pure vanilla extract
⅛ teaspoon pure almond extract
2½ sticks unsalted butter, softened
1¾ cups sugar, divided
7 large egg whites, at room temperature 30 minutes
For frosting:
3 large egg whites, at room temperature 30 minutes
2¼ cups sugar
¾ cup water
1½ tablespoons light corn syrup
½ teaspoon cream of tartar
⅛ teaspoon salt
1 teaspoon pure vanilla extract
Directions:
1. Preheat oven to 350°F with racks in upper and lower thirds.
2. Pierce softest eye of each coconut with a small screwdriver and collect liquid in 2 separate bowls to sample. If either tastes rancid, discard that coconut and liquid and start over with another. Strain liquid from 2 coconuts through a dampened-paper-towel-lined sieve into a 1-cup measure and set coconuts aside. (You should have about ¾ cup liquid. If not, add water.) Bring to a simmer with sugar and a pinch of salt in a small saucepan, stirring until sugar has dissolved. Cool and reserve.
3. Bake coconuts on lower rack 15 minutes. Leave oven on. Break shells with a hammer, then remove flesh with screwdriver, prying it out carefully. Peel brown membrane from flesh with a vegetable peeler. Coarsely grate enough coconut on large holes of a box grater to measure 5 cups.
4. Butter cake pans, then line bottom of each with a round of parchment paper and butter parchment.
5. Flour pans, knocking out excess.
6. Sift together flour (3⅓ cups), baking powder, and salt.
7. Stir together milk and extracts.
8. Beat butter and 1½ cups sugar in a large bowl with an electric mixer at medium speed until pale and fluffy, 2 to 3 minutes. At low speed, add flour mixture in 3 batches alternately with milk mixture, beginning and ending with flour mixture and mixing until each addition is just incorporated.
9. Beat egg whites in another large bowl with cleaned beaters at medium speed until they just hold soft peaks. Beat in remaining ¼ cup sugar, 1 tablespoon at a time, then beat until whites just hold stiff, glossy peaks. Stir one third of whites into batter, then fold in remaining whites gently but thoroughly.
10. Spread batter evenly in pans and rap pans on counter several times to eliminate air bubbles. Place 2 pans on upper rack and 1 pan on lower rack and bake 20 minutes. Switch position of pans and bake until golden and a wooden pick inserted in center of each cake comes out clean, 10 to 15 minutes more. Cool cakes in pans on racks 5 minutes, then run a knife around edges of pans and invert cakes onto racks. Discard parchment and cool completely, about 1 hour.
11. Beat together egg whites, sugar, water, corn syrup, cream of tartar, and salt in a large deep bowl with a handheld mixer (clean beaters if necessary) until combined. Set bowl over a pot of simmering water and beat mixture at high speed until it holds stiff, glossy peaks, 5 to 7 minutes. (Humid weather may necessitate additional beating time.) Remove bowl from heat, then add vanilla and beat until frosting is cooled and very thick, 6 to 10 minutes. Transfer 2⅓ cups frosting to another bowl and stir in 2 cups coconut to make filling.
12. Put 1 cake layer on a cake stand or large plate. Brush top with one third of reserved coconut syrup, then spread with half of filling. Repeat with another layer, more syrup, and remaining coconut filling, then top with third layer. Brush top with remaining syrup, then cover cake with remaining frosting and coat with remaining coconut, gently pressing to help it adhere.