Birthstones are well-known, but what about birth flowers? You guessed it: each month has its special birth flower (or two!) with its symbolism and meaning. Birth flowers can be extremely helpful in selecting birthday bouquets; you can make a special request that the florist includes your loved one's birth flowers to make their beautiful bouquet even more meaningful.
What Are Birth Month Flowers?
For many years, people have assigned a specific flower or flowers to each month. These are known as birth month flowers. Every month has its flower and no flowers from the same month overlap. Every month, there are two flowers: the primary birth flower and a secondary flower.
People have birthstones, zodiac signs, and Chinese Zodiac signs, just like this. For example, people born between September 1st and 14th, have sapphire as their birthstone and are Virgos. Their Chinese Zodiac sign, on the other hand, is determined by their birth year.
History of Birth Flowers
Your birth flower represents the month you were born, and some believe that each flower contains spiritual and historic symbolism that can hold special meaning and predictions about your personality or life.
Birth month flowers are thought to have originated in Roman times when birthday celebrations first began. Flowers were used to decorate the altars of Roman gods, and flowers were given as birthday gifts. Lady Mary Wortley Montagu is widely credited to have introduced the ideas of meanings behind flowers to England in the eighteenth century, and they continued to evolve. Since then, the symbolism and meaning of flowers, particularly birth flowers, have evolved significantly.
Why Should You Consult a Birth Flower Chart?
The birth flowers assigned to specific months were not chosen for their magical properties. However, they were chosen for the aroma, color, and beauty they pass across during their displayed month. Each bloom has its personality and invites a magical experience for those who receive and display them.
People frequently get tattoos of the flowers of their birth month. Birth month flowers, in some ways, provide people with a sense of identity. A birth flower chart assists them in associating their birth months with something as lovely as nature.
Furthermore, birth month flowers have different meanings. Many people believe that a person's personality links to their birth month flower and what it represents. This is similar to the stereotypes of zodiac signs. Cancers, for example, are frequently emotional. Similarly, people born in June are thought to be romantic.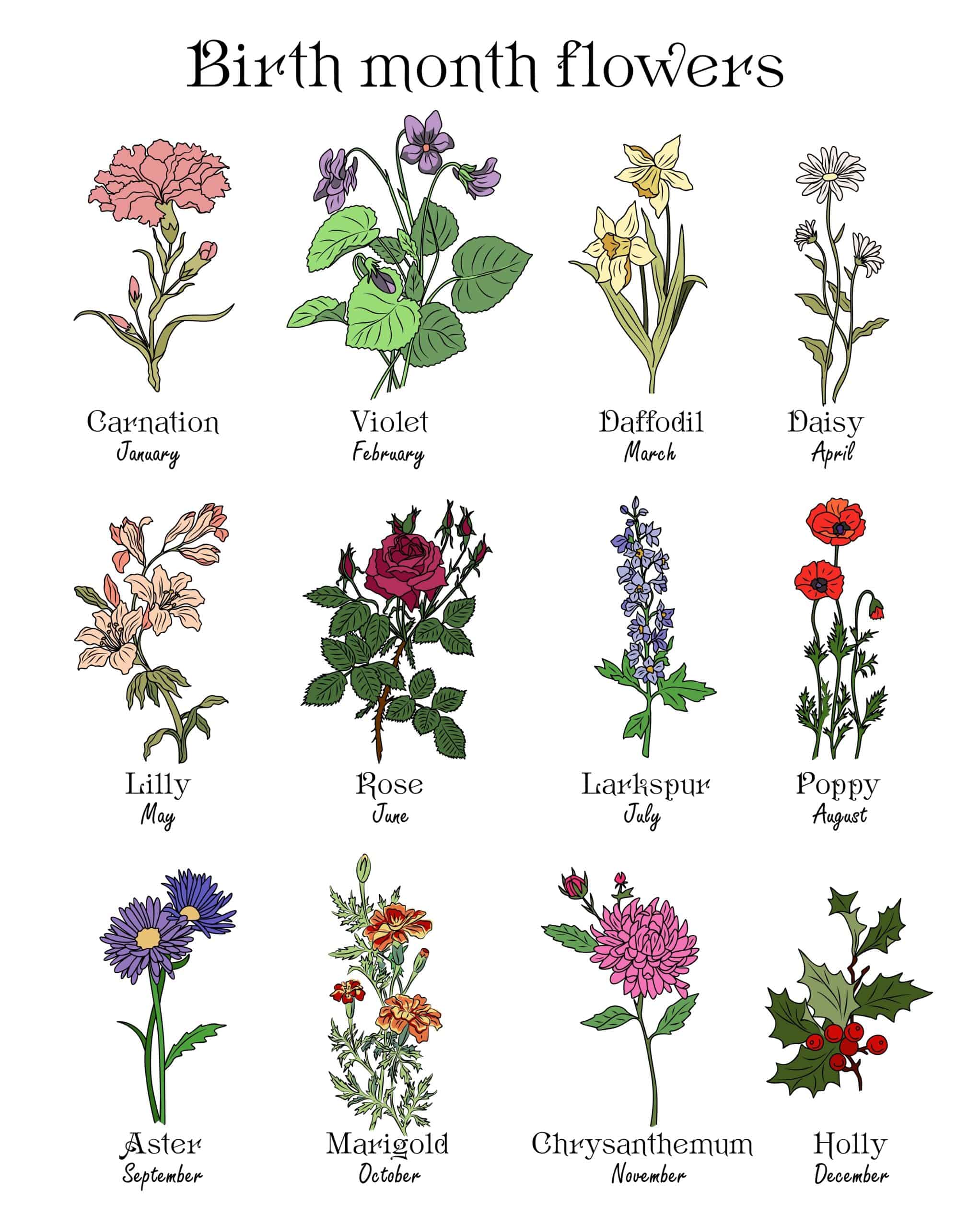 Floriography
Aside from that, people believe in floriography or flower language. It allows people to express themselves uniquely as a language. Giving someone a specific flower conveys a specific message. Sending your lover a bouquet of red roses, for example, represents passionate love and desire. The same idea applies to birth month flowers. People who believe in flower language believe in the meanings of birth flowers.
Flowers can help us recover from a bad day and begin again. They can also transform an ordinary, plain room into an inviting, warm sanctuary. Floral arrangements may or may not contain the enchantment of a gemstone, but they can certainly put a smile on your loved ones' faces!
So, instead of giving your loved ones gemstones, blow their minds and give the gift of a fresh flower delivery this year. Surprise those you care about with a beautiful, well-put, floral arrangement featuring the flower of their birth month.
Let's take a closer look at each birth month flower and see why they best represent their respective month.
January: Snowdrops and Carnations
Carnations are bright flowers that bloom during the winter months. They bloom in nearly every vibrant color, including yellow, purple, pink, and red. Carnations may appear delicate, but they can grow in extreme conditions or as long as temperatures remain just above freezing. These lovely flowers are popular as Mother's Day gifts and at weddings because they represent admiration, hope, love, rebirth, remembrance, distinction, and fascination.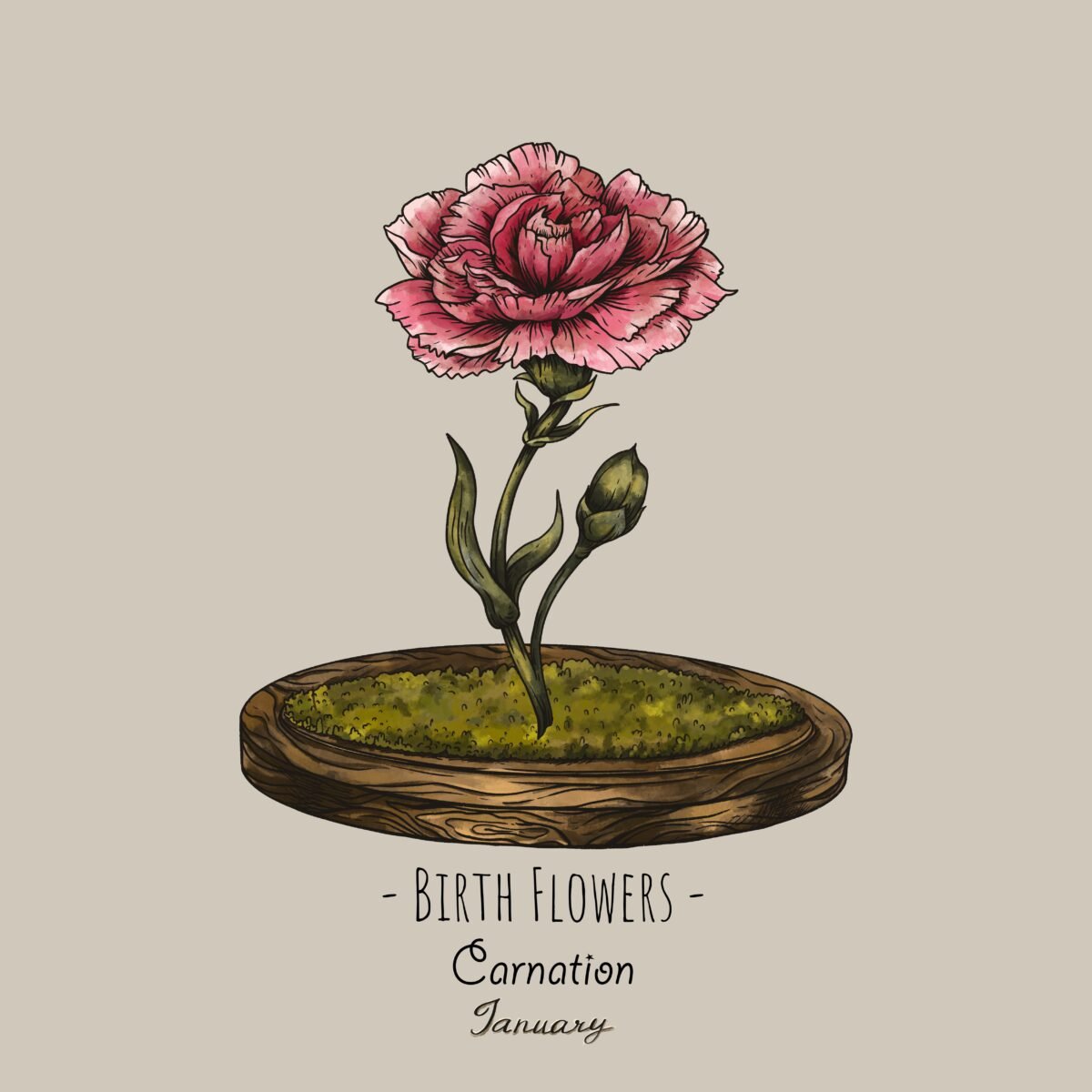 Snowdrops, like carnations, are bright flowers that bloom between January and March, which explains why they are the secondary birth flower for January. They typically grow in large patches that resemble a snow-covered field.
People born under this sign have genuine and down-to-earth personalities. They are also loyal and can unconditionally love their friends and family.
February: Violet, Primrose, and Iris
Violet and iris are the birth flowers for February. Because February has an association with Valentine's Day, there is much surprise to learn that roses are not the official birth flower of the month. When you consider that the birthstone for February is amethyst, it's easy to see why violets are the birth month flower. These February babies have an obsession with purple tones!
The vibrant violets have been around for centuries! They were cultivated by the Ancient Greeks, who used them for medicinal purposes as well as to make wine taste a little sweeter. One of the most well-known violet facts is their instantly recognizable heart-shaped petals. They were part of love potions!
February's primrose flower is a symbol of optimism, youth, and youthful or eternal love. It is one of the first blooming flowers following the end of winter, signifying rebirth. The Latin word prima rosa, which means "first rose," is where the name "primrose" has its origins.
Moreover, primroses are to exemplify femininity and embody all phases of life, including birth and death. While giving these flowers to lovers or partners who were born in February, you can communicate happiness and your wish and commitment to remain with them forever.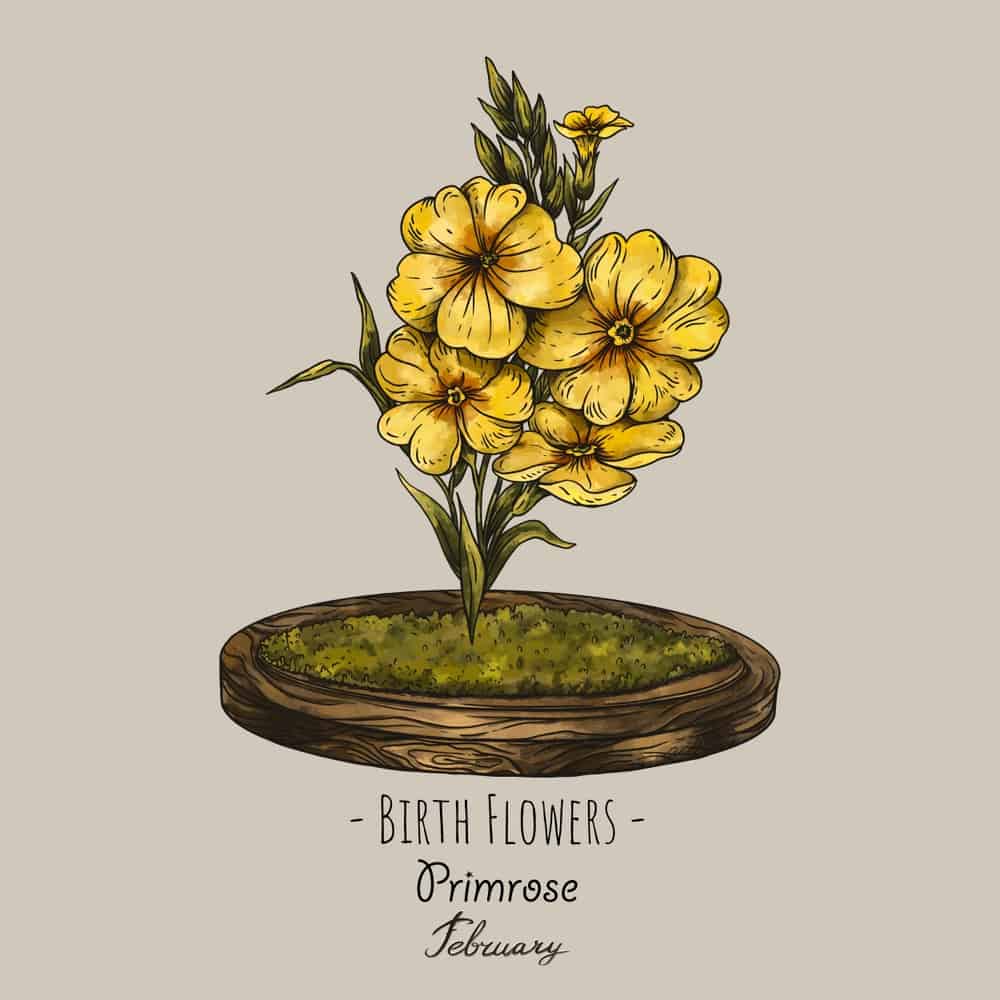 Violets have an association with spiritual wisdom, humility, and faithfulness. Irises also represent hope, wisdom, faith, and eloquence. Those born in February are thought to be innocent, wise, humble, and honest, making them pleasant company.
March: Jonquils and Daffodils
The birth flowers of March, jonquils and daffodils, have an association with spring rebirth, good fortune, and domestic happiness. However, some people with these birth flowers can be naturally vain!
The Latin name for daffodils is Narcissus, after the famous Greek figure who drowned after becoming enamored with his reflection in the water. According to the legend, a daffodil flower bloomed on that spot.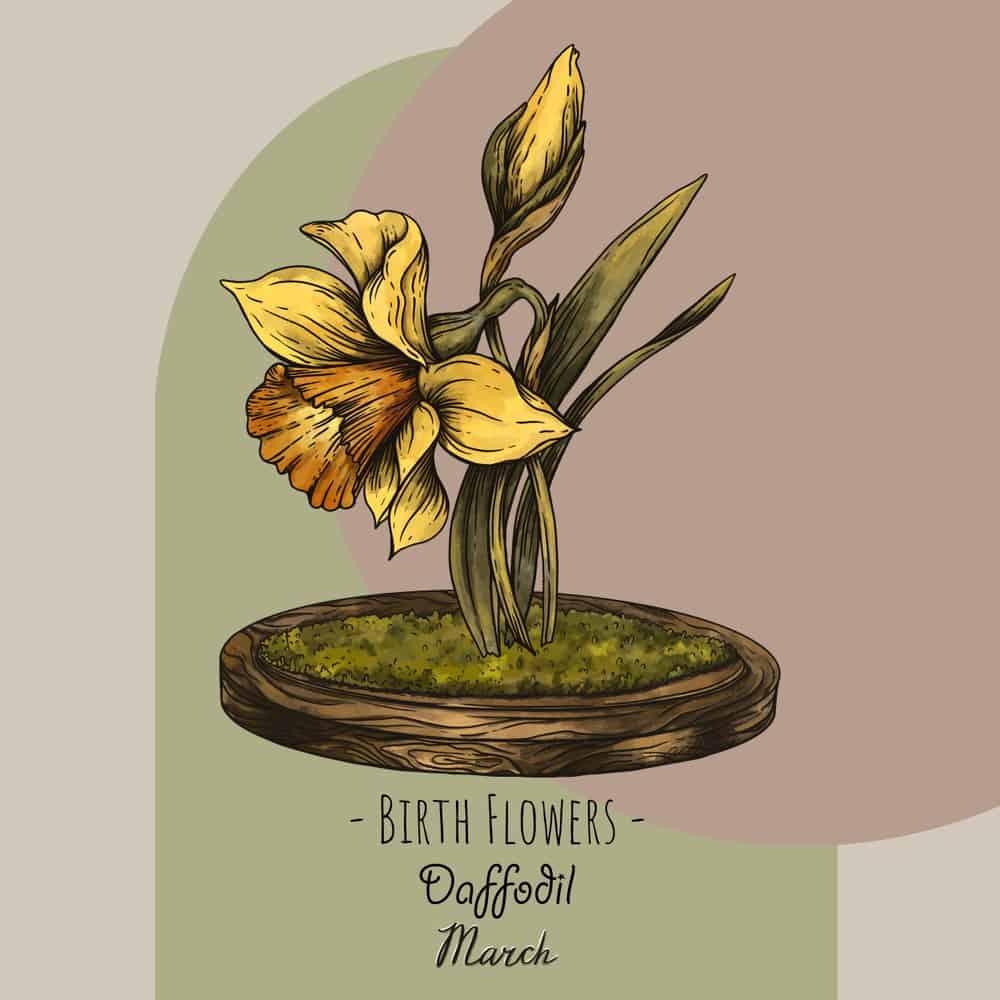 Daffodils are the national flower of Wales, and legend has it that those who see the first daffodil of the season will be blessed with wealth for the rest of the year. However, there is a belief that giving a single daffodil will bring bad luck, so go ahead and give a generous bouquet! These flowers are an excellent way to remind a loved one that the sun shines wherever they are.
April: Daisy and Sweet Pea
The daisy was once known as "daes eage" or "day's eye" in Old English. This is because its petals could close at night and open at the first touch of sunlight, revealing its bright yellow center. The lovely daisy represents blissful pleasure, innocence, new beginnings, purity, and true love, making it an ideal spring bouquet that expresses your undying love! Daisy flowers are pink to white.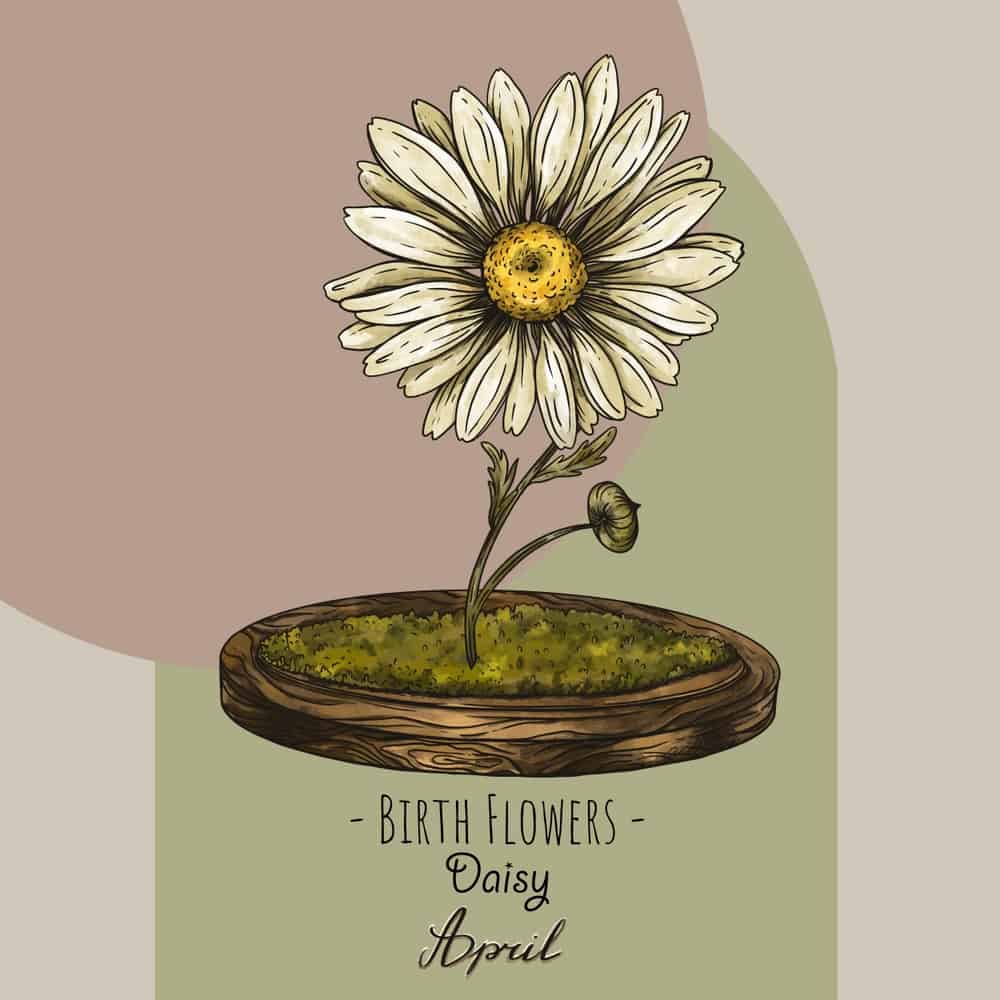 Meanwhile, Sweet peas are well-known for their sweet fragrance, which can make your home smell like spring! People born with this birth flower are upbeat and can make anyone's day!
May: Lily of the Valley and Hawthorn
Lily of the valley and hawthorn are the birth flowers for May. Many people love the lily of the valley because of its sweet scent and delicate flowers. Lily of the valley is also popular among royal brides.
There are numerous myths and legends surrounding the origins of the lily of the valley. They are said to have appeared where Eve's tears fell after she was expelled from the Garden of Eden. Others claim that after St. Leonard bravely battled a terrifying dragon for hours, lilies sprouted everywhere the brave warrior's blood fell.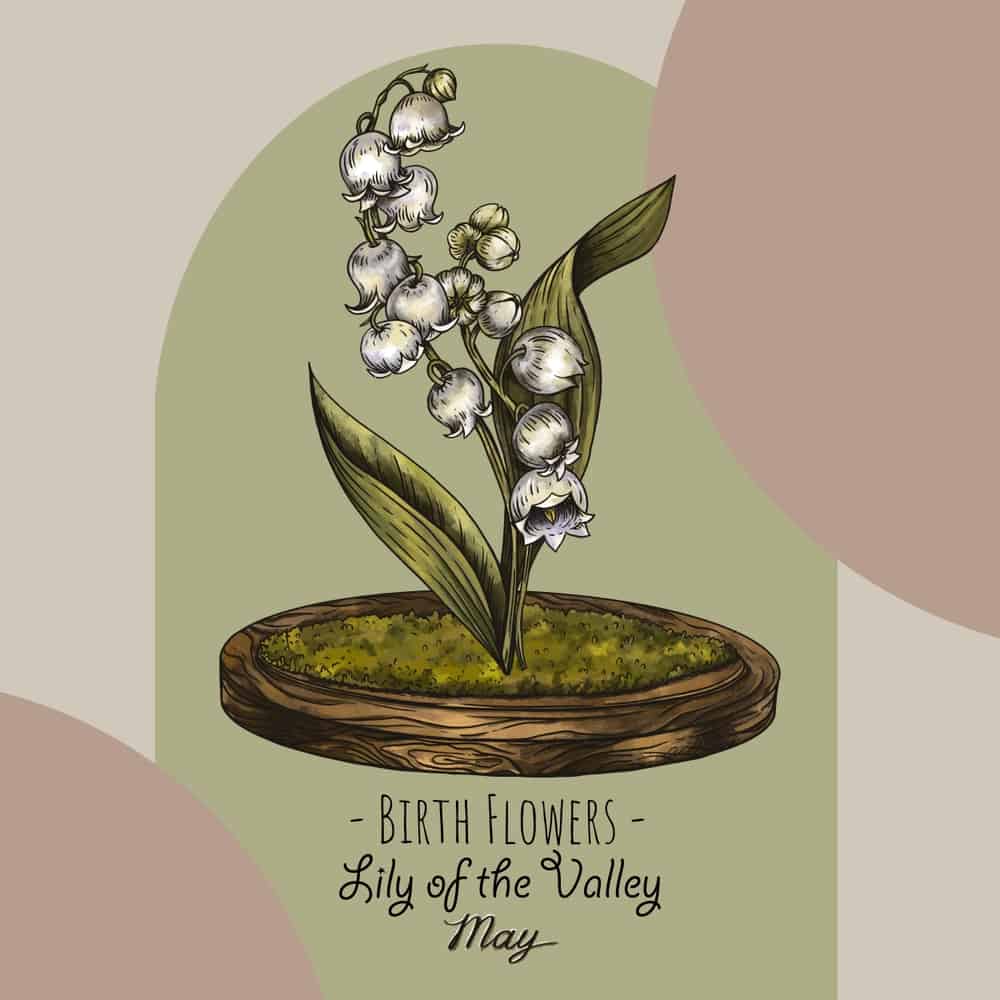 The lily of the valley has a traditional association with humility, sweetness, the return of happiness, and motherhood. This makes them ideal gifts for mothers whose birthdays fall in May.
June: Rose and Honeysuckle
The Rose and honeysuckle are two of the most beautiful and sweet birth flowers in June.
Roses, cherished for their elegant beauty, are timeless classics that represent love, friendship, and appreciation. A bouquet of roses conveys sincere gratitude. The meaning of a single rose comes from its color.
Red roses are the ideal way to express "I love you." An orange rose, which represents passion and desire, is another excellent choice for a partner. A yellow rose symbolizes friendship and platonic love, making it an ideal gift for a close friend. Pink roses symbolize happiness, gratitude, joy, and admiration, whereas white roses represent purity and innocence.
A rose's many meanings make it an exceptional and versatile flower to give to someone special in your life.
July: Delphinium
Delphiniums, or larkspurs, are a generous tribute to loved ones born in July, with their symbolic associations of dignity and positivity. This cottage garden favorite is a true blue flower and a quintessential summer bloom.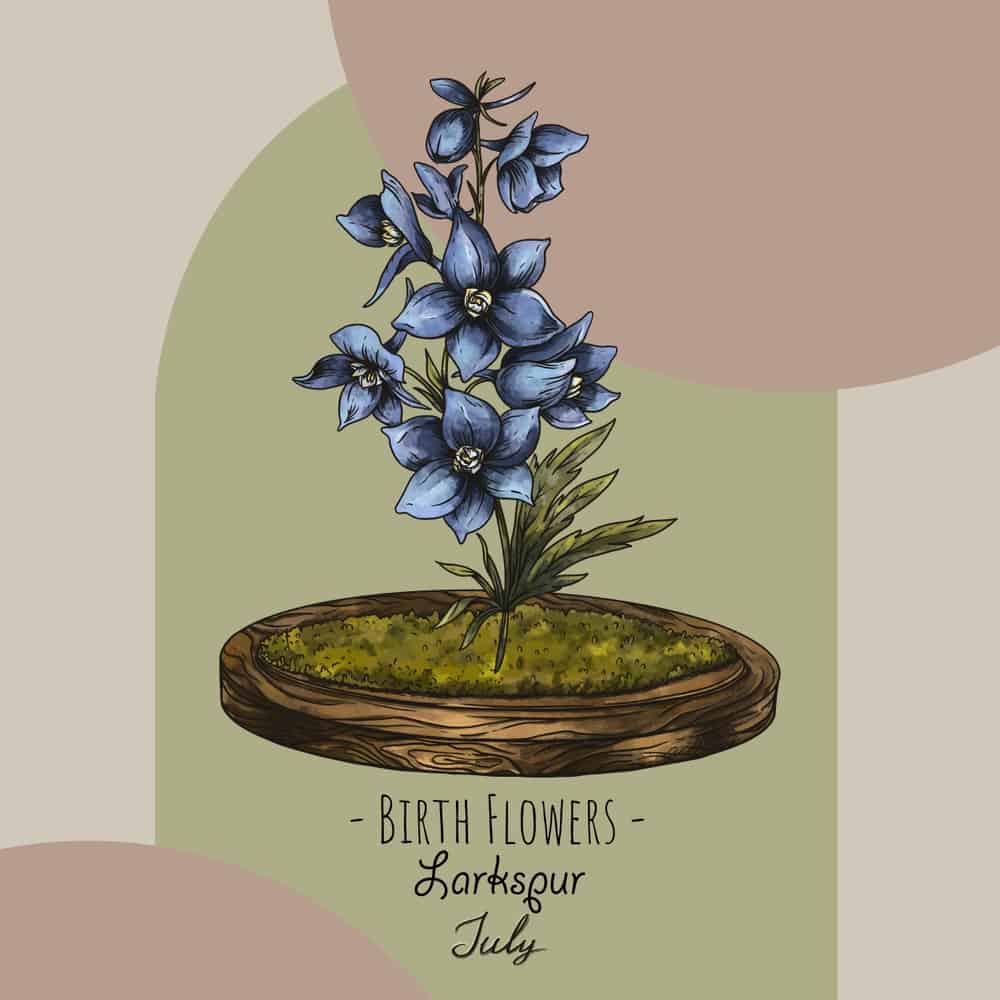 The delphinium, like the rose, has different meanings depending on the color. In general, it is said to represent an open heart, which is said to be shared by those born in July.
August: Gladiolus and Poppy
Gladiolus and poppy are the official August birth flowers. They come in a rainbow of gorgeous colors and are understandably popular in the late summer months.
Poppies come in a rainbow of colors, each with its meaning. A red poppy represents joy and happiness. It also represents a couple's deep love in China and Japan. A yellow bloom has an association with wealth, success, and prosperity.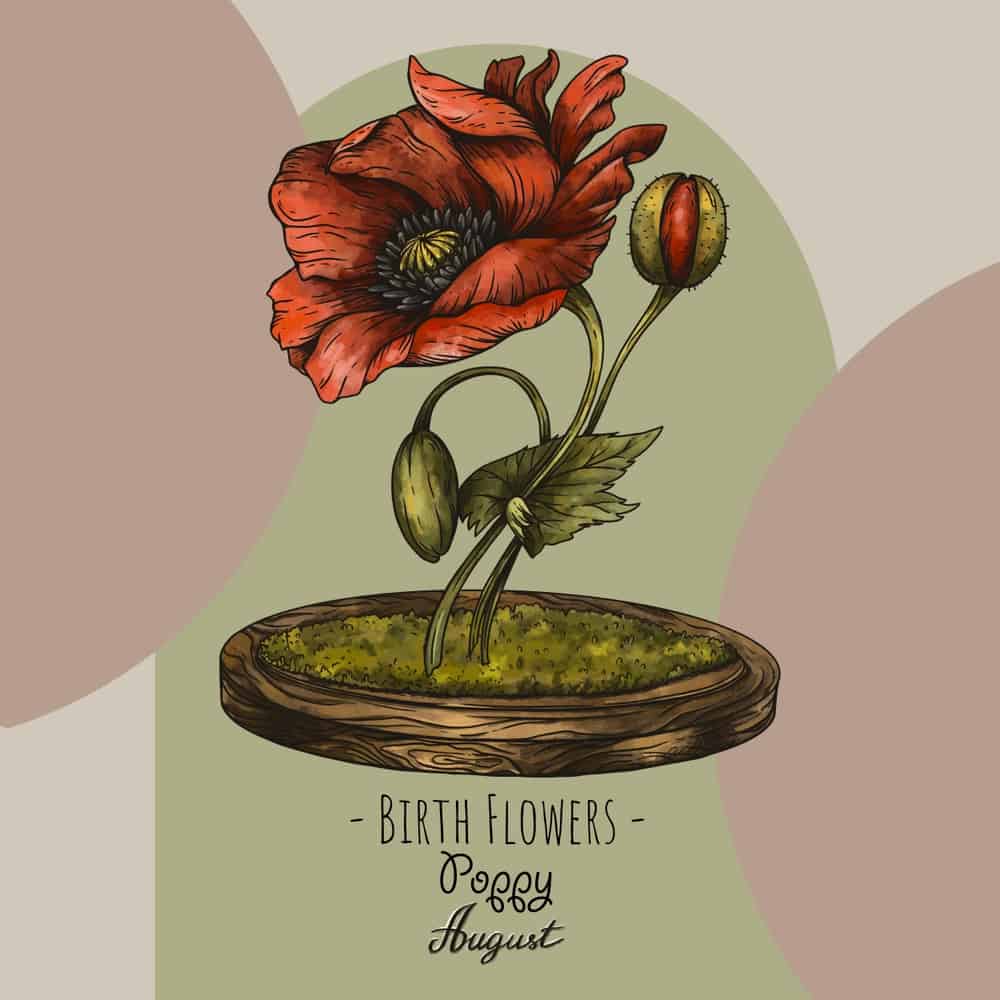 Gladioli were named after the Latin word 'gladius,' meaning sword, and originated in South Africa in the 17th and 18th centuries. Gladiator champions were showered with them after winning a fight, so they were very important flowers in Ancient Rome.
The gladiolus flower has an association with moral integrity, generosity, honesty, and character strength. Those born in August must be fierce, independent, and strong! They're also an excellent 40th-anniversary flower because they represent remembrance and infatuation.
September: Aster and Morning Glory
The aster is the primary birth flower for September. It is said to represent both daintiness and love. Because the flowers have an association with wisdom, valor, and faith, they are an excellent choice for close friends and family members.
The aster, which resembles a daisy, is named after the Greek word for "star," and the shape of the flower explains why. This lovely flower blooms all year and is particularly vibrant in the autumn months, making it an ideal choice for a September birthday.
The morning glory, a symbol of love, is September's secondary birth flower. They can also be a symbol of power, providing a person with the ability to realize their hopes and dreams. These flowers are tough, and they pass that strength on to those born this month.
If you get up early enough, you'll be able to see their blooms open. Morning glories bloom at dawn and fade as the hours pass, hence their name! While these flowers are more difficult to find in a floral arrangement, they make a lovely gift for a keen gardener.
October: Marigold and Cosmos
Marigolds are the primary birth flower for October, with stunning colors of white, orange, yellow, and crimson. Marigolds are a favorite of many gardeners due to their golden blooms and spicy scent. The marigold, as one of autumn's hardiest flowers, represents tenacity and determination to succeed. If you were born in October, you are most likely creative, passionate, and driven, just like your birth flower.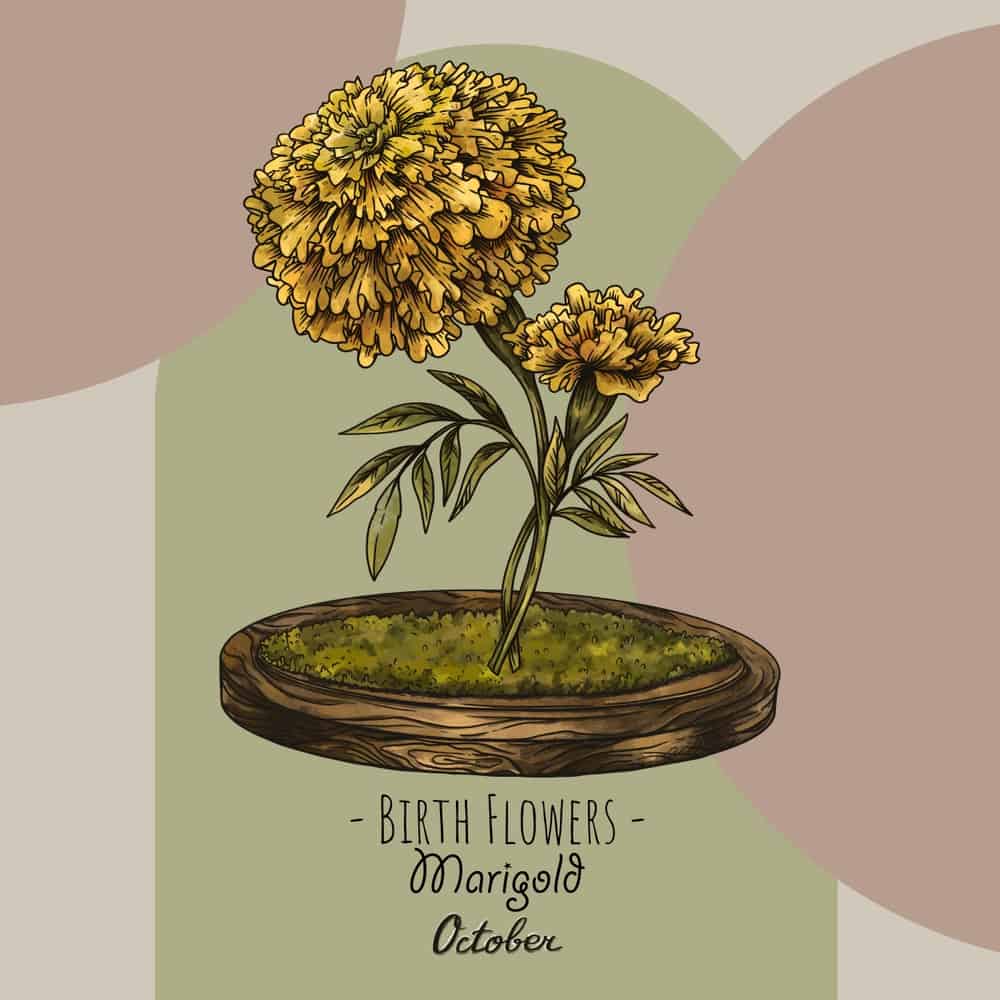 Cosmos are the secondary birth flower for October. They represent love, peace, and tranquillity. The name is from the Greek word 'kosmos', which means order and harmony. It was named by Spanish priests in Mexico who grew cosmos and came to admire their perfectly arranged petals.
Cosmos are a comforting flower for those who receive them. Because they are so simple to grow, these flowers are an excellent addition to any garden. They are frequently used to express one's deepest feelings of love because of their vibrant colors and fragrance.
November: Chrysanthemums
A November birthday begs for a bouquet of chrysanthemums, the birth flower of the month.
The chrysanthemum, which was first cultivated in China in the 15th century BC, has a long and fascinating history. Because of its versatility and variety, it is now one of the world's most popular cut flowers.
Chrysanthemums come in a variety of colors, each with its symbolic meaning. However, the birth flower for November has an association with good wishes and friendship. Chrysanthemums bring good fortune, joy, and happiness into the home.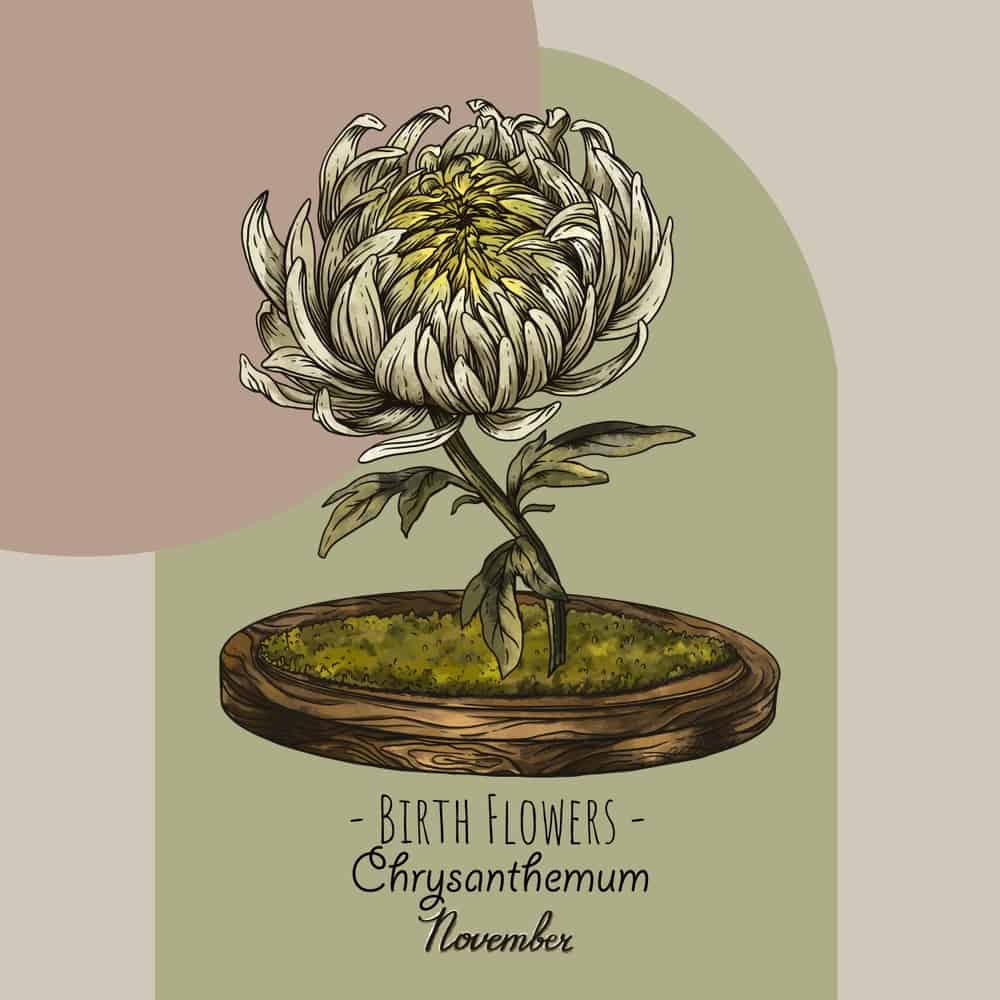 Japan reveres this flower so much that it has its own holiday in its honor. Chrysanthemum Day, also known as the Festival of Happiness, is observed annually on September 9th.
December: Narcissus and Holly
The birth flowers for December are holly and narcissus. It should come as no surprise that the joyful and festive holly is the birth flower for December! Though not technically a flower, the dark green leaves, and bright red berries scream Christmas and are ideal for including in bouquets for those born in December.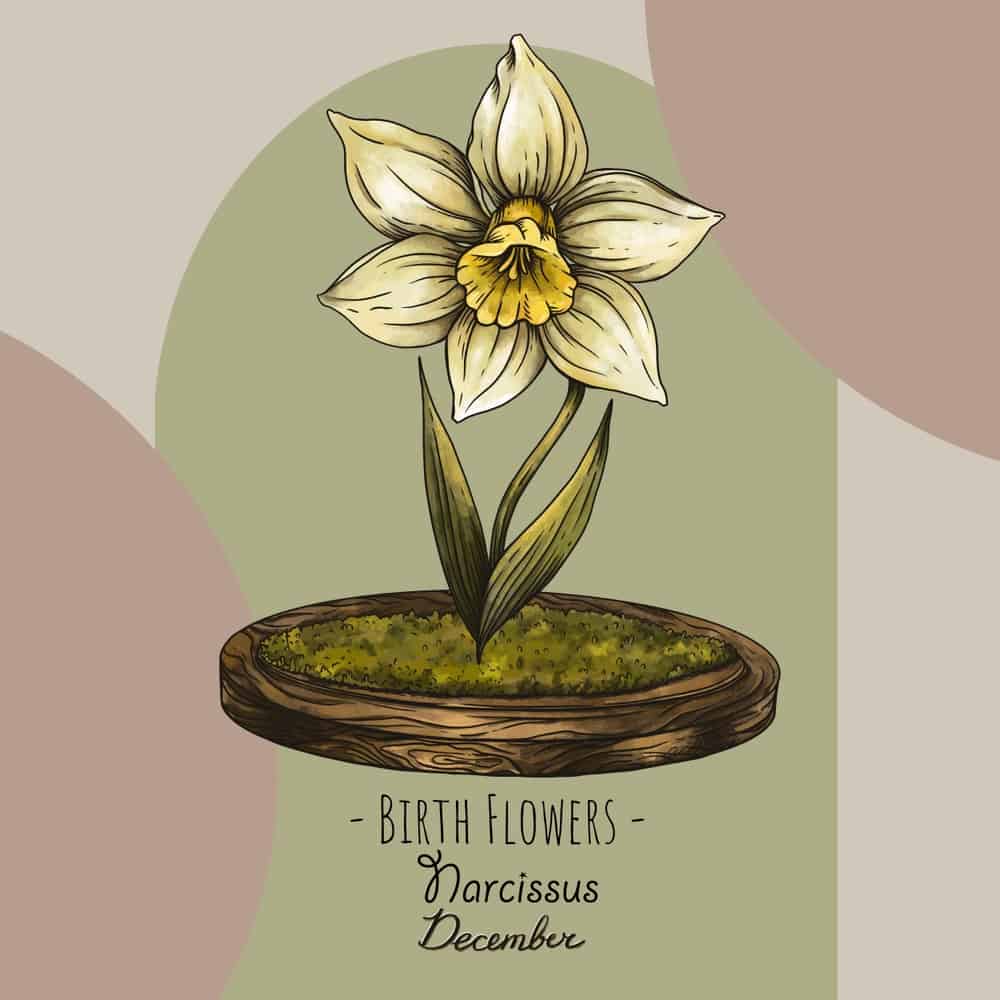 Holly plants have been a popular festive plant in homes and gardens all over the world for centuries. In Pagan times, they were seen as a symbol of fertility. Also, an effective way to protect places from witches before their use as decoration. Holly is now thought to bring good fortune, peace, and joy. They make lovely additions to December birthday bouquets and add just the right amount of festive cheer!
Conclusion
Knowing what flower symbolizes each month can assist you in deciding which bouquet to give to your loved ones on their special day. Choosing birth month flowers is a unique and lovely way to honor those in your life. Another fantastic idea is to present your loved ones with an arrangement from your favorite florist's zodiac flower collection. In either case, your gift will be a treasure and will add elegance and style to their home.