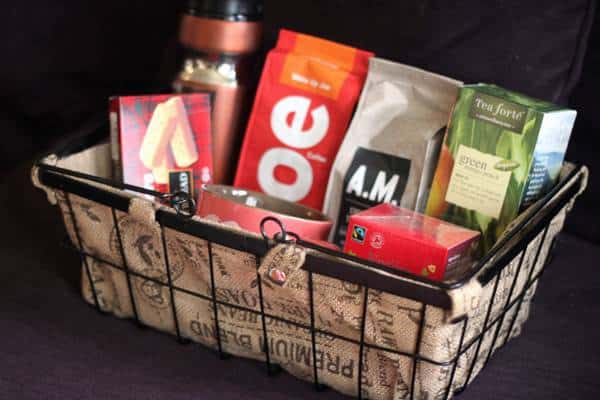 Homemade Gift Baskets
Mother's Day is the perfect time to give the mom in your life a gift made just for her. Personalizing a gift basket to the recipient's personality or taste is a special way to let them know how much you care about them. We put together a few baskets that are easily customized for that wonderful Mom in your life, all the items inside each are easy to find in most any store.
Coffee and Tea Gift Basket
First up is an awesome coffee and tea basket.
We filled the basket with flavored coffees, cute teas, a travel mug, a fun coffee mug, and a package of their favorite shortbread tea biscuits. You can substitute other fancy cookies, they're indulgent treats that go perfect with a cup of coffee or tea.
For the tea lovers, the possibilities are endless. Loose tea and a tea ball, tea bags and a pretty spoon, and a tiny box to hold sugar packets. Coffee lovers can get whole beans, a grinder, coffee flavoring extracts, and different individual creamers (a lot don't need refrigerated).
---
Fitness Gift Basket
This fitness bag is another one that's personal. Your special recipient may be an avid runner or just enjoys her morning walks. Start with a small lightweight gym bag. For when the weather turns chilly, we included this super warm (but lightweight) jacket with a fleece lined hood. We paired a t-shirt and pants to go with it.
Add an always useful water bottle to go with it all. Other items you can consider would be a yoga mat and kettle bell, or other exercise related items (even Ben-Gay).
---
Baking Gift Basket
Always a favorite theme…the baking basket. Our "basket" started with a large mixing bowl complete with lid, perfect for cookie dough that needs refrigerated.
We then filled the bowl with decorating tips, fun sprinkles, measuring cups and spoons (you can never have enough of these), pinch bowls, adorable cupcake liners, and a nice bottle of vanilla extract.
To add a decorative touch, we found an adorable hand towel that creatively wrapped up the gift.
---
Boozy Indulgence Basket
Last up is the indulgent boozy bag. This is also great for birthdays, which is the way we gifted it the first time we made it.
The inspiration for this gift were these yummy looking chocolates found while perusing the aisles at Costco. We then added two bottles of red wine with fun labels.
Wrap it all up in a cute bag with a sweet card and your special lady will thank you on especially stressful nights. You can add a fluff beach-read type book, a DVD of their favorite movie, or a scented candle for even more de-stressing.
---