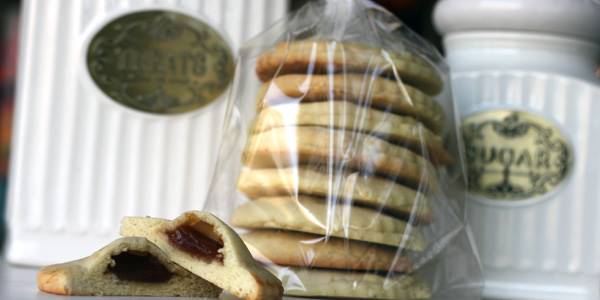 Cookie Gifting Ideas
The idea for this gift came from my mother-in-law when she found these great canisters for treats and sugar at TJ Maxx. I baked up a batch of these yummy Apple Butter Filled Cookies and wrapped them in a plastic favor bag that I found on sale at Target. This idea works on so many levels, just find a cute canister and fill with your favorite baked good.

I also found this canister at TJ Maxx (and I have an extra now holding all my cupcake liners) and thought it would also be a great display for cookies. Not just any cookie, these are Chocolate Covered Peanut and Chocolate Chip Cookies, the ultimate chocolate/peanut lover's cookie. It's a great way to give a small gift (the jar) with lots of love (the cookies).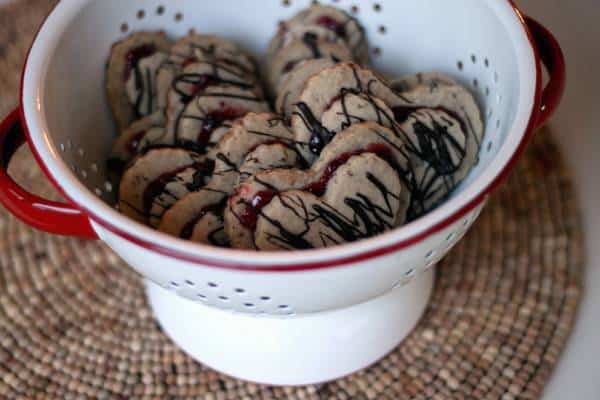 This idea works for any kind of berry cookie, I chose these Chocolate Raspberry Linzer Cookies because they're too pretty not to display. Again, I know its hard to believe, but I found this vintage-inspired berry colander at TJ Maxx.

Lastly, I have these choco-holic inspired cookie, wrapped in plastic, stuffed in a mug, and wrapped with warm cozy socks for the ultimate comfort gift. Find the recipe for these Outrageous Double Chocolate White Chocolate Chunk Cookies here.
 For more ideas on cookie gifting, check out here.