Easy to Make Birthday Gift Baskets
Summer is full of birthdays for us. For me, it's a great time to show these particular family and friends that I'm thinking of them and forever thankful for their friendships. This year especially I tried giving them each something that I felt was something useful but fun or more than they'd do for themselves.
Birthday Gift Baskets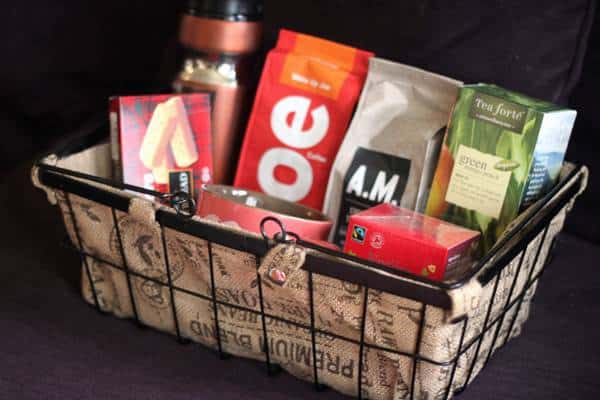 First up is this awesome coffee and tea basket. I went out looking for items along those lines and found this great coffee themed basket so I knew that was definitely the direction I was going for this special friend.
I filled the basket with fun coffees, cute teas, a travel mug, a fun coffee mug, and a pack of my favorite tea biscuits. I'm half Welsh and we know our tea biscuits! After arranging everything in the basket, this is probably my filled with my favorite finds. I still tossed in the gift receipt just in case though.
---
This fitness bag is another one I really liked. This special recipient never splurges on herself but has really been enjoying her morning walks. Now that the weather is turning chilly I started with this super warm but lightweight jacket with a fleece lined hood and a t-shirt and pants to go with it.
I also picked her up one of my favorite water bottles to go with it all. Other items I considered were a yoga mat and kettle bell, but the possibilities are endless here.
---
Another favorite is this baking basket. I started with a large mixing bowl complete with lid, this would be great for cookie dough that needs refrigerated.
I filled the bowl with decorating tips, fun sprinkles, measuring cups and spoons (I feel like you can never half enough of these), pinch bowls, adorable cupcake liners, and a nice bottle of vanilla extract.
Added to all that, I found this adorable hand towel that wrapped up my gift perfectly. Again, I still tossed in the gift receipt in case she has enough of any of these items.
---
Last up is my boozy bag. The inspiration for this gift were these yummy looking chocolates I found while perusing the aisles at Costco. Then I added two bottles of red wine with fun labels.
Wrap it all up in a fun bag with a sweet card and I think this birthday girl will thank me on especially stressful nights.
Hope some of these can help when you have a special someone to shop for.
---