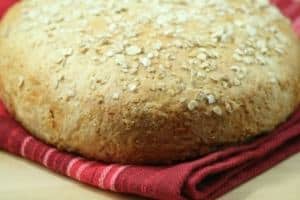 Mama's Honey Oatmeal Bread of Contentment
Nothing beats homemade bread for instant comfort. The smell of Mama Shirley's Honey Oatmeal Bread was one of the most wonderful scents to come from the kitchen. This is the kind of recipe that as it bakes, makes us think of people, places, and moments in time when everything seemed perfectly right with the world.
To go back in time for a few magical hours and experience the warmth and the smell of a contented house is priceless. As this bread bakes it does just that, which is why it will always be at the front of the recipe box.
Ingredients:
½ cup warm water (about 110 degrees F)
2 packages active dry yeast
1 cup milk
¼ cup honey
3 Tablespoons butter, melted
½ teaspoon salt
2 cups old-fashioned or quick cooking rolled oats
3¾ to 4¼ cups all-purpose flour
1 large egg white
1 Tablespoon water
1 Tablespoon old-fashioned or quick cooking rolled oats (for topping)
Makes 2 loaves
Directions:
1. In a large bowl, combine the ½ cup water and the yeast. Let stand for 10 minutes or until foamy.
2. Stir in the milk, honey, butter and salt.
3. Using a wooden spoon, beat in the 2 cups oats, then beat in enough of the flour (1 cup at a time) to make a soft dough.
4. Knead the dough on a lightly floured surface for 6 to 8 minutes or until smooth and elastic, adding only as much of the remaining flour as needed.
5. Transfer the dough to a large buttered bowl, turning to coat with the butter. Cover loosely and let rise in a warm place for 1 to 1½ hours or until doubled in size.
6. Punch down the dough; then divide in half. Cover and let rest for 10 minutes.
7. Shape each half into a 6-inch round loaf.
8. Place the loaves, smooth sides up, on a lightly greased large baking sheet. Cover and let rise for 1 to 1¼ hours more or until doubled in size.
9. Preheat the oven to 375 degrees F.
10. In a small bowl, combine the egg white and the 1 Tablespoon water; brush the tops of the loaves with the mixture.
11. Sprinkle tops with the 1 Tablespoon oats.
12. Bake for 35 minutes or until golden and bread sounds hollow when tapped on the bottom. Transfer to wire racks to cool.
Note: If the loaves of bread brown too quickly lay foil loosely over the tops.