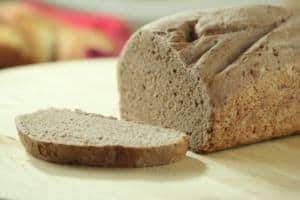 Farmhouse Rye Bread
Ingredients:
For Dough:
1 cup scalded milk
2 Tablespoons sugar
1 ¼ teaspoon salt
2 Tablespoons butter, softened to room temperature
3 ¾ cups all purpose flour
1 ¾ cups rye flour
¼ cup cocoa
For Yeast Sponge:
2 (¼ oz.) packages dry yeast
½ cup water warmed to 115°F
1 teaspoon sugar
Makes 2 loaves
Directions:
1. To make the dough: In a medium heavy bottomed pan, heat milk, sugar, and salt over medium heat until small bubbles form around edges. Remove from heat, add butter, and stir until melted. Let cool to room temperature.
2. To make the sponge: dissolve yeast in warm water. Add sugar. Let stand uncovered in a warm place for about 10 minutes to proof.
3. Sift all purpose flour, rye flour, and cocoa into a medium bowl.
4. Mix proofed yeast and cooled milk mixture in the bowl of a standing mixer fitted with the paddle attachment. Beat in dry ingredients, 1 cup at a time, until well mixed. Change to dough hook and knead for 3 to 4 minutes, or until dough comes together and is smooth and shiny.
5. Coat a medium bowl with vegetable spray or butter. Place dough in greased bowl. Coat a piece of plastic wrap with vegetable spray ( to prevent sticking) and place it loosely over dough. Allow dough to rise until double in size, about 1 hour. Punch down dough and divide in half.
6. Coat two 9 inch by 5 inch by 3 inch baking pans with vegetable spray. Shape dough into two loaves on a lightly floured work surface. Place loaves in prepared pans and let rise until double in size, about 1 hour.
7. Place the oven rack in the middle position. Preheat the oven to 375 degrees F.
8. Bake breads until crusty, about 40 minutes. Turn bread out of pans onto rack and cool to room temperature.