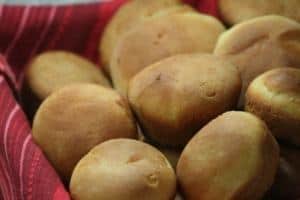 Refrigerator Rolls
Ingredients:
For Yeast Sponge:
1 (¼ oz) Package dry yeast
¼ cup water warmed to 115°F
1 teaspoon sugar
For Dough:
½ cup  butter, cut into 8 pieces
1 cup boiling water
1 ½ teaspoons salt
¼ cup sugar
2 eggs, beaten
4 cups flour
Melted butter, for brushing
Makes 2 dozen small or 1 dozen large rolls
Directions:
1. For the yeast sponge: dissolve yeast in warm water. Add sugar. Set in a warm place for 10 minutes to proof.
2. For the dough: Whisk the butter into boiling water to melt. Add salt and sugar and mix well. Cool.
3. Mix cooled butter mixture, eggs, and proofed yeast sponge in the bowl of standing mixer fitted with the paddle attachment. Add 2 cups of the flour and mix well. Add the remaining 2 cups flour and mix to form a soft dough.
4. Coat a medium bowl with butter or vegetable spray. Place dough in greased bowl. Coat a piece of plastic wrap with vegetable spray ( to prevent sticking) and place it loosely over dough. Place in refrigerator and let rise for at least 2 hours or overnight.
5. Coat the cups and top surface of a 12-cup muffin pan with butter or vegetable spray. Turn dough out onto a floured work surface. Pat or gently roll to a 10-inch by 10-inch square. Cut into 12 equal pieces with floured knife. Roll the dough pieces into balls, place in prepared muffin pan, and let rise in a warm place for 30 to 60 minutes, or until double in size.
6. Set the oven rack in the middle position. Preheat the oven to 400 degrees F.
7. Brush rolls with melted butter and bake 18 to 22 minutes, or until golden brown. Turn rolls out onto a metal rack to cool. Store rolls wrapped in wax paper at room temperature.