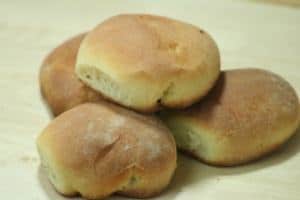 Grandma Phillips' Rolls
Ingredients:
For yeast sponge:
2 (¼ oz) packages quick rising yeast
1 ½ cups water, warmed to 115°F
1 Tablespoon sugar
For dough:
5 cups flour
3 Tablespoons sugar
1 ½ teaspoons salt
2 teaspoons finely chopped fresh rosemary leaves (optional)
½ cup solid shortening
Milk, for brushing
Makes 2 dozen rolls, or 1 dozen rolls and 1 loaf of bread
Directions:
1. To make the sponge: Dissolve yeast in water. Add sugar and set in a warm place for 10 minutes to proof.
2. To make the dough: Mix flour, sugar, salt, rosemary, if using, and shortening in the bowl of a standing mixer fitted with the paddle attachment. Add proofed yeast sponge and beat to combine. Change to dough hook and knead for 3 to 4 minutes, or until dough comes together and is smooth.
3. Coat a medium bowl with vegetable spray or butter. Place dough in greased bowl. Coat a piece of plastic wrap with vegetable spray ( to prevent sticking) and place it loosely over dough. Put dough in a warm place to rise until double in size, 30 minutes to 1 hour.
4. Line two 14 inch by 16 inch baking sheets with foil, shiny side up, and coat with vegetable spray, or use silicone liners. Punch down dough and divide into 2 dozen equal pieces. Roll each piece into a ball on a lightly floured surface and place balls on prepared baking pans. Let rolls rise until double in size.
5. Place the oven rack in the middle position. Preheat the oven to 425 degrees F.
6. Brush tops of rolls with milk. Bake 15 to 20 minutes, or until rolls are golden brown. Let cool on metal racks. Store wrapped in wax paper at room temperature.