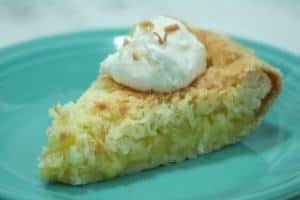 Creamy Smooth Coconut Pie
Ingredients:
Unbaked 9 inch pie shell
¼ cup butter, softened to room temperature
1 cup sugar
1/3 cup buttermilk
2 large eggs
¼ teaspoon salt
1 teaspoon vanilla
½ package (3 ½ – 4 oz) shredded, sweetened coconut
Makes 8 servings
Directions:
1. Place the oven rack in the middle position. Preheat the oven to 350 degrees F.
2. Cream butter and sugar in the bowl of standing mixer fitted with the paddle attachment.
3. Add buttermilk. Add eggs one at a time. Add salt and vanilla. Fold in coconut.
4. Pour filling into pie shell. Bake about 40 minutes, or until top it firm and crust is golden brown.
5. Cool completely on a rack. Store loosely wrapped in wax paper in the refrigerator.