[addtoany]

Mama's Southern fried chicken is the kind of classic that our family absolutely loves. Fried chicken isn't the pinnacle of health food, but nobody expects it to be. Sometimes you just have to indulge and this is a dish that's totally worth it.
Southern fried chicken is perfect for any occasion. If you show up with it at a family reunion, you will be popular with everyone. You can serve it with coleslaw, macaroni, and cheese, or with fresh buttermilk biscuits. If you're going to have some great food, you might as well go all in.
Mama's Southern Cooking
Mama's Southern cooking is the kind of thing that extends way beyond fried chicken. From biscuits and peach cobbler to grits and fried green tomatoes, Southern cooking is a completely different way of cooking. You can't be afraid of sugar, butter, fat, or flour. This is not the kind of cooking that works with any fancy gluten-free or super healthy diet plans.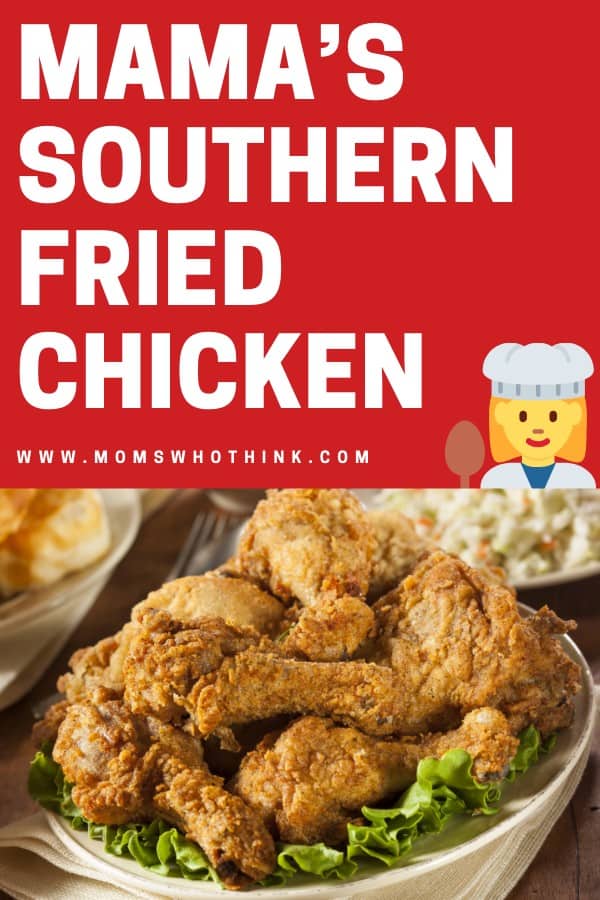 But it's about more than just the recipes: it's also about the traditions. Mama always teaches her kids how to cook. That's how Southern cooking gets passed down from generation to generation. Mama's recipes may be a secret from the other ladies in the neighborhood, but her children will always know them.
Southern cooking is about more than just preparing food in so many ways. It's a whole different mindset about food. Southern cooks know that food is love and they feel happiest when people eat, so you don't want to say no when Mama offers you a piece of pecan pie.
Traditional Southern Fried Chicken
Traditional Southern fried chicken is pretty simple. It always calls for cornmeal, flour, eggs, seasonings, and chicken. It includes both breading and batter and then is deep-fried. This process of both breading and battering the chicken then frying it results in chicken that has a deliciously satisfying crunch.
The crunch is essential to making authentic Southern fried chicken. You want chicken that will still be crunchy even long after it's made. Crunchy fried chicken isn't healthy but it is delicious.
There are a couple of different variations to this recipe that you can make and it can still be considered Southern, even if it won't be as good as Mama's. One common substitution is to use buttermilk instead of the milk.
Another common Southern cooking technique is to brine the chicken for at least four hours in the refrigerator. The brine for the chicken is made of four cups of water, 1 tablespoon of salt, and 2 tablespoons of sugar. It won't make the chicken taste sweet. But it will make the chicken tender and juicy.
If you absolutely must make this recipe more healthy, it's possible to bake it in the oven. We know, nobody would ever choose to do this! But sometimes the doctor has other ideas and you have to follow what he tells you to do.
You can bake the fried chicken in the oven, but the one way it will be different is that it won't have that famous crunch. For your best hope of making your oven baked fried chicken turn out crispier, you can try cooking it for 15 to 20 minutes at 425 degrees. Then turn the oven temperature down to 375 degrees for another 25 to 30 minutes.
Mama's Southern fried chicken is a recipe that's been in our family for generations. But now we're sharing it with you. Use it wisely. And like any good Southern cook would do, make sure your kids learn how to make it, too.
If you enjoyed this recipe, make sure to check out our Tater Tot Casserole Recipe and our Ham and Potato Casserole Recipe.
Print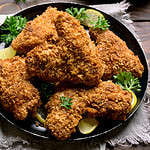 Mama's Southern Fried Chicken Recipe
---
Author:

Total Time:

1 Hour, 15 Minutes
Description
Mama's Southern Fried Chicken is a Sunday favorite, and will continue to be many years from now. It's made from scratch with the same recipe we've used over the last 60 years.This is the real Southern fried chicken, worth every bit of time it takes to make.

---
3

Pounds cut up chicken parts
Vegetable oil
Batter Ingredients:
2 Cups

all purpose flour

1/4 cup

yellow cornmeal

2 Tablespoons

seasoning salt

1 Tablespoon

baking powder

1/2 Teaspoon

ground pepper

5

Extra large eggs

1 1/2 cups

milk
Breading Ingredients:
2 1/4 Cups

all purpose flour

1/4 cup

yellow cornmeal

2 Tablespoons

cornstarch

3 Tablespoons

McCormick Original Chicken Seasoning

2 Tablespoons

dried thyme leaves

1 Tablespoon

paprika

1 teaspoon

ground pepper
---
Instructions
Batter Directions:
Mix the flour, cornmeal, salt, baking powder, and pepper together in a small bowl.
Whisk the eggs and milk in a medium sized bowl until thick and light, about 2 minutes.
Add the flour mixture to the egg mixture and whisk the batter just until the flour disappears and the batter is smooth (about 1 minute).
Let batter stand for 15 minutes to thicken for dipping the chicken into.
Fried Chicken Directions:
Rinse the chicken and pat dry with paper towels.
Mix all of the breading ingredients in a large shallow dish.
Dip each of the chicken pieces in the batter, then roll each in the breading mixture, coating each piece evenly.
Place chicken in refrigerator for 15 minutes to allow the coating to set.
Heat about 1 inch of oil in a large heavy skillet.
Fry the chicken, a few pieces at a time, turning them occasionally, until golden brown and the juices run clear when pierced with a fork (about 20 to 30 minutes).`
Transfer to a cooling rack to drain. Serve hot.
Prep Time:

15 Minutes

Cook Time:

1 Hour

Category:

Main Course

Method:

Frying

Cuisine:

American
Keywords: mamas southern cooking, traditional southern fried chicken