Divine with Cheese Walnut Bread
Walnut bread isn't hugely popular among bread recipes, but it is something we grew up with. Walnuts were plentiful, and they were used to make wonderful recipes besides dessert.
Walnut bread is fantastic with cheese slices as a hearty snack. It isn't sweet so it can be a "tide-them-over-until-dinner" bread. Not only were walnuts used in our house to make homemade bread, but grandpa found unusual ways to use the shells. He made quite a few different things from them, like decorative bowls similar to this: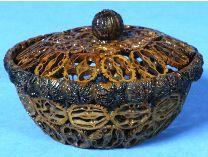 While the decor may not be your style, try the bread. You'll love it, the kids will love it, and it goes great with cheese. We never run out of reasons to eat more cheese!
Ingredients:
1 package active dry yeast
2 ½ cups warm water (about 110° F for the best yeast action)
1 Tablespoon sugar
1 Tablespoon vegetable oil
6 cups unbleached flour
2 cups walnuts, chopped (not too fine, you want them on the larger side)
1 large egg yolk
1 teaspoon salt
Directions:
1. Dissolve the yeast in one cup of the warm water. Add the sugar, stir well and set aside.
2. Oil an enameled pot (one that has a lid and can be placed in the oven) or a large round ovenproof baking dish with a lid with the vegetable oil.
3. Pour the flour into a large bowl.
4. Add the walnuts, stir with a wooden spoon and form a well with the spoon in the center of the flour.
5. Lightly beat together the egg, dissolved yeast, and salt in a separate bowl. Gradually stir the mixture into the well in the flour.
6. Gradually add the remaining 1½ cups water and stir until the dough is well blended.
7. Knead the dough for 10 minutes.
8. Shape the dough into a round and place it into the oiled pot or dish. Turn it once to grease the surface of the dough.
9. Cover with a damp towel and allow the dough to rise in a warm place for 2 to 3 hours until doubled in bulk.
10. Preheat the oven to 375 degrees F. Set a rack in the middle of position of the oven.
11. When the dough has doubled in volume, place the lid on the pot or dish.
12. Bake for 1 hour, or until done. Test by removing the lid and placing a skewer through the center of the bread. It should come out clean.
13. Remove from the oven and let stand for 10 minutes, still covered.
14. Remove the bread from the pot or dish and let cool on a rack.