Did you know that there are 35 different kinds of syrup? Not all of them are used the same. For instance, maple syrup is commonly used for pancakes or waffles. On the other hand, corn syrup is commonly used for baking.
In this article, we are talking about those two specific kinds of syrups. You might be wondering, can maple syrup substitute corn syrup? When should I use either one for cooking? These are great questions that are commonly asked. Choosing the wrong one could have severe consequences on whatever you're dishing up, leaving you (and your guests) with a distaste for whatever you made. Here's a guide explaining the unique differences between these syrups and when you should use each.
What is Maple Syrup?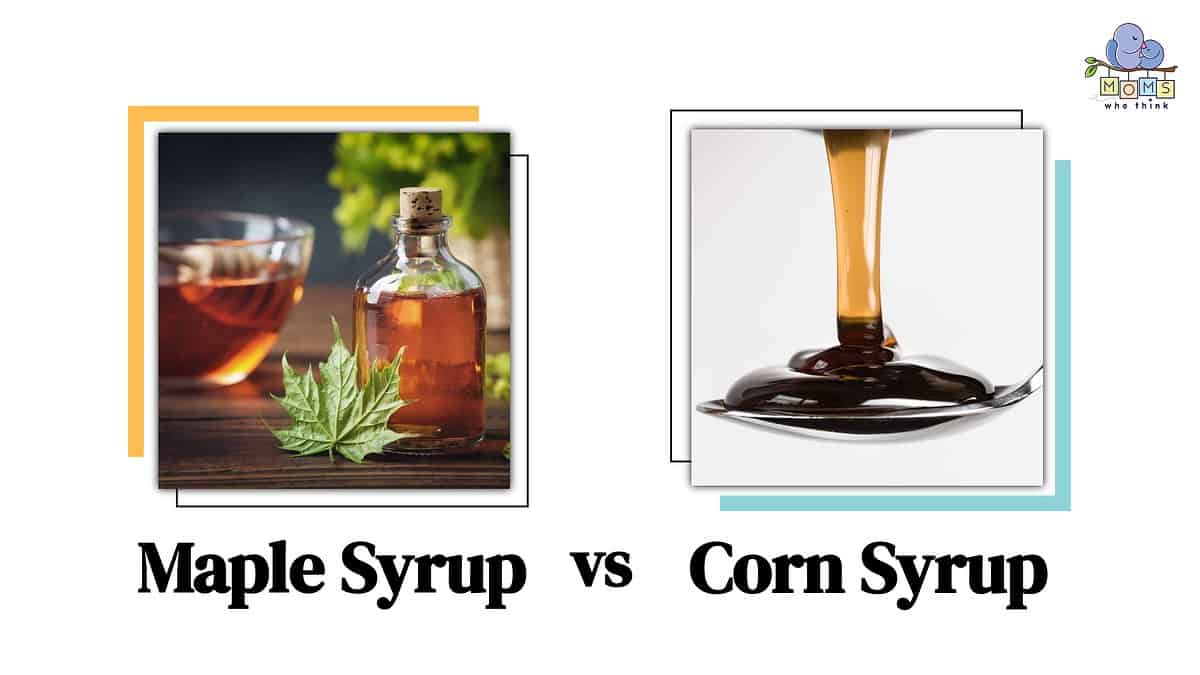 Pure maple syrup comes from sugar maple trees. It's made by concentrating on the sweet sap of the tree. There's usually a season to take the flowing sap from trees to make maple syrup. It has to be below freezing at night, and the daytime weather must be mild.
You can find various kinds of maple syrup in the grocery store. Depending on how pure you want the syrup, you choose various kinds of maple syrup that is either thicker or thinner depending on the consistency of how it's made.
One of the most common ways to use maple syrup in a recipe, when it's not for pancakes or waffles, is when you don't have any honey. Maple syrup is the perfect substitute for honey. You can substitute each white sugar cup with 3/4 cup of maple syrup.
What is Corn Syrup?
Corn syrup is more commonly used in recipes, and you can also find it easily in grocery stores. Corn syrup is exactly what it sounds like – corn. It comes from corn by heating it with dilute acid or combining it with enzymes. The process is a bit more complicated, with corn syrup coming from cornstarch, which comes from the corn kernels.
One of the reasons corn syrup is used is because it's a thickener or sweetener. This is why corn syrup is easily found in jams and jellies. You can also find corn syrup in how candy is made. Corn syrup is also the crystals you see in homemade ice creams and on pies.
What's the Better Option for Baking?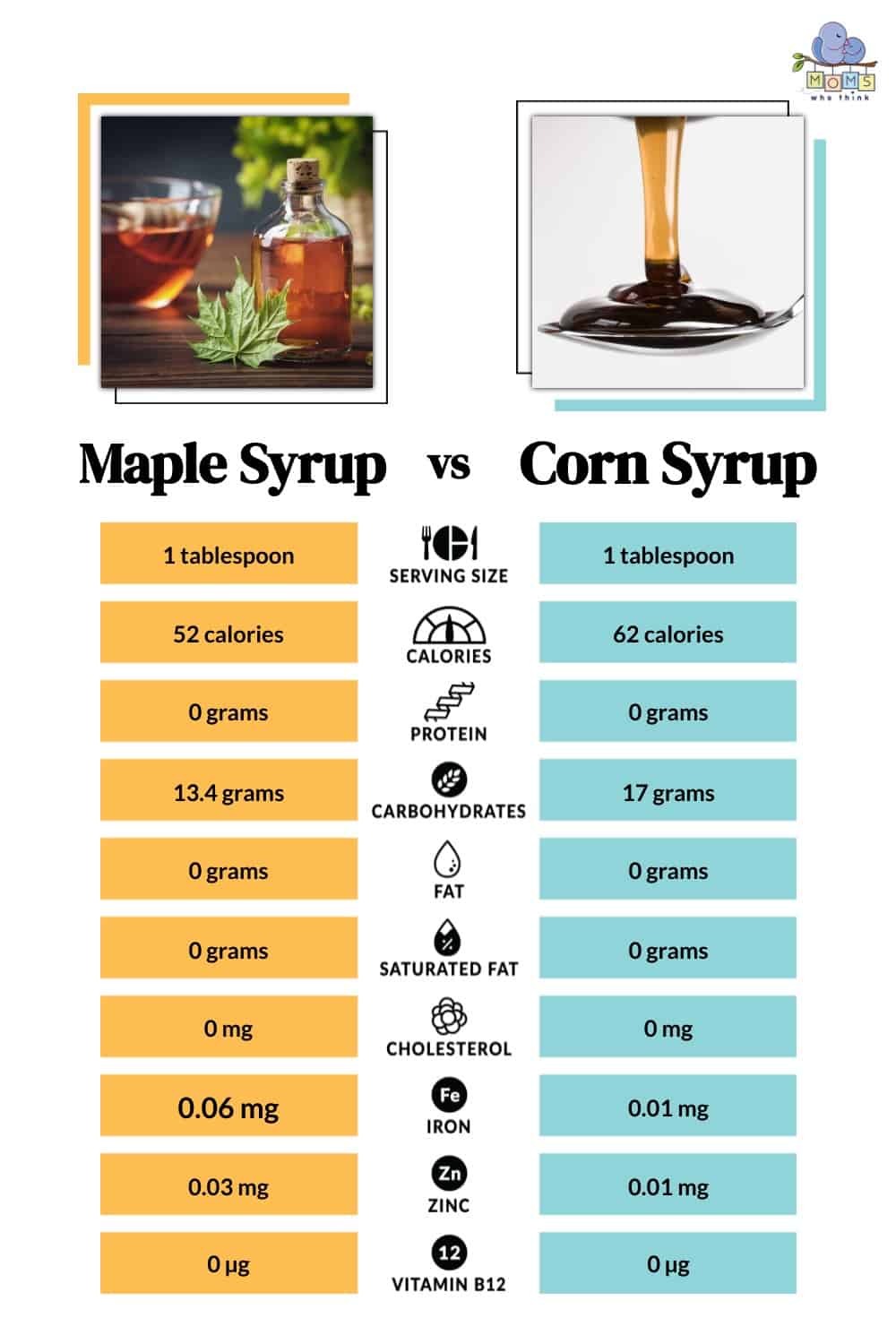 One of the best things about corn and maple syrup is that they can be swapped for almost anything. From jams to glazes to frosting, you can use maple syrup as a substitute for corn syrup without altering the measurements. However, when it comes to flavor, it might slightly change the taste of whatever you're baking.
When it comes to corn syrup, there's a mild sweetness to it. The taste doesn't feel overpowering and lets other ingredients reign as the flavor leaders. Additionally, there's nothing distinct about corn syrup's taste, which is one of the reasons it's not found as the syrup for waffles and pancakes because it doesn't stand alone.
On the other hand, maple syrup has a rich sweetness to it. The taste has been described as a caramel-like taste. Pure maple syrup is three times as sweet as table sugar.
When to Use Maple Syrup
In addition to being a substitute for corn syrup, maple syrup is a great sugar substitute. For anything made with corn syrup, you can substitute it with maple syrup at a ratio of 1:1.
If you're wondering what the health differences are between corn syrup and maple syrup, especially if you're substituting them, maple syrup is significantly healthier. Maple syrup has minerals like manganese, zinc, and calcium, contributing to your health. Maple syrup also has lower fructose levels than corn syrup.
Does It Matter Which One You Use?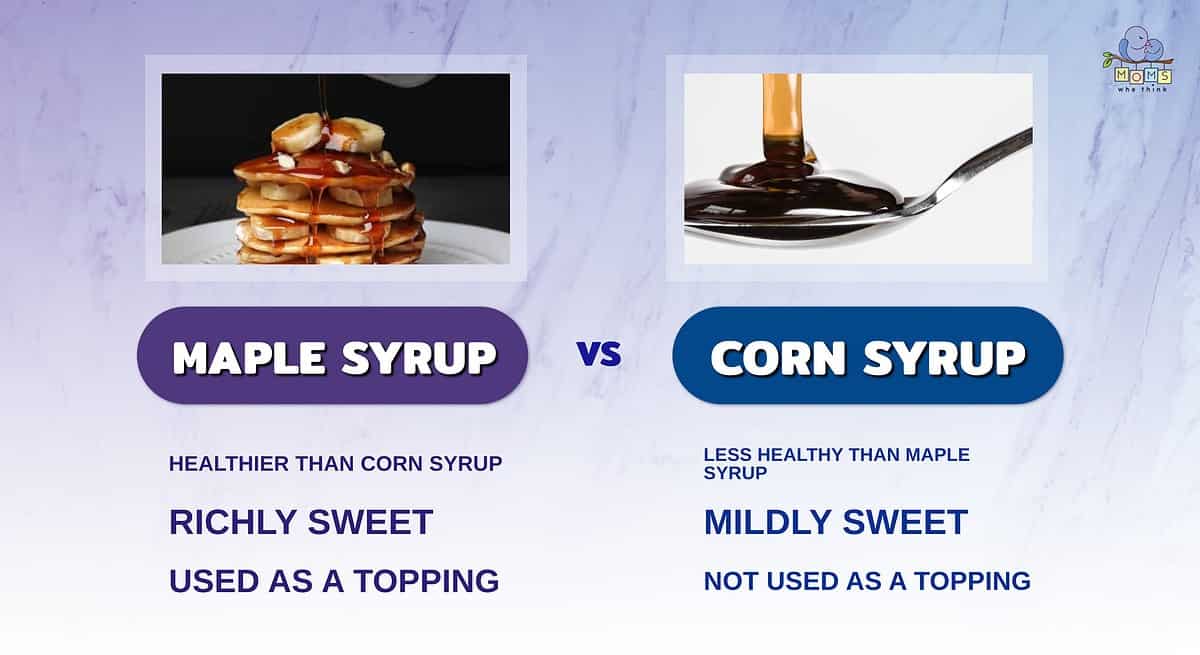 Maple syrup is healthier because of its minerals and lower fructose levels.
The rich sweetness of maple syrup is why many people choose to use it on their pancakes and waffles. Corn syrup has a mild sweetness.
Since corn syrup lacks any distinct flavor, it isn't used as a topping for anything.
There's no wrong choice of which one to use between maple syrup and corn syrup. They both have different advantages depending on what you're cooking. The good news is that they can be interchanged with a 1:1 ratio. However, it's important to remember a few things about these syrups.
Maple syrup changes the taste of whatever you're baking if you interchange it with corn syrup because of its distinct flavor.
The ratio is always 1:1 with corn syrup, no matter what you're cooking
When it comes to baking, you can use either one. You can experiment and see which one tastes better with whatever you're making. While corn syrup is the safer choice for most baking ingredients, maple syrup can be used if you ever need it.
If you've got a lot of maple syrup in your pantry but are tired of eating pancakes and waffles, give this maple balsamic pork chops recipe a try:
Print
Maple Balsamic Glazed Pork Chops
---
1/4

cup

maple syrup

3

–

4

Tbsp balsamic vinegar

2 Tbsp

beef broth

1 1/2 tsp

Dijon mustard

1

clove garlic smashed

1

sprig fresh rosemary

1

sprig fresh thyme
Salt and pepper to taste
---
Instructions
To prepare the pork chops, start by putting the skillet in the oven, which should be preheated to 400 degrees.
Pat pork chops dry with a paper towel, rub with olive oil and sprinkle with salt and pepper. 
Remove skillet from oven and place pork chops inside. Cook 2-3 minutes to sear and brush with glaze. Flip pork chops and repeat.
Put the skillet back in the oven and bake about 5-8 minutes or until you can get a thermometer reading of 140 degrees. 
Transfer pork chops to a plate, tent loosely with aluminum foil, and let sit for 5 minutes. Then serve with a bit of the glaze drizzled over the top.