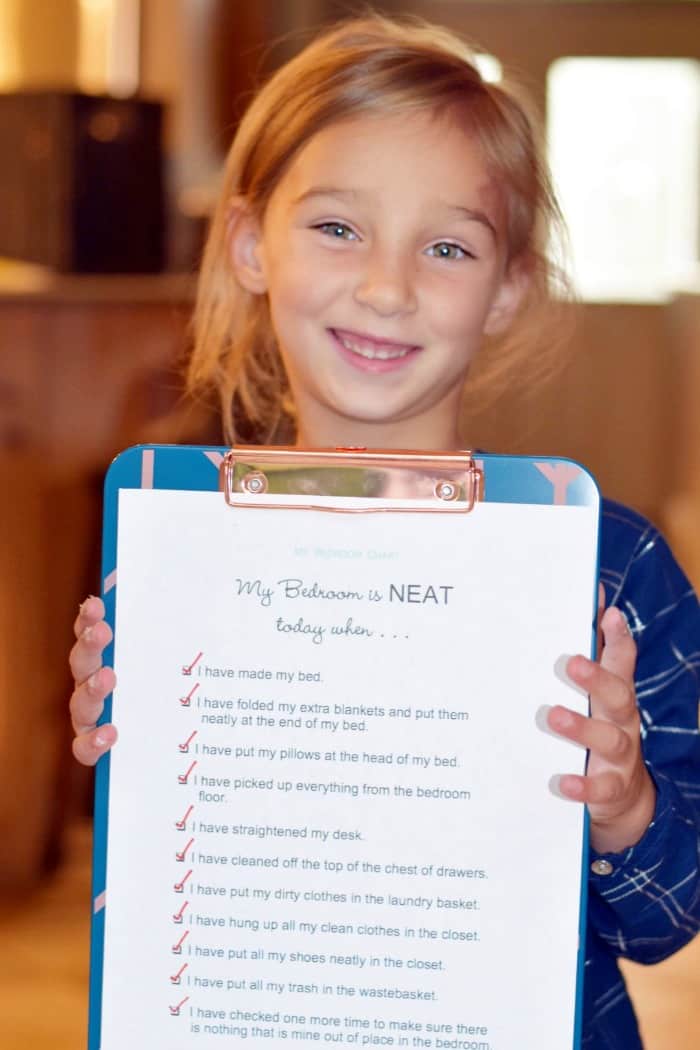 Let's Get Ready for Baby!
Sign up for our monthly pregnancy email series, and you'll get regular updates on your baby's development, helpful timelines to get ready for their arrival, must-have baby needs and so much more! PLUS, you'll get instant access to the MomsWhoThink "Ultimate Guide to Baby Naming in 2022."
CLICK HERE
to get started!
Looking for a bedroom cleaning checklist to help you kids know when they are finished cleaning their room? If you have experienced your children telling you multiple times that their room is clean, only to find multiple tasks undone, this checklist will help solve that problem.
This particular bedroom cleaning checklist has an easy list of tasks that will help children to know if they have accomplished their task correctly.
Another great tip I learned, is to set the table with everyones plates upside-down. Once your kids bring you the bedroom cleaning checklist all checked off, they can flip their plate over and sit down for dinner.
I might also recommend teaching your children how to declutter and get rid of things they don't need as part of our 30-day decluttering challenge.
Also, don't just print off the checklist and expect your children to automatically be good at cleaning their room. They need to be taught, and oftentimes that involves cleaning with them and showing them that it doesn't have to be an all-day-long task.
I suggest teaching your children our magic method for how to clean a bedroom and use it along with this bedroom cleaning checklist. This method really helps simplify the task, and makes it really fun.
Sometimes a messy bedroom can feel overwhelming to kids, but the magic method helps them to feel less overwhelmed, and the bedroom cleaning checklist kind of gives them a roadmap to know when they are done.
You can print of several of these bedroom cleaning checklists at one time, or I recommend laminating one checklist for each child, so that they can check things off with a dry-erase marker and use them the next time!
<<<<Get the Printable Checklist Here>>>>
<<<HALF SIZE CHECKLIST here>>>>
and if you havne't already, join our clean and organized in 30 Days Facebook group!
Transform Your Life With Our Home Organization Guides!
You can also dive more deeply into transforming your organizing abilities with the principles and step-by-step instructions taught in our ebooks! Marie Ricks is a seasoned professional organizer and has been teaching her life-changing skills and habits most of her life. Her live speaking arrangements fill to capacity and her ideas are motivating. 
 The House of Order Handbook is a step-by-step handbook that guides you to being totally, completely, and wonderfully organized in your personal and family life. This book will help you set up a your personal life so you can function a full 10% better and gain up to 90 minutes every day for the rest of your life. Organize As You Go teaches all the necessary principles and habits to get and STAY organized. The premise of Organize As You Go is that most people have little or no time to stop and get organized. But, if you can be organized even as you take care of personal needs, familial nurturing, and professional responsibilities, you can also find the time to enjoy life! If you want to bring greater organization to a life that just overwhelming and busy; but, you feel held back because you just don't now how it's possible, this book is for you. There are changes you can make in your thinking, what you do every day, and how you respond to daily stresses that can make all the difference in your capacity to have an ordered and productive life. Find answers and implement changes with this book!