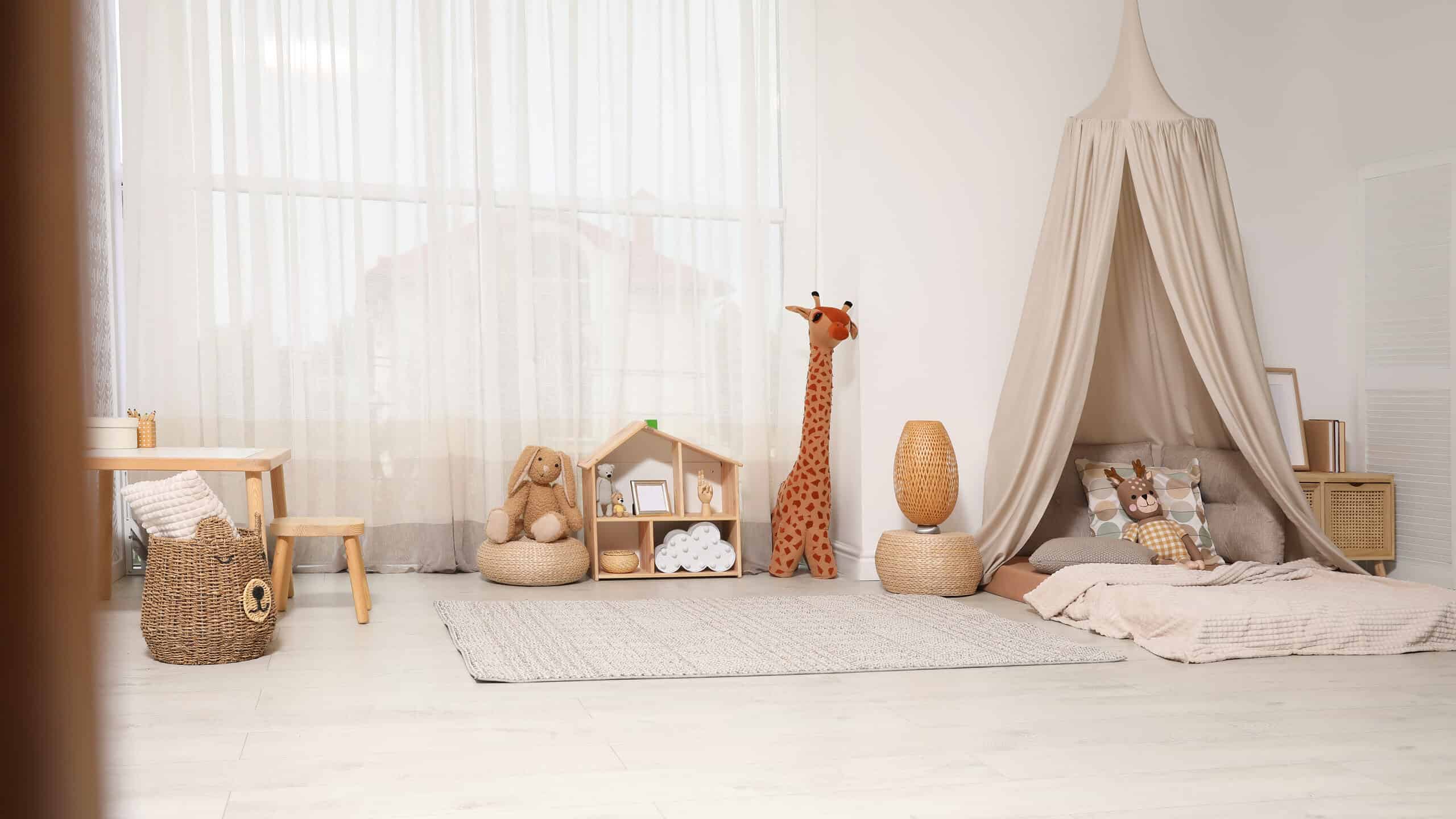 Thanks to the stripped-down simplicity of the Montessori method, setting up a Montessori bedroom is fairly straightforward and relatively effortless. Personal tastes and available space will dictate how your family setups your child's Montessori bedroom. The nine following steps are more of an outline than a blueprint, intended to ignite your creativity and imagination. Keep reading to learn one way, in nine steps, of setting up a Montessori bedroom.
Key Points of Organizing a Montessori Bedroom
A Montessori bedroom is designed from the child's point of view. In turn, everything should be at the child's height.
Natural light and neutral colors should be a keystone of the set-up.
Everything in the room has a purpose and everything should be open and visual to your child.
Montessori Method: Brief Overview
To comprehend fully the reasoning behind the steps in setting up a Montessori bedroom, it is important to understand the core beliefs of the Montessori lifestyle. Originally conceived as a method of educating young children over 100 years ago by Maria Montessori, her methods and core beliefs have spread throughout the world in the intervening years. Beyond the Montessori classroom, families around the globe are embracing Dr. Montessori's core beliefs in their homes.

In a nutshell, Montessori believed that children were exceptionally capable of educating themselves, intellectually, as well as functionally. To best serve a child's growth, it is important for parents to allow them to do the tasks of daily living themselves. (To discover more about the Montessori principles of parenting click here). It follows, therefore, that a Montessori bedroom is set up in a manner that allows children autonomy.
Montessori Bedroom: Physical Space
Chances are the room that is/will be your child's bedroom has already been determined. However, if there is some flexibility in the space that will be used, incorporating the following features is encouraged. An important thing to note is that if you are moving or changing the rooms in your house, it could be used as a good opportunity to develop and test how a Montessori bedroom works for you and your child.
Physical Space: Natural Light
Natural light fills a Montessori bedroom. The best source of natural light is windows. In the absence of windows, full-spectrum lights are a suitable substitute. Dr. Montessori understood the benefits of natural light. From health benefits to rendering colors more accurately, she felt that natural light was best for children.
If natural light is limited in your home there are still options. To still receive some of the benefits of natural light from artificial sun lamps. According to Medical News Today, artificial sun lamps can be beneficial in replacing natural light for proper sleep cycles.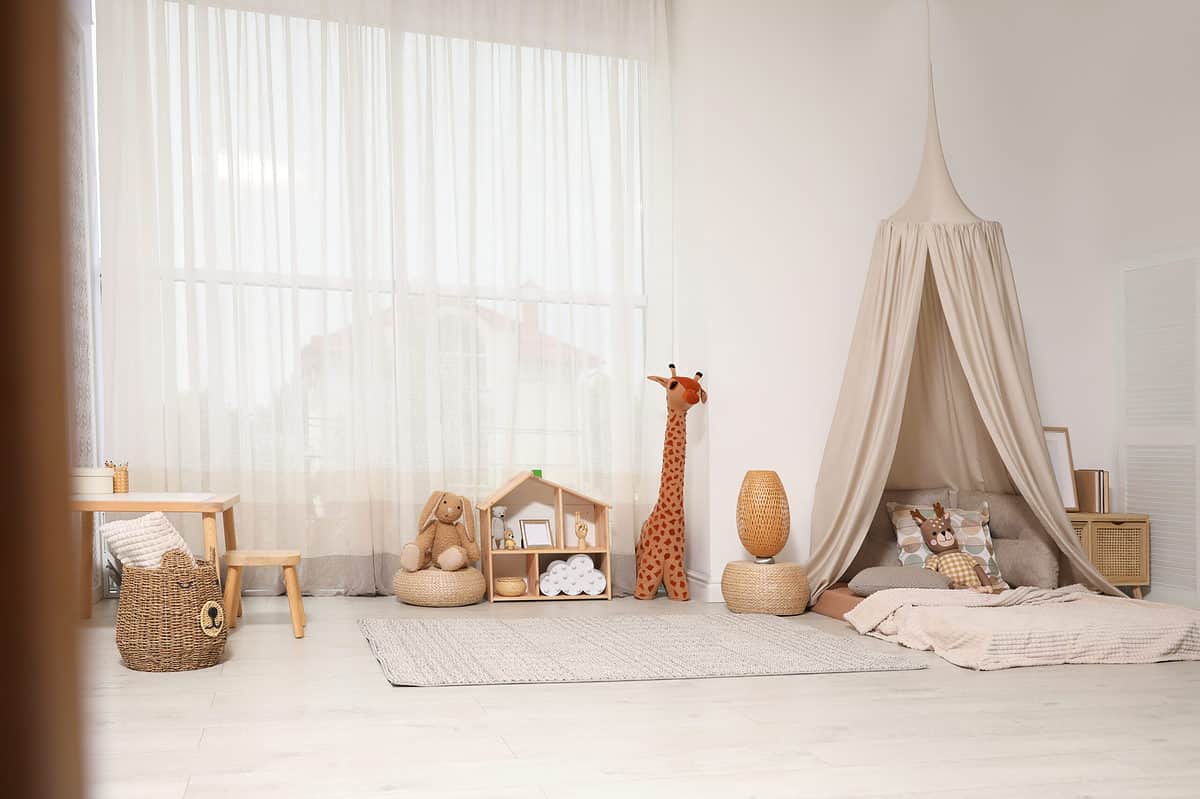 Dr. Montessori also understood the role that darkness plays in sleep. If the bedroom has a window or windows, invest in high-quality blackout curtains to ensure your child a good night's sleep. For that matter, invest in blackout curtains for your own bedroom, if you haven't already.
Research is determining that Dr. Montessori was right-on in her belief concerning darkness and sleep. Current studies are discovering that even small amounts of artificial light in sleep environments can cause metabolic disruptions as well as chronic illnesses. In addition to the blackout curtains, windows should have sheer or opaque curtains to filter bright, midday light.
Physical Space: Neutral Paint
The impulse to paint a young child's room with bright colors is understandable. When you ask a young child about their favorite colors, rarely are the answers beige, sage, or cream. However, Dr. Montessori recognized that neutral colors, similar to those found in nature, are calming and centering. Fortunately, the natural world offers a dizzying array of muted, neutral colors.
Allow your child to offer input; even preverbal and nonverbal children are capable of pointing their fingers when given a choice of colors. Young children take pride in and gain confidence through making decisions. An easy way to do this would be to take a field trip to the hardware or paint store. Pick out various paint samples and see what your child reacts the best to under Montessori's color guide.
Montessori Bedroom: Furnishings
Like every other aspect of the Montessori lifestyle, Montessori furniture is simple and functional.
You are no doubt, familiar with the concept that form follows function. The phrase, coined by architect Louis H. Sullivan in 1896, couldn't be more evident than in the design of Montessori furniture. Designed to be accessible to even the youngest children, Montessori bedroom furniture is no exception.
Montessori Bedroom: Low Bed
A low bed that a child can easily get in and out of without assistance, is a core piece of furniture in a Montessori bedroom. Montessori beds come in many different styles. Choose the one that best suits your family. If practical, allow your child to have input into the style of bed they prefer. Best practice would suggest eliminating unsuitable choices, for factors such as cost or availability, prior to including your child in the discussions.
Montessori Bedroom: Open Wardrobe
Like early 20th-century homes, Montessori bedrooms do not have closets. In place of a closet, Montessori bedrooms have open wardrobes. If your child's bedroom has a closet, it doesn't have to remain empty. Use it to store clothing that is out of season or awaiting a growth spurt. For the clothing that is in rotation, however, the open wardrobe is primo. Without the doors or drawers of traditional dressers, open wardrobes are infinitely more accessible to young children.
Hanging clothes hang from a simple wooden or metal rod. The rod should be at an appropriate child-friendly height, usually between 3-3.5 feet from the floor. The wooden or metal rod is either a stand-alone model or incorporated into a larger unit with open shelves.
Open shelving is appropriate for t-shirts, shorts, jeans, and sweats. Baskets or fabric cubes are splendid for keeping socks and underwear organized. The organization of your child's wardrobe will reflect personal tastes and specific challenges. Some families group clothing by article, having individual baskets, fabric cubes, or shelves for tops, bottoms, socks, and underwear. In this system, children learn to dress themselves by choosing an article of clothing from each basket/fabric cube/shelf.

Other families employ a days-of-the-week system, in which clothes are organized by placing outfits, consisting of tops, bottoms, undies, and socks in individual baskets. In this system, the child simply dresses themselves from the contents of a single container. Time will help determine which system works best for your family. As with the bed, when practical, allow your child to have input regarding the style choices and organization.
Montessori Bedroom: Full-Length Mirror
A full-length mirror is an important component of a Montessori bedroom. Little folks who are just learning to dress themselves benefit immeasurably from visual cues. The best visual cues are the real-life ones provided by their image in the full-length mirror. Full-length mirrors can be freestanding or attached to a wall or door.
Montessori Bedroom: Hamper
Placing a hamper in your child's bedroom solidifies the concept of a place for everything; everything in its place, introduced with the Montessori wardrobe. Having a specific vessel, in which dirty clothes are deposited, instills this concept and resulting behavior in children. At least until the teenage years, and then all bets are off. Canvas or mesh hampers are good choices.

Once a child is tall enough to reach the controls of the washing machine and dryer they are capable of doing their own laundry. Some children are even capable of doing their laundry when they can reach the controls while standing on a sturdy wooden stool. Even toddlers are capable of folding and putting away their clothes. Some assistance may initially be required, however, given time they will be able to perform these tasks independently.
Montessori Bedroom: The Activity Basket
Montessori bedrooms should be associated with only two functions: sleeping and dressing. The lion's share of books, toys, puzzles, and electronics should be kept in a separate space. However, if you, a night owl, birthed a lark, having an activity basket in the bedroom will allow you a few extra, precious moments of sleep. Even if you're a lark yourself, you might value a moment to yourself, prior to going full mommy mode.
Stock the activity basket with a few items to occupy your child for appropriate amounts of time, which will vary, age-dependent. Very young children will gain independence and confidence when allowed brief intervals in which they must entertain themselves. Maria Montessori recognized that independent children are much easier than dependent children to parent in the long run. Her philosophy aligns well with the notion of preparing the child for the road and not the road for the child. A well-stocked activity basket will include a few books, a puzzle, or a few art supplies. Contents should be rotated occasionally, according to your child's interests.
Montessori Bedroom: Rollable Mat
Especially if your child's bedroom has hardwood or tile floors, or even if it doesn't, having a rolling mat in the activity basket is a fab idea. In the intervals that they will be expected to entertain themselves in their bedroom, having a mat on which to play or work a puzzle creates a boundary while providing warmth and comfort.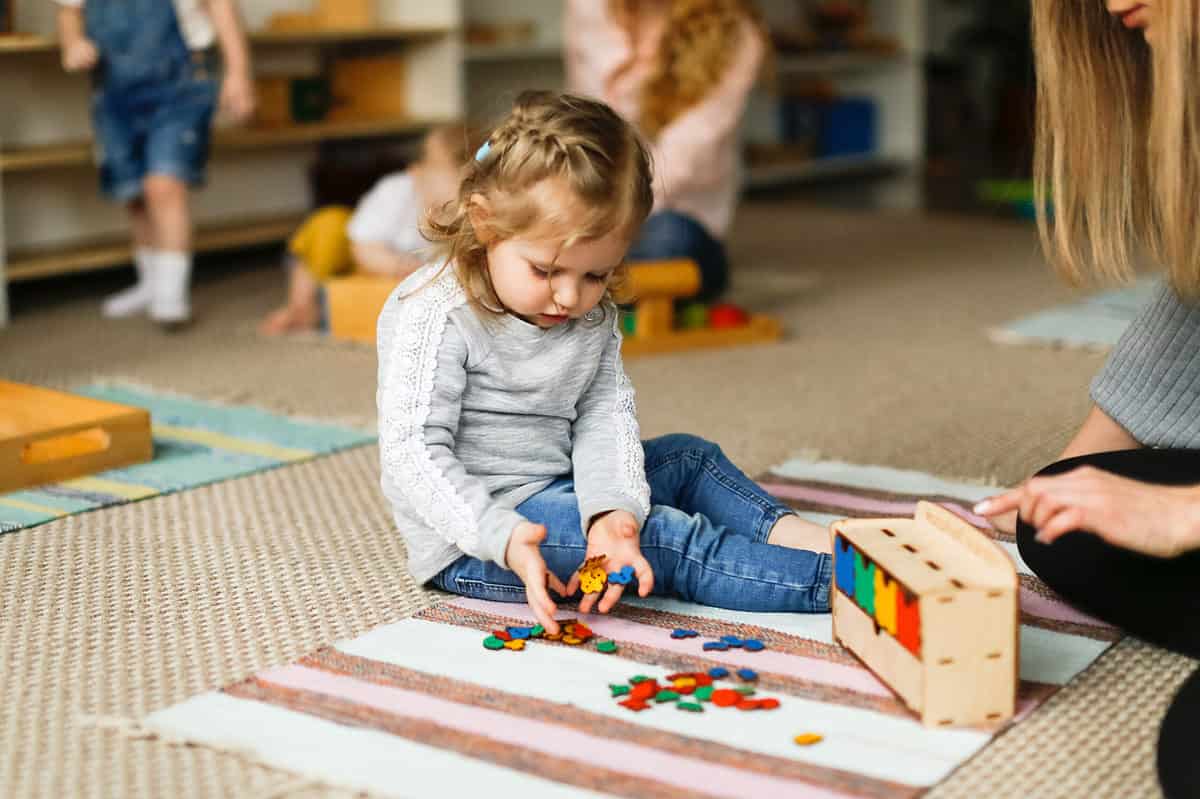 Montessori Bedroom: Chid-Sized Rocking Chair
Incorporating a child-sized rocking chair in a Montessori bedroom gives a child a comfortable and comforting place to relax. Rocking chairs have a soothing effect on cranky children. Research has determined that the simple act of rocking improves circulation and releases endorphins. Studies of insomnia have determined that rocking results in better sleep.
Placing a rocking chair in your child's bedroom will have long-term effects on their health and well-being. You can pair early reading or other sit-down activities to aid in your child's learning habits and focus. Pairing a calming rocking chair with a learning experience could help in partnering learning with a calm feeling.
As you start the process of transforming an existing bedroom into a Montessori bedroom, or if you're starting from scratch, the above guidelines should help. Whether you choose to incorporate all of the above suggestions, or only a few, you and your child will reap the benefits a Montessori bedroom provides.