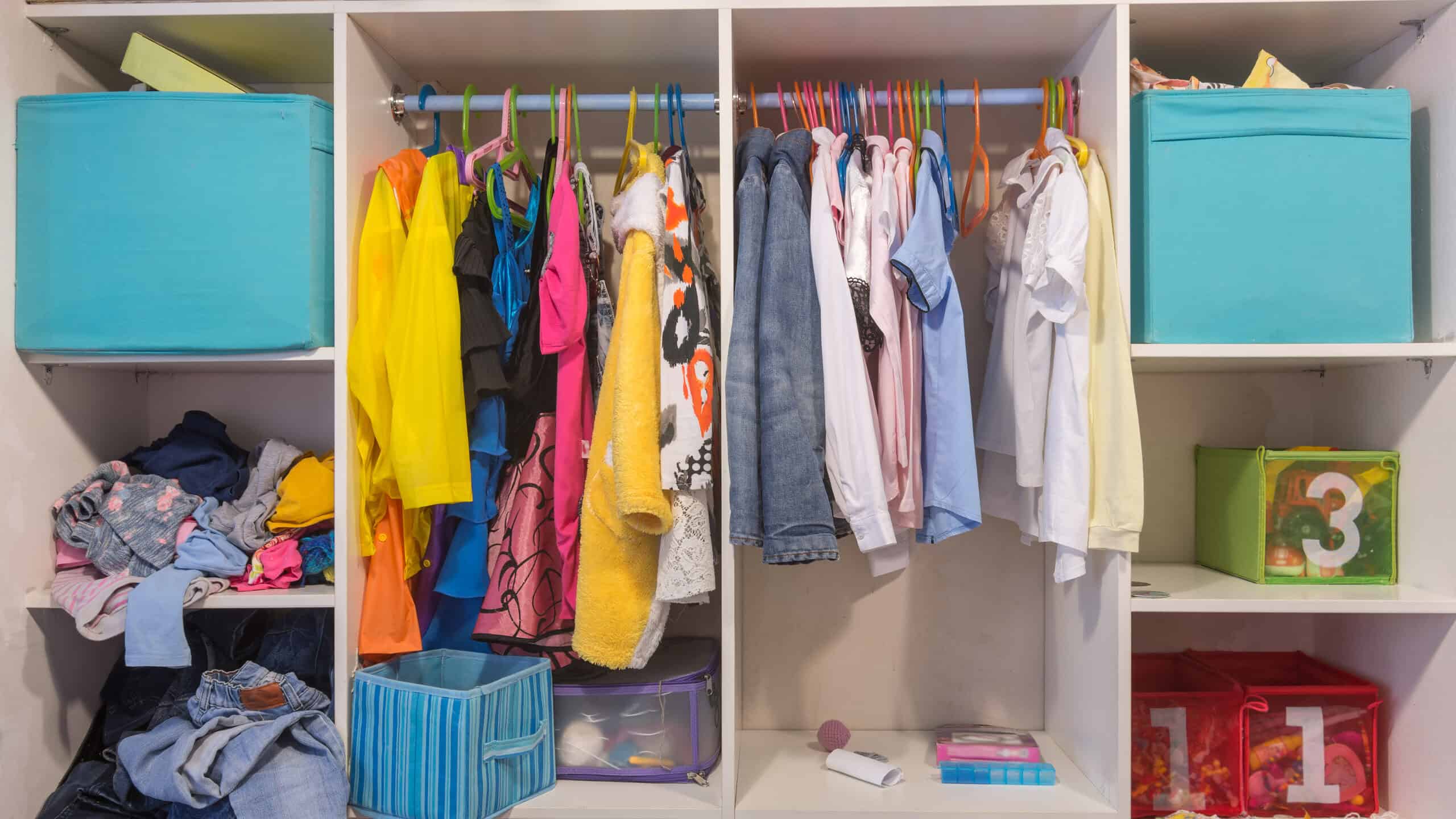 What is a Montessori wardrobe? For the sake of clarity, this article will not be discussing Montessori school attire. We will be discussing the piece of furniture for organizing and storing clothing that was inspired by the Montessori method of teaching young children. Though there are many variations on the theme, Montessori wardrobes are all about simplicity and accessibility. Keep reading to find out what a Montessori wardrobe is.
Key Points
A child's Montessori wardrobe should be designed with accessibility in mind. Open wardrobes should be prioritized over ones with doors and drawers.
Hanging and folding should be incorporated into a Montessori wardrobe, so children can learn these important life skills.
A shoe shelf and clothes hamper are also important additions to a Montessori wardrobe.
Montessori Wardrobe: Philosophy
The Montessori method of educating young children is known and revered around the world. Named for its creator, Dr. Maria Montessori, the model has a reputation for engendering independence, creativity, and empathy in its students. It also has quite a list of notable graduates including Beyoncé Knowles and Mark Zuckerberg.
Like the education model, the Montessori wardrobe is designed to engender independence in even the youngest children. Dr. Montessori felt that adults should never do for a child what they can do for themselves, or even tasks they only think they can do themselves. With that in mind, a Montessori wardrobe is typically simple and open. Drawers and doors are notably absent. This is because drawers and doors present obstacles for young children. Montessori wardrobes are arranged so that children are capable of dressing themselves without input from adults. They also teach children about organization, encourage independence, and allow room for self-expression. So how does this tried and true system work?
Montessori Wardrobe: Hanging
One facet of a Montessori wardrobe is the hanging rod. This rod should be located at a height that is easily accessible for young children, typically between 3-3.5 feet from the floor. The rod may be either wooden or metal. Though a plastic rod is an option, Dr. Montessori felt that natural materials, such as wood, are more suitable for young children. The rod can be part of a larger Montessori wardrobe or a stand-alone model. How the clothes on the rod are organized is a matter of personal taste.

Some families find that hanging the clothes in the order in which they will be worn throughout the week is a good system. Other families hang the clothes in rainbow color order. And then there are those families who pointedly state they are just happy the clothes are hung up regardless of the aesthetic. And you know what? Those are all perfectly suitable systems.
Montessori Wardrobe: Folding
The other component of a Montessori wardrobe consists of shelves or baskets in which folded clothes are placed. These baskets or shelves or fabric cubes should also be at a height that is easily accessible to young children. Mix-n-match! Open shelving works well for t-shirts, shorts, jeans, and sweats. Baskets work better for socks and underwear. As with the hanging rod, different families employ different systems.
One popular system involves having a separate basket (or fabric cube) for each item worn on a daily basis. In this particular system, there is a basket for underwear, a basket for shirts, a basket for bottoms, and a basket for socks. When the child gets dressed they know to take one item out of each basket. Whatever system you choose, be certain to include your child in the process. Discussing the pros and cons of different systems with your child deepens their understanding of and confidence in the system.
Montessori Wardrobe: Full-Length Mirror
Along with a Montessori wardrobe, it is suggested that you have a full-length mirror in your child's bedroom. Being able to watch themselves as they get dressed is an immeasurable help to a toddler. To be sure there will still be days when shirts are worn backward and shoes are on the wrong feet. But then there will be days when they're not. They grow up so fast.
Montessori Wardrobe: Shoe Shelf
Speaking of shoes, a low shelf for shoes is another must-have satellite accessory for the Montessori wardrobe. Though some Montessori wardrobes come with a lower shelf for shoes, not all do. It's also not a bad idea to have a shoe shelf by the entrance that the family uses most often. This helps children get in the habit of removing their shoes when they come into the house. And having a place to put them keeps them out of the middle of the floor. Not that I would have any first-hand knowledge of such shenanigans.
Montessori Wardrobe: Clothes Hamper
A clothes hamper completes the Montessori Wardrobe. A canvas or mesh hamper jibes with the Montessori mood. Train your child early to place dirty clothes in the hamper. when they are tall enough to reach the controls on the washing machine and dryer, they are old enough to do their own laundry. Some laundry prodigies may be ready to do laundry when they can reach the controls while standing on a sturdy wooden stool. Children who haven't started washing their own clothes should still be responsible for folding them and putting them in their Montessori wardrobe.
Montessori Wardrobe: Quantity
Montessori wardrobes are typically not large and that's with intention. Yes, children should have choices in their clothing. However, when children are presented with too many choices, it makes their decision more difficult. The younger the child, the fewer items of clothing they should have at their disposal. You may have an arsenal of cute clothes in a different area that you rotate through their wardrobe. However, reasonable, limited choice works best with the youngest children. Older children are able to navigate more choices. When seasons are changing, have appropriate clothing for different kinds of weather in the wardrobe. Discuss the weather with your child, so that they may choose appropriate clothing for the day. Informed choices help children feel empowered and in control of their environment.
Is a Montessori Wardrobe Expensive?
Montessori wardrobes are not meant to be cost prohibitive. In fact, depending on your house, you may be able to start one with few additions or adjustments. The Montessori style recommends wooden furniture for children, but beyond this you can use your creativity to keep the cost down! In terms of clothes and shoes, your child doesn't need extravagant clothing or expensive shoes to be a successful Montessori child. Allowing them to freely explore their style while also teaching them the importance of being financially responsible is a great thing.