Children grow fast, and keeping them in the right size shoes takes some planning. Any parent can attest that growing feet and changing sizes means regularly buying new shoes. Experts recommend measuring your child's feet every three to four months to make sure they are always wearing the appropriate size shoes. On average, children can grow half a shoe size every four months.
Consumer Affairs explains that 65% of children are wearing the wrong size shoes and that 52% of parents surveyed had never measured their child's feet and instead used visual clues to determine size. Unknowingly loving parents with good intentions are damaging their children's feet. When children aren't wearing the right size shoes, it can negatively affect their physical development.
The importance of wearing the right size shoes cannot be understated. It is essential for children's growth and foot development to wear the right-sized shoes. According to Warren-Watchung Podiatry Center, when children wear shoes that are too tight, they can develop hammertoes and exacerbate bunions, and wearing shoes that are too big can lead to accidents and falling down while playing.
Parents can leave the foot measuring to the experts at the shoe store or simply learn how to do it themselves to keep track of those growing tootsies.
How to Measure a Child's Foot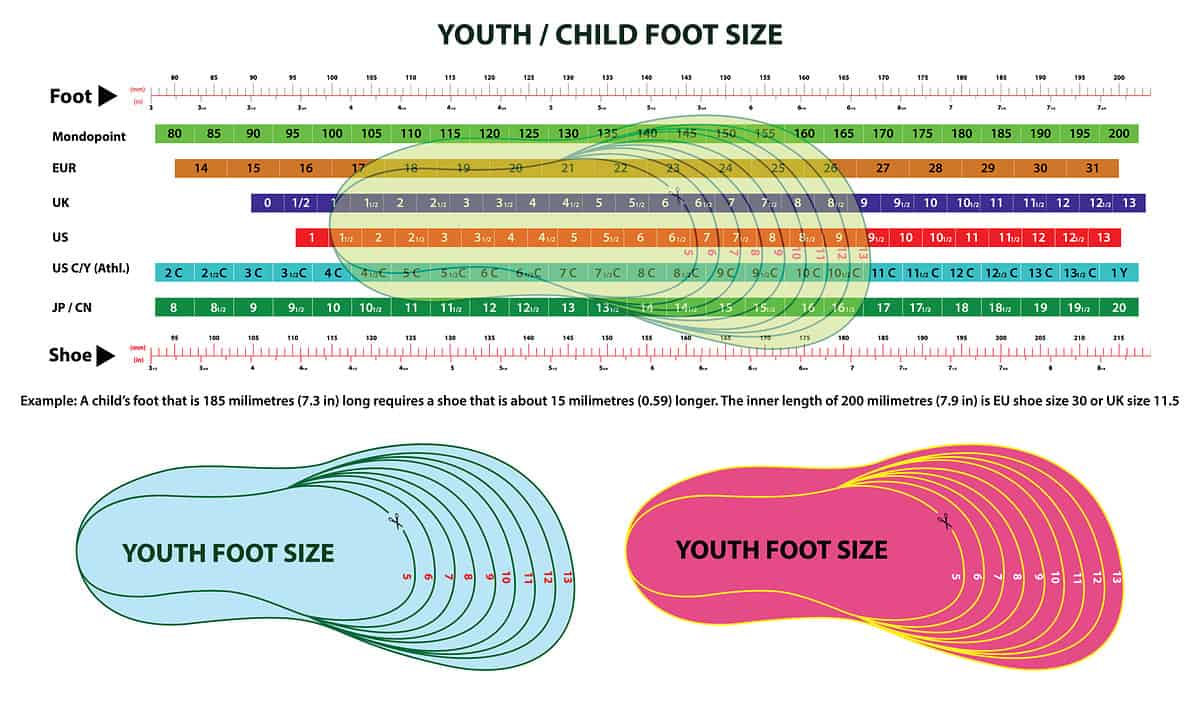 You don't need any special training to measure your child's feet, just a sheet of paper and a pencil. Start by having your child keep their foot flat and place the foot on a piece of paper, making sure they stand up straight. With a pencil, trace the outline of the foot. Be sure to keep the pencil straight and that your child keeps their toes together. Measure the foot lengthwise; the best way to do this is with a standard ruler or tape measure. When you have the exact numbers, you can look up the exact size in a foot chart.
Parents should keep in mind that boys' and girls' sizes are the same. There is no difference between boys' and girls' shoe sizing.
Myths About Buying Children's Shoes
There are some common myths that need to be busted when it comes to choosing the right size shoe for your child. First, asking your child if the shoe fits is rarely a good way to measure. Children are unpredictable and have no idea how their shoes should fit. And if they really like the shoe, they may not give an honest answer and instead jam their foot into that sparkly shoe.
Many parents are guilty of just holding the sole of the shoe up to the bottom of their child's foot to measure. While this seems like a good idea, it actually has no valid connection to the actual size. The sole of the shoe is different than the interior of the shoe, so eyeballing it is never an accurate way to determine shoe size.
Lastly, having your child wiggle their toes or press on the tip of the shoe to see where their toes are doesn't work because kids' natural reflex is to curl up their toes.
Ideally, the distance between your child's longest toe and the end of the shoe should be half an inch.
Practical Tips for Shoe Fitting
Always bring your child shoe shopping with you. They must try shoes on as all brands and styles have slightly different sizing.
Measure your child's foot before going shopping, and then have an expert at the store measure too.
Go shoe shopping later in the day because feet tend to swell throughout the day. So to ensure the best fit, avoid buying shoes in the morning.
Bring appropriate socks. For winter boots, bring thicker socks, and for athletic shoes, bring thinner socks.
Avoid buying shoes that need a break-in period or that need to be stretched out before wearing them. By the time they are broken in and comfortable, your child will already need a new size.
Check your child's feet regularly for blisters or other indicators that their shoes do not fit properly.
Consider the weather and choose appropriate shoes made from durable material. Shoes with wheels are fun but should not be worn daily.
Tips for Athletic Shoes for Children
If your child does a variety of sports, make sure they have appropriate footwear for the sport. Athletic shoes are designed for specific sports for the best fit and support while engaged in the activity. Parents need to pay attention to athletic socks, too. Choose athletic socks made from a natural, synthetic blend that wicks away moisture. Check athletic socks for seams or other things that can irritate the foot and cause blisters.
How to Handle Between Sizes
If your child is between sizes, the American Podiatrist Medical Association recommends buying the next size up. This applies to children that have one foot that is bigger than the other, which is actually more common than previously thought. So when you are measuring your child's feet, make sure to measure both feet.
Keeping your child safe and in the right size shoes is important to their physical and mental development. Sore feet and blisters can keep a child from participating in physical activities and focusing at school. So keep your child comfortable and their feet happy.
The image featured at the top of this post is ©Ground Picture/Shutterstock.com.