There are so many kitchen tools and appliances out there that can make your life easier. Especially as a busy mom, appliances like slow cookers, pressure cookers, and rice cookers can make creating meals for friends or family a breeze. If you're considering adding one of these appliances to your kitchen, you might wonder about the difference between a pressure cooker vs. rice cooker.
There are many similarities between a pressure cooker and a rice cooker, but they're not the same appliance. Both appliances use steam to cook the food, but a pressure cooker builds up pressure within the pot and reaches a much higher temperature than a rice cooker. While the function of a rice cooker is specifically to cook rice or other similar foods, you can use a pressure cooker for a variety of meals.
Keep reading to find out more about the key differences between a pressure cooker and a rice cooker and which one would make the best addition to your kitchen.
Pressure Cooker vs. Rice Cooker: What Is the Difference?
When you're looking at what kitchen appliances would work best in your kitchen, you may have considered both a pressure cooker and a rice cooker. These two countertop appliances look pretty similar in appearance, and you might wonder if they have the same function.
The biggest difference between the two appliances is their versatility. A rice cooker is specifically designed to cook rice or food that is similar to rice, such as quinoa. That's because the rice cooker reaches a high heat and boils the liquid inside the rice cooker, then uses the steam to cook the rice. A meal that needs temperatures higher than 212° F can't be cooked in a rice cooker.
Compared to the rice cooker, a pressure cooker reaches a much higher temperature. The cooking temperature in a pressure cooker may reach up to 244° F, although the temperature will vary during the cooking process. The pressure cooker boils the liquid inside of the pot and then uses the built-up pressure to increase the temperature and cook the food.
What Is a Pressure Cooker?
Even though pressure cookers aren't new, sales have increased over the past 10 years or so, with the most popular brand being the Instant Pot. For busy families, it's easy to see why they've become such a big deal. There are many meals you can cook in a pressure cooker in less than 30 minutes. The pressure cooker cooks so efficiently that it's even safe to put frozen meat in it as long as you cook it to the proper temperature.
A pressure cooker, like a rice cooker, uses steam to cook the food. This appliance works by increasing the pressure in the pot after the water or liquid has reached a boiling point. This allows the temperature to increase and the steam to become trapped in the pot due to the airtight lid.
The combination of the steam and pressure inside the pot makes it an incredibly efficient way to cook meals. While it may take 35-45 minutes to bake chicken in the oven, chicken breast can cook in a pressure cooker, often in less than 20 minutes.
Keep in mind, though, that much like pre-heating an oven, the pressure cooker takes some time for the pressure to build up, which can add 10-20 minutes to your cooking time. Still, once the ingredients are in the pot, you have the benefit of walking away until the meal is complete.
Some pressure cookers, like the Instant Pot, often have other functions as well. The Instant Pot has a saute function and a slow-cooker function. Additionally, many of the models also have a function for cooking rice.
Benefits of a Pressure Cooker
Many families swear by pressure cookers like the Instant Pot since they make cooking meals a lot quicker and easier. Like a slow cooker, you can set the meal to cook and walk away, but your meal will be ready in less than an hour.
There are many benefits to pressure cookers, including:
Easy-to-use
Set your meal and walk away
Pressure cooks the meal quickly
Makes meat tender like a slow-cooker
Versatility to what you can cook
Even though there are many dinner recipes you can make in a pressure cooker, you can also use it to easily cook rice or make the perfect hard-boiled eggs.
What Is a Rice Cooker?
Despite how popular pressure cookers have become, it's no surprise that rice cookers are still popular kitchen appliances. Even in the U.S., rice is one of the most popular grains to include in meals, and Americans alone consume about 4.8 million metric tons of rice each year.
Cooking perfect rice can be tricky, though, and even with the straightforward method of cooking it on the stove, it's challenging to get it just right. That's where the rice cooker comes in. The first automatic rice cooker was sold in Japan in the 1950s, and now they've become a common countertop appliance all over the world.
The rice cooker is an electric appliance specifically for cooking rice. Although it looks similar to a pressure cooker, they are different appliances. You can use a rice cooker to cook rice and other similar grains, such as quinoa or oatmeal. Like a pressure cooker, the rice cooker uses steam to cook the rice, but it doesn't build up pressure like the pressure cooker.
Benefits of a Rice Cooker
Considering a rice cooker really only has one purpose, many wonder if it's worth the purchase. If you eat a lot of rice or other grains in your family, a rice cooker is a great addition to your kitchen. Even though you can cook rice on the stove, the rice cooker is designed to cook rice consistently without the hassle.
There are numerous benefits to rice cookers, including:
They're easy to use
You get perfect, fluffy rice most of the time
You can set them ahead of time
Your rice stays warm in the rice cooker
Shuts off on its own after the rice is done
Using the rice cooker to cook your rice is as simple as adding your ingredients and pressing a button. Always check the package for the right ratio for the type of rice or grain you're using before placing it in the rice cooker.
Do I Need a Rice Cooker and a Pressure Cooker?
When you consider the difference between a rice cooker and a pressure cooker, you might wonder if there's any reason to have both. You can cook rice in a pressure cooker, and it cooks in a similar way as the rice cooker.
The main thing to consider when thinking about a pressure cooker vs. a rice cooker is what you plan on using it for. Although you can use a rice cooker for other things, it's really only designed to cook rice.
The pressure cooker, on the other hand, is designed to cook a wide variety of meals. The rice cooker may be safer to use since a pressure cooker has built-up pressure during the cooking process. Pressure cookers do have safety features, though, such as the release valve to prevent accidents or burns.
If you're not eating rice multiple times a week and want more versatility, you likely only need the pressure cooker. However, if rice is a staple in your kitchen, the rice cooker will usually make better-tasting rice, and you may consider owning both appliances.
Which Is the Better Kitchen Tool: Pressure Cooker or Rice Cooker?
You may already own a rice cooker or a pressure cooker and wonder which kitchen appliance is more beneficial. For those who have tried rice from both a pressure cooker and a rice cooker, many say that it's easier to cook rice well in the rice cooker since that's what it's specifically designed for. However, with a learning curve, you can cook excellent rice in the pressure cooker as well.
A pressure cooker is undoubtedly a much more versatile tool than a rice cooker. However, it can also be more expensive and take up more space in the kitchen. If you're only looking for a tool to cook rice, you're better off purchasing a rice cooker. If you're looking for a versatile appliance that has many different uses, go for the pressure cooker. You'll be surprised how much you can do with just one simple appliance!
Comparison of Pressure Cooker vs. Rice Cooker
It's no secret that both pressure cookers and rice cookers make dinner prep that much easier. However, each of these devices does different things. Let's break down what those are:
Pressure cookers or instant pots cook a variety of meals, while rice cookers are simply made to cook rice and similar items such as quinoa.
Although rice cookers do get to a somewhat high temperature, pressure cookers get you an even higher temperature.
When it comes to pressure cookers, there are so many different options. On the other hand, there are fewer options when it comes to rice cookers.
Pressure Cooker Recipes
Print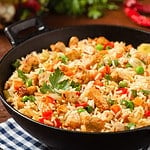 Chicken Fried Rice
---
Author:

Yield:

4

servings

1

x
2

egg whites

1

egg

1/2 teaspoon

salt, divided

1

small onion, chopped

1

garlic clove, minced

1

cup

frozen mixed vegetables

2

cups

diced cooked chicken breast (rotisserie chicken works well)

3 Tablespoons

reduced sodium soy sauce

3

cups

cold cooked brown rice for the fried rice
---
Instructions
In a small bowl, combine the egg whites, egg, and ¼ teaspoon salt. In a large nonstick skillet or wok coated with cooking spray, cook the egg mixture over medium heat. As eggs set, lift edges, letting uncooked portion flow underneath. When the eggs are set, remove, and cut into 1 inch pieces; keep warm.
In the same pan, stir fry the onion and garlic until tender.
Add vegetables; cover and cook over medium high heat for 3 to 4 minutes or until no longer frozen.
Stir in the chicken, soy sauce, and remaining ¼ teaspoon salt; cook for 1 minute.
Add rice; stir fry for 4 to 5 minutes or until heated through. Add eggs; heat through.
Nutrition
Serving Size:

1¼ cups

Calories:

325

Sodium:

854mg

Fat:

4g

Saturated Fat:

1g

Carbohydrates:

41g

Fiber:

2g

Protein:

29g

Cholesterol:

107mg