If you're a busy parent or familiar with the kitchen, you've likely heard of two incredibly popular appliances: the Instant Pot and the Crockpot. But what sets these two apart? They seem similar enough, yet are they the same thing?
While these common kitchen appliances may look alike, they are used in two very different ways. An Instant Pot has more cooking options and quickly cooks food that would normally take a lot of time to prepare. Crockpots, on the other hand, are cheaper appliances that cook food slowly at a lower temperature.
Determining which option is best for you will depend on your needs and how you intend to prep your dinners. To help you decide, let's dive into the differences between the Instant Pot and the Crockpot to see what sets them apart.
What is an Instant Pot?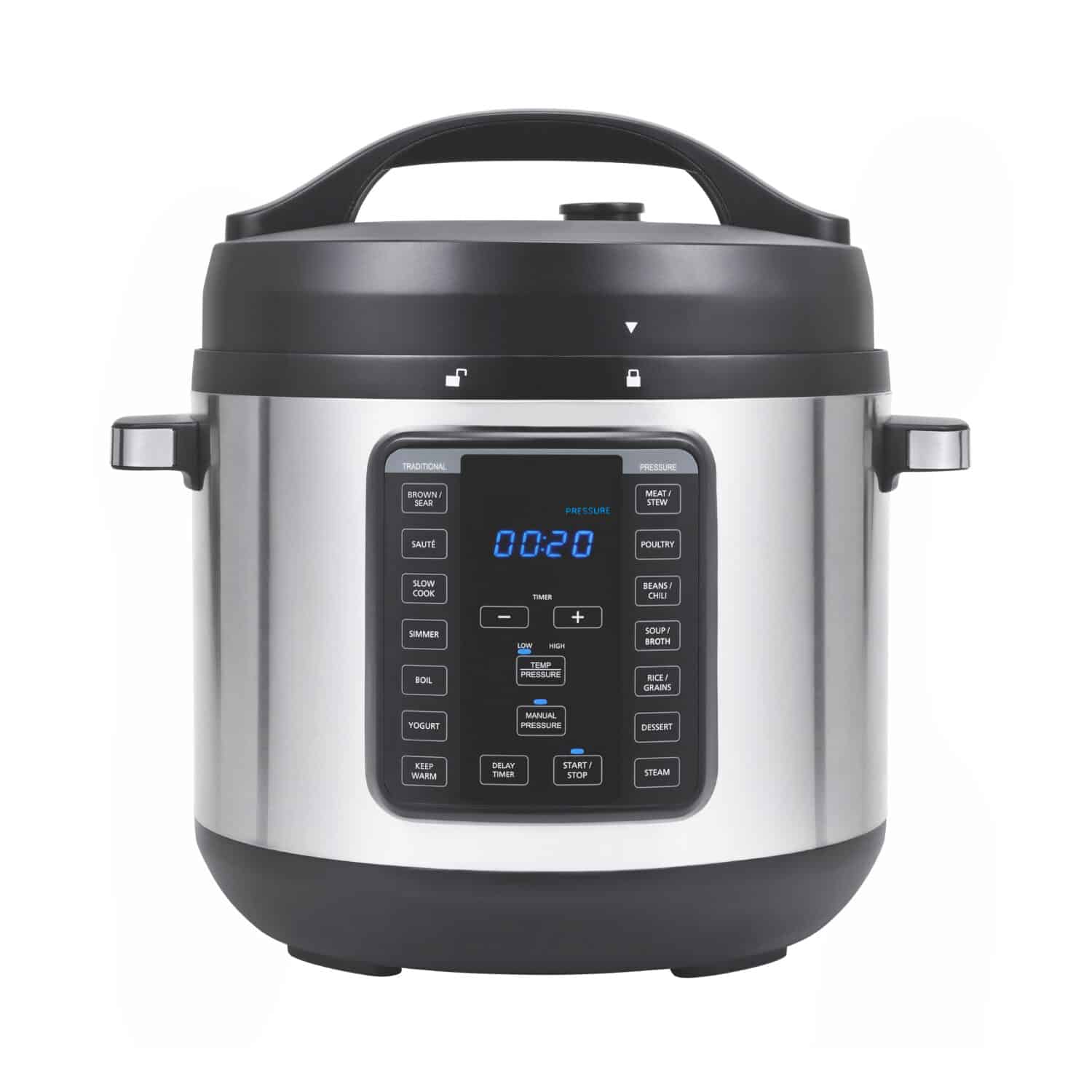 An Instant Pot is exactly what it sounds like. It's an appliance that can help you prepare food in an instant when it would have otherwise taken you much longer by using its pressure function. In fact, the Instant Brands website states that the Instant Pot can "make tasty meals up to 70% faster." An Instant Pot is sometimes also referred to as a multicooker due to its numerous cooking functions or an electric pressure cooker.
Instant Pot has gained popularity in recent years. CNBC reports that the appliance was crafted after Robert Wang, the CEO of Instant Brands, lost his job in 2008 and worked to sell the appliance online.
The Instant Pot has become famous and useful to families all over the country due to the appliance's multiple functions. With this one appliance, food can be sauteed before cooking, and meats that can take all day to prepare in a slow cooker can be done in no time using the pressure function of an Instant Pot.
What is a Crockpot?
While the Instant Pot is a relatively new appliance, the Crockpot has been around for decades. If you don't already own one, you've probably seen one in your mother's kitchen while growing up or at the local potluck.
The original patent for the slow-cooking device came in 1940 when inventor Irving Naxon created a machine to cook beans, calling it the Naxon Beanery. With its original function and name, the product didn't pick up much traction, so Naxon sold the appliance to Rival Manufacturing. The product was rebranded and picked up an incredible amount of popularity in the 1970s.
The Crockpot is perfect for meals that can be cooked low and slow. If you can plan ahead, a Crockpot allows you to dump all of your ingredients into one device, then turn on the heat and walk away.
Instant Pot vs. Crockpot: What are the Differences?
As mentioned, one of the key differences between a pressure cooker and a slower cooker is the cooking time. But these two appliances also differ in terms of cooking/preparation methods, pricing, and sizing. Here's an in-depth look at the 4 key differences between the Instant Pot and Crockpot.
Cooking Times
After reading the description of each of these appliances, you probably know by now that the Instant Pot can reduce cooking time as opposed to the "low and slow" method of the Crockpot.
The Instant Pot can cook food up to 70% faster than a Crockpot by using its pressure function. This can speed up weeknight meals by a substantial amount, allowing meat that would have otherwise had to cook all day in a crockpot to be finished in 25-30 minutes.
The Crockpot typically needs 4-8 hours to fully cook a meal, depending on what you're cooking and what temperature you need. While this is definitely a longer amount of time than the Instant Pot, a Crockpot allows you to "set it and forget it." You can head to work or run errands while your food cooks and still have a meal ready by dinnertime.
Cooking Methods
The Instant Pot is hands down more versatile than the Crockpot. The Instant Pot includes functions like sauteing, rice cooking, steaming, yogurt making, and slow cooking, to name a few. As more Instant Pot models become available, so do the food preparation options. Some versions have as many as 10 settings to choose from.
However, Instant Pots can seem rather intimidating at first due to the pressure function. Keep in mind that an Instant Pot is used on the countertop, not the stovetop like the original pressure cookers, and is safe when used as directed.
While the Crockpot really only has one method of food prep — slow cooking — this makes the appliance easier to use than the Instant Pot. With the absence of the pressure function, Crockpots are less intimidating and super user-friendly as well. Keep in mind, however, that you really only have two options when using a Crockpot: high or low temperature. And once you set it, the Crockpot will only cook your food at the heat level you chose.
Sizing
The Instant Pot is fairly simple and straightforward in its sizing options. Customers can choose from a 3-quart, 6-quart, 8-quart, or 10-quart option. Not all of these sizing options are available with each Instant Pot model, however. And due to the small size of the 3-quart and the extra large size of the 10-quart, not all functions are available in these models, either. In general, the 6-quart option tends to be the most widely used and purchased size.
The Crockpot, on the other hand, has numerous sizing and purchase options to choose from. Sizes range from as little as a 1.5-quart to an 8-quart, and the company also manufactures specialty products like its portable lunch warmer and the 9×13 Casserole Crock. Crockpot has even released a Lunch Crock, which allows you to warm food on the go. Additionally, this product was a winner of Good Housekeeping's 2022 Kitchen Gear Awards.
Pricing
Because Instant Pots have so much more versatility, these appliances also tend to come with a higher price tag. The price varies, of course, depending on the size of the appliance and what functions are included. According to Instant Pot's website, options can range in price from $99.95 up to $249.99.
Due to Crockpot's simpler functionality and operation, these appliances are typically on the less expensive side. According to Crockpot's website, smaller 3-quart Crockpots can cost as little as $19.99. Larger 8-quart versions cost about $50 on Amazon. Cost varies by size and design as well, but Crockpots seem to be a cheaper kitchen appliance option.
Which One is Best for You: The Instant Pot or the Crockpot?
Ultimately, the decision boils down to what you're cooking and how you plan to cook it.
If you're looking for multiple functions and quicker cooking times, the Instant Pot may be a perfect fit. Just keep in mind that it will also come with a larger price tag and fewer sizing options. If you're an early riser who likes to plan ahead and enjoys the "set it and forget it" method, the Crockpot might be your best option. While Crockpots are less expensive and have more sizing options, just remember that you won't have the functionality of different cooking methods.
One last thing to note is that several Instant Pot models include a slow cooker method. This gives you the functionality of both a fast pressure cooker and the low and slow method of a Crockpot.
Final Thoughts
Whichever appliance you choose, the Instant Pot and the Crockpot have made cooking in the kitchen faster, simpler, and more versatile. Whether you like the quickness and functionality of the Instant Pot or the all-day slow cooking of a Crockpot, both options can allow you to spend less time on dinner and more time with the ones you love.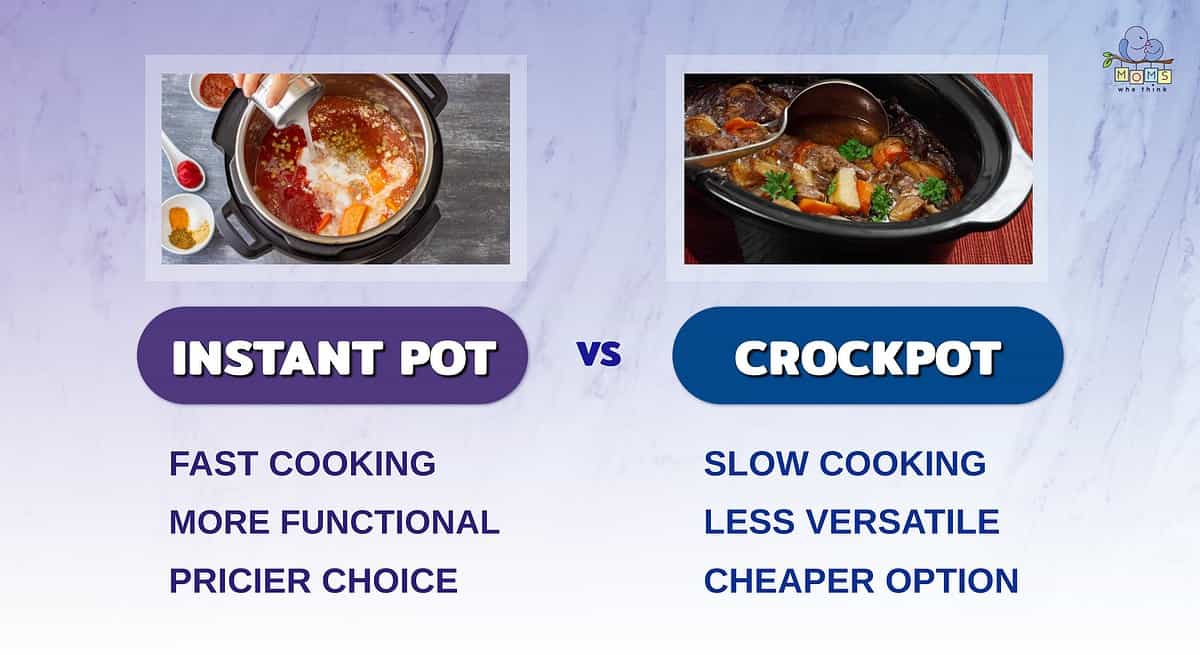 Those familiar with Instant Pots and Crockpots are well aware of their vast differences and functions. Depending on the type of dish you are making, one option may work better than the other. With that said, let's explore the differences:
Opt for a Crockpot if your dish is meant to cook slowly to meld the flavors together. However, if you need something cooked in a flash, the Instant Pot is ideal.
Each has various options, but the Crockpot is definitely more budget-friendly, while the Instant Pot can cost hundreds of dollars.
The Instant Pot is the more functional of the two and can cook in multiple ways, whereas the Crockpot is more straightforward.
Instant Pot Recipes
Crockpot Recipes
Print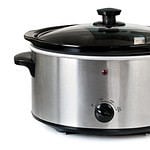 Crock Pot Pork
---
3

–

5

lb

. pork (may use smoked pork shoulder)

1

large onion, sliced

2

apples, peel & cut up in pieces

2 Tablespoons

chutney or 1 cup dried fruit (mixed)

1

cup

apple cider or apple juice

1/2

cup

water

1

or

2 g

arlic cloves

1

bay leaf
salt & pepper to taste
---
Instructions
Cook all ingredients together in crock pot 4 or 5 hours on high temperature.
Thicken gravy. Remove bay leaf. Slice meat and serve.
The image featured at the top of this post is ©Happy Foods Tube/Shutterstock.com.