[addtoany]
Chicken makes a great base for any dish. It is especially succulent when prepared in a crockpot.
A crockpot allows meats to stew so they are able to pick up the flavors of the foods and spices they are being combined with. It also ensures your meat will reach the perfect point of tenderness.
This recipe explores the crockpot preparation of Continental Chicken. Read on to find out more about this recipe and other ways you can enjoy Continental Chicken dishes.
Continental Chicken
So, what is Continental Chicken anyway? That was a question that had us here at Moms Who Think a bit stumped, but we managed to come up with some answers.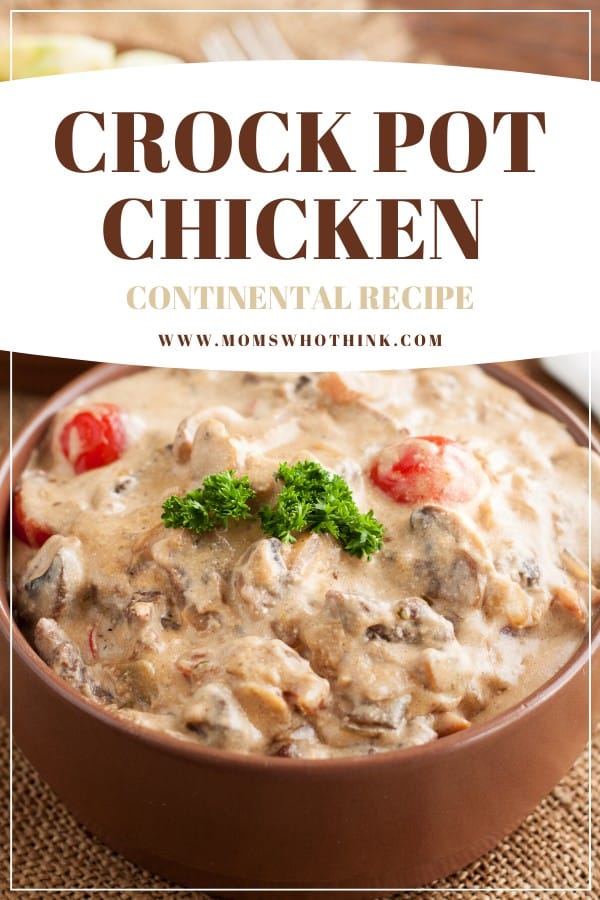 Any dish that is labeled as Continental is one that is inspired by different regions across the world. This is still pretty vague and when we studied recipes for Continental Chicken the most common thread we found was the use of chicken as well as some kind of creamy soup.
However, when a crockpot is used, there is usually at least one other meat besides chicken involved.
That being established, let's take a look at the recipe we have here.
Our recipe could almost be considered a meat lovers dish. Not only is there plenty of chicken; bacon and dried beef are included as well.
Other ingredients include cream of mushroom soup, sour cream and flour.
Start by arranging the dried beef on the bottom of a greased crockpot.
Wrap each piece of chicken with a strip of bacon and place it on top of the dried beef.
Mix the soup with sour cream and flour and pour it over the chicken.
Cover and cook on low for 7 to 9 hours.
This recipe is quite delicious, but it can vary greatly from other Chicken Continental dishes. Let's take a look at another recipe, just to see how different it can be.
The alternate recipe we recommend uses chicken as the only protein.
The chicken, along with 4 oz of mushrooms, are browned in a large skillet with butter or margarine. Cream of mushroom soup, parsley, salt and ground pepper are added, and the dish is left to simmer for 20 minutes.
Uncooked rice is added, and the meal is left to simmer an additional 10 minutes until the liquid has been absorbed and the rice is ready.
Continental Chicken Crock Pot
As mentioned previously, the crockpot is a great way to prepare any meal. Not only does it allow meats to stew until they are moist and tasty, it is also quite convenient. All you need to do is put the prepared ingredients in the crockpot and leave it to cook. When you come home later in the day, you will have a hot, cooked meal that is ready to eat.
The recipe we have is perfect for the crockpot since it allows all the meat to get to a tender and savory state.
When looking at other Chicken Continental Crock Pot recipes, the most common variation is the use of bacon. Some recipes use bacon, and some do not.
Let's take a look at how you would make Continental Chicken without using bacon.
The recipe calls for almost the same ingredients as our recipe does, minus the bacon. These include dried beef, chicken, sour cream, cream of mushroom soup and flour.
You will notice that cream of mushroom soup is used instead of cream of chicken and this is a popular substitute that can be made in any recipe according to taste.
Then just like our recipe, the dried beef is used to line the bottom of the greased cooker. Chicken is placed on top and then comes the flour, sour cream and flour mixture.
The only difference here is that only a portion of the ingredients is used as the remainder is kept to the side to make a second layer.
Some may find this dish slightly easier to make as it doesn't have the added step of wrapping the chicken in bacon. It is also ideal for those rare diners who don't enjoy the taste of bacon.
If chicken is a staple in your family meals, you need plenty of variations. Why not try this Continental Chicken recipe on for size? It is easy to make, succulent and it is a meat lover's dream. How will you be preparing Chicken Continental for your family tonight?
If you enjoyed this recipe, make sure to check out our Potato Chip Chicken Casserole and our Old Fashioned Slow Cooker Chicken and Dumplings.
Print
Crock Pot Chicken Continental Recipe
---
Author:

Total Time:

8 hours 15 minutes
Description
Our recipe could almost be considered a meat lovers dish. Not only is there plenty of chicken; bacon and dried beef are included as well.
---
1

(2 1/4 oz.) package dried beef, rinsed

4

chicken breasts, halved and boned

8

slices smoked, lean bacon

1

(10 3/4 oz.) can cream of mushroom soup

1/4 cup

sour cream mixed with 1/4 cup flour
---
Instructions
Arrange dried beef on bottom of greased crockpot.
Wrap each piece of chicken with astrip of bacon and place on top of the dried beef.
Mix soup with sour cream and flour mixture. Pour over chicken.
Cover and cook on low 7 to 9 hours.
Prep Time:

15 Minutes

Cook Time:

8 Hours

Category:

Main Course

Method:

Slow Cooking

Cuisine:

American
Keywords: chicken dumpling soup crock pot, easy slow cooker chicken and dumplings