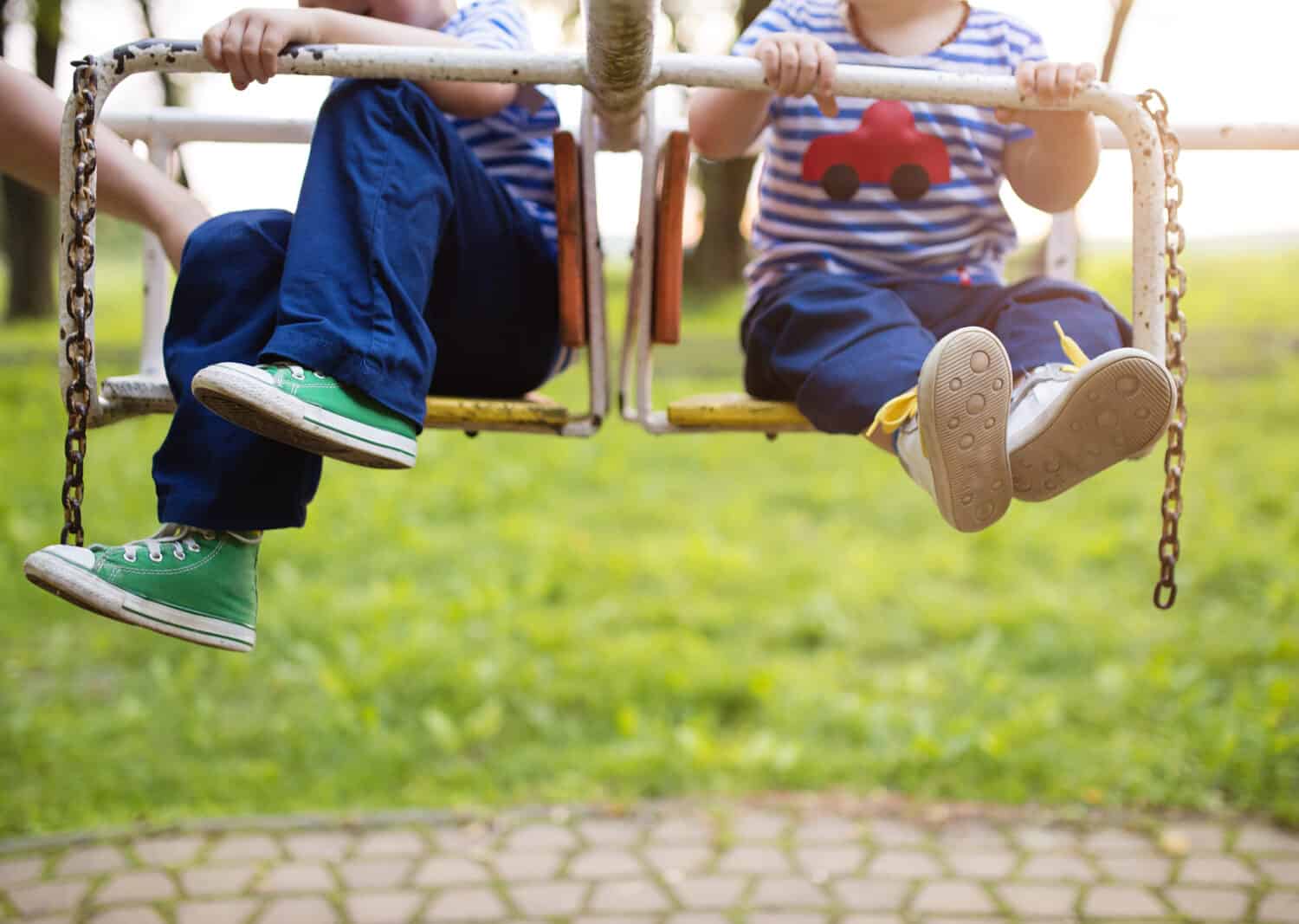 If you've ever bought shoes for your baby or toddler, you know kid sizes can be confusing. Especially as a first-time parent, it can be challenging to figure out which size is right for your little one. There are baby, toddler, and youth sizes- not to mention sometimes the sizes vary by brand. If you're trying to figure out the right size shoe for your child, a baby's shoe size chart can help.
Before you stop by the store to buy a new pair of shoes for your kiddo, take a look at the baby's shoe size chart to find the perfect fit.
How to Use a Baby's Shoe Size Chart
If you don't know what size shoe your baby should wear, a baby shoe size chart is the simplest way to find out. This can give you an idea of the different sizes as well as provide you with the measurements for each one.
To use the baby's shoe size chart, follow these simple instructions:
Measure your baby's foot in inches or centimeters
Find the right measurement in inches or centimeters on the chart
Match up their measurement with the US, UK, EU, or JP size depending on where you live
Your baby's foot likely won't measure up exactly to one of the sizes. For example, if the foot length for size 2 is 3.75", your baby's foot may be closer to 3.9". To ensure the fit is comfortable for your baby, choose the shoe size that has more room for their feet. Babies and toddlers grow quicker than we realize, so it's also important to leave a little bit of room for growth!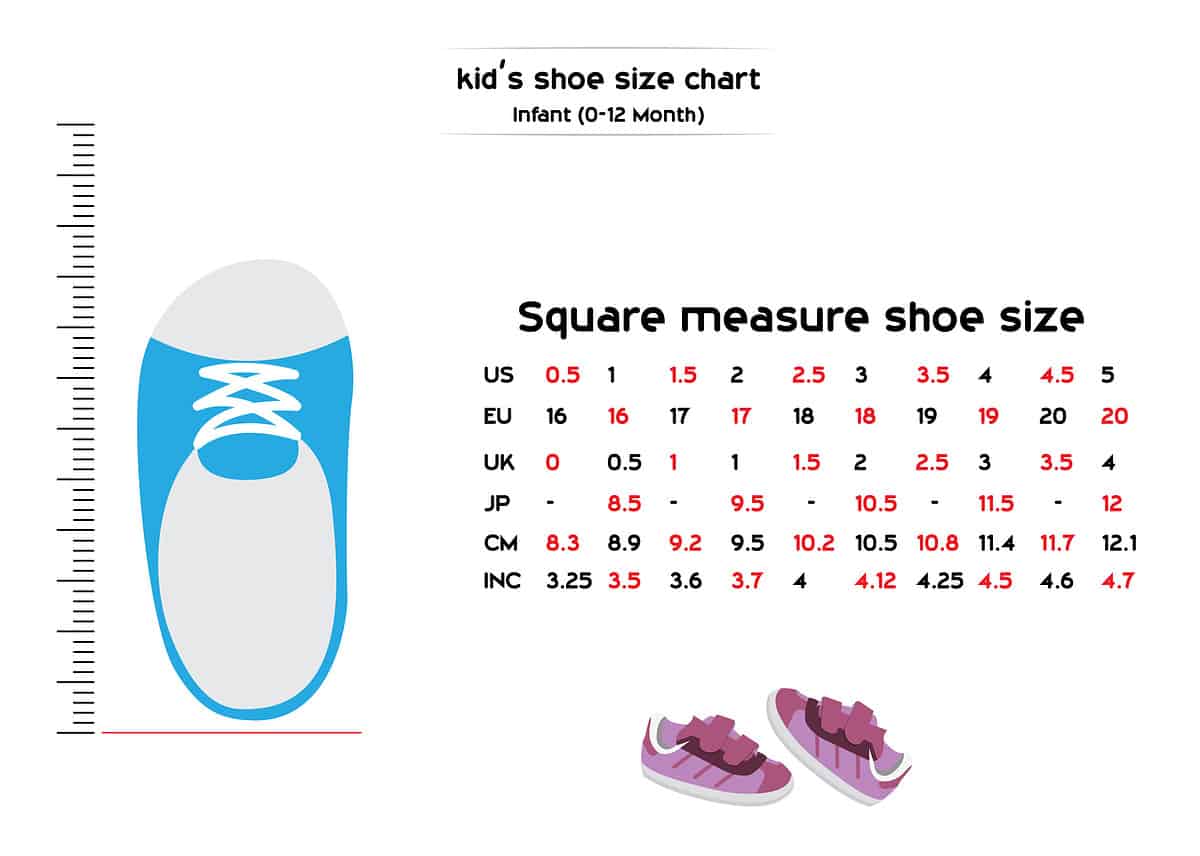 Baby Shoe Sizes (0-12 Months)
Let's take a closer look at the baby shoe sizes for babies from 0-12 months old. Although babies technically don't need to wear shoes until they're old enough to walk, many parents choose to put shoes on their babies for appearance or to protect their baby's feet from certain weather conditions.
Here are the baby shoe size for little ones along with their age ranges:
0.5: Newborn (0-2 months)
1: Newborn (0-2 months)
1.5: Newborn (0-2 months)
2: Newborn (1-3 months)
2.5: Infant (3-6 months)
3: Infant (6-9 months)
3.5: Infant (9-11 months)
4: Infant (10-12 months)
4.5: Infant (10-12 months)
5: Infant/toddler (12-18 months)
As you're shoe shopping, you may notice many stores don't carry half sizes for infant shoes. If this is the case where you're shopping, choose the next largest size for your baby.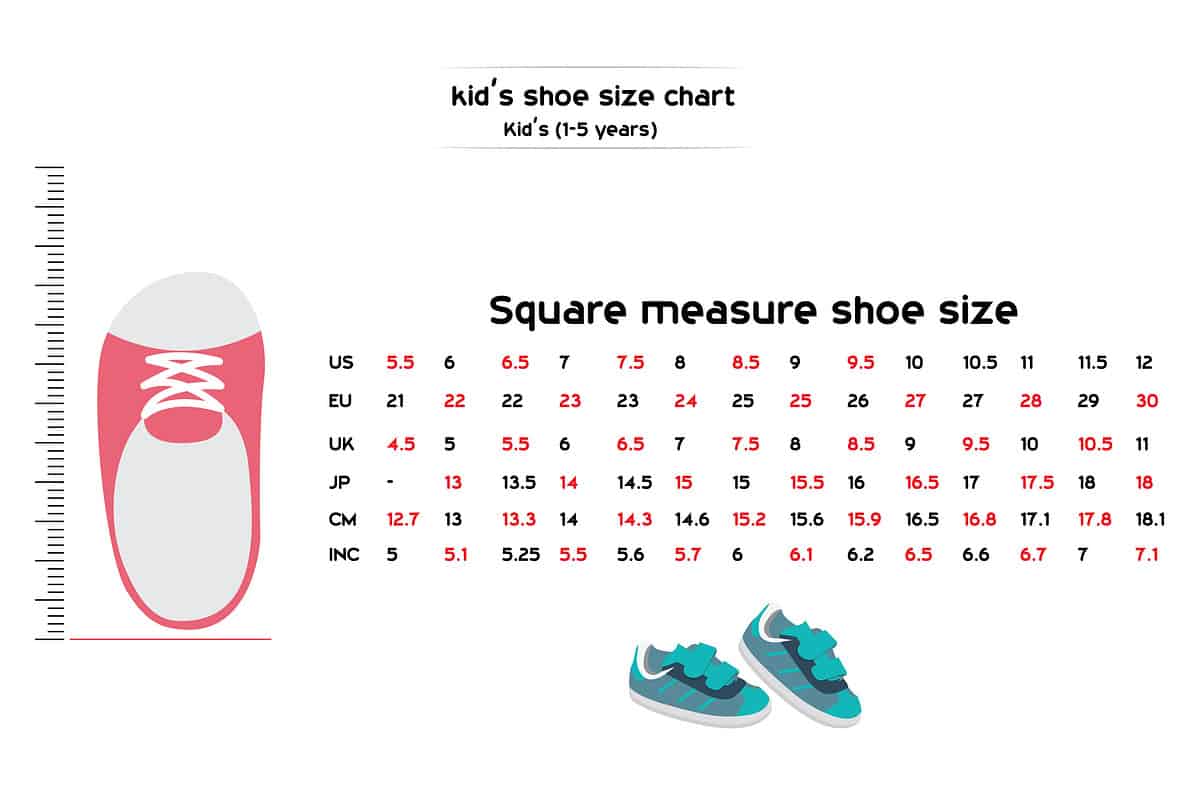 Kid's Shoe Sizes (1-5 Years)
Once your child gets a little bit older, they'll start wearing toddler shoe sizes instead. When it comes to toddler sizes, the numbers continue from where the infant sizes left off. However, make sure it is in fact a toddler size before you purchase a pair since the numbers start over for youth sizes.
Here are the shoe sizes for little ones between 1-5 years old:
5.5: Toddler (12-18 months)
6: Toddler (18-24 months)
6.5: Toddler (18-24 months)
7: Toddler (2-2.5 years)
7.5: Toddler (2-2.5 years)
8: Toddler (2.5-3 years)
8.5: Toddler (2.5-3 years)
9: Toddler (3-4 years)
9.5: Preschooler (3-4 years)
10: Preschooler (4-4.5 years)
10.5: Preschooler (4-4.5 years)
11: Preschooler (5 years)
11.5: Preschooler (5 years)
12: Preschooler (5-5.5 years)
Toddler shoe sizes sometimes go up to size 13, which usually fit children between 5 and 6 years old. After size 12 or 13, your child will move to youth sizes, which begin again at size 1.
How to Measure Your Baby's Feet
To find the right shoe size for your little one, the first step is measuring their feet. For older children who are willing to sit still, you can simply use a ruler or measuring tape. However, it's more of a challenge to measure the feet of babies or toddlers who constantly wriggle around.
Sometimes, it may be easier to use a piece of paper to measure your baby's feet. You can use this method by having your child stand on a piece of paper with their feet flat. Make a mark on the paper next to their heel and their big toe. Be sure to measure both feet since they can sometimes be different sizes.
Once you've marked the paper for both feet, use a measuring tape or ruler to see how long they are. It's not always easy with little ones, but try to ensure the measurement is as accurate as possible.
Why Do the Measurements Matter?
Considering each baby or toddler shoe size has an age range, you might be tempted to just choose a size based on their age. However, the age ranges are only a guideline and every baby is different.
Picking a shoe that fits properly is important for your baby's development. Letting your baby wear shoes that don't fit properly can cause both short-term and long-term problems. While your baby could develop minor issues such as calluses or blisters in the short-term, ill-fitting shoes could cause foot deformities over time.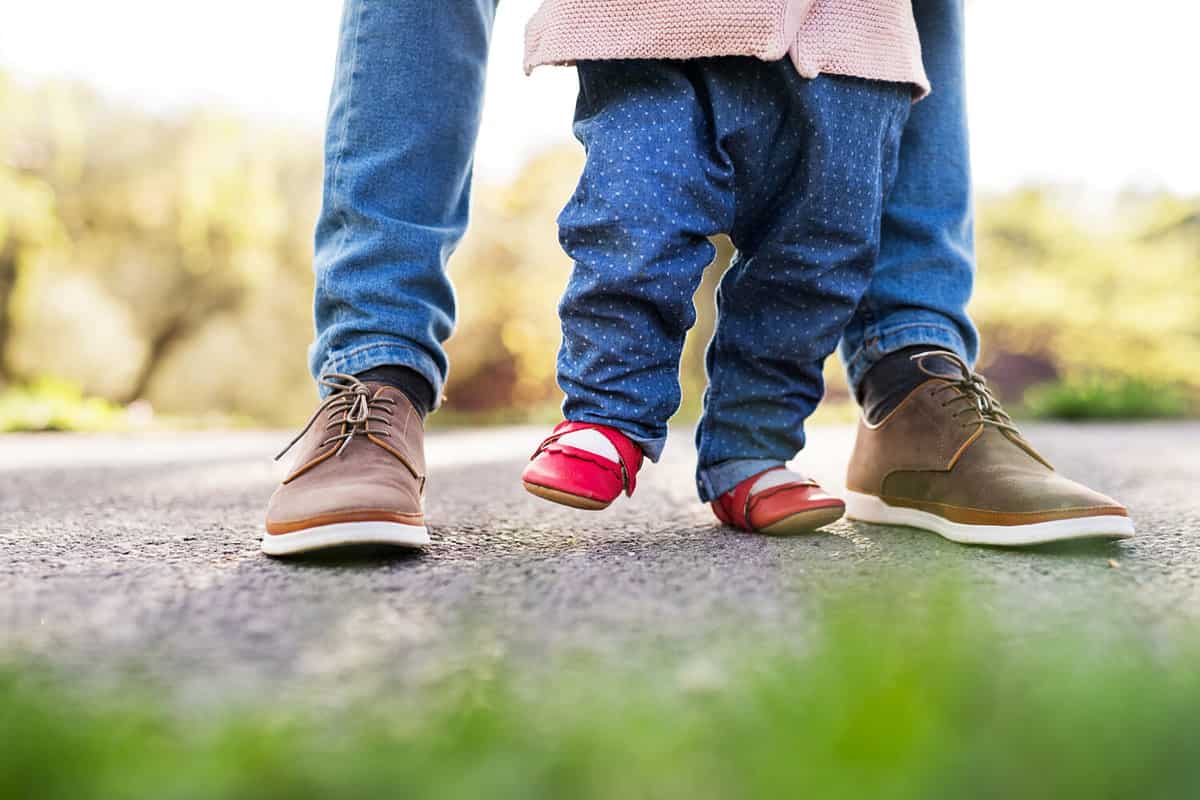 Tips for Finding the Right Pair of Shoes
Once you have the correct size shoe and measurements, you're ready to look for a new pair of kicks for your baby or toddler. Here are some tips for finding the right fit for your child:
Try the shoes on your baby
Shopping with little ones can be a challenge, but you're better off bringing your baby with you to buy new shoes. Since sizes can vary by store or brand, have your baby try on the shoes on before you purchase them. If you purchase shoes online instead, make sure it's a place that accepts returns in case they don't fit.
Check the toes
The toe test is one of the simplest ways to see if a pair of shoes fit your little one. You can do this by feeling where your baby's big toe is in the shoe and checking how much space is left. The width of your pinkie finger is a good measurement to use for how much space should be there. Any less than that, and the shoes may be too small. If there's a lot more space than that, they may be too big.
Find something comfortable
As cute as babies are when they wear tiny versions of the shoes we wear, it's important to find shoes that are comfortable for your baby and safe for their feet. If the shoes you pick out don't fit properly or don't offer enough flexibility, they can cause issues with your baby's feet later on. No matter how cute they may be, it's not worth risking your baby's safety.
Avoid hand me downs
Hand-me-downs are great! Except when it comes to shoes. You usually want to avoid used shoes because after use, shoes mold to the foot of the person wearing them. If the shoes are worn in, they're not going to fit your child properly. Unless they were never worn or have very little signs of wear, try buying a new pair for your child instead.
Keep an eye on the fit
Our babies grow so quickly. You might think your baby will be set for a while if you just bought new shoes, but it's important to check them periodically. If your little one is going through a growth spurt, they may outgrow their new shoes faster than you think!
Shoe shopping can be difficult when there are so many factors to consider, but once you get used to the sizes and help your child try on the shoes, it becomes a bit easier. If you have any questions about shoe sizes, you can always ask someone at the shoe store to help you find the right fit.
Does Your Baby Need to Wear Shoes?
There are few things in the world cuter than baby shoes, but you might wonder if it's necessary for your baby to wear shoes. Most of the time, parents put little ones in shoes just for looks, but shoes aren't necessary if your baby isn't walking yet. In fact, even once they start walking, letting them walk around barefoot allows them to stretch the muscles in their feet. If they are barefoot, make sure they're indoors or in a safe outdoor area where they won't hurt their feet.