Grab your FREE copy of one of our most popular and engaging activity packets!
Whether you're in the classroom or keeping your little ones busy at home these days, we have fun, engaging, and FREE printable activity for your kiddos to enjoy. To snag and instantly download you copy,
just CLICK HERE
!

We've all heard of swiss cheese, but Swiss steak? Well, it may not be cheese, and it may not even be Swiss, but Swiss steak is a meal commonly served in many households.
Swiss steak is defined as a tenderized piece of meat simmered with tomatoes and other seasonings. The meat does not have to be beef, but this is usually the meat that is used for this recipe.
The recipe is not Swiss in origin. Rather, it is named for the process of swissing which is normally performed by smoothing cloth between a set of rollers. The recipe involves the meat being pounded flat, a method that can be likened to that of swissing, hence the name.
The dish first appeared in recipe books in 1915 and is referred to as 'smothered steak' in England.
Swiss steak is considered an economy meal. This is because the beef that is typically used is the rump or round, which tend to be cheaper cuts. Because the meat is tougher, the tenderization is necessary.
One common way to make the meal is to start by seasoning and tenderizing the meat. Then sear it in a pan until both sides are done.
Finally, place it in a casserole with an assortment of vegetables and cook it in the oven until tender. Some vegetables will have to be added gradually to avoid overcooking.
Swiss Steak in Oven
If you are cooking your swiss steak in the oven is important to keep it from drying out while it bakes. Here are a few tips for keeping the steak moist.
Brining meat before cooking it will help it retain more moisture. You can do this by soaking cuts of meat in water with 1/3 cup of kosher salt per 4 cups of liquid. For more flavor, substitute water with beer, wine, soy sauce, broth, fruit juice or vinegar and mix in complementary herbs and spices.
Covering the meat with aluminum foil will also help keep the juices in. However, note this may interfere with browning and crisping so use this method only if you are willing to sacrifice those other aspects for a juicier cut of meat.
Another method for keeping meat juicy is to take it out of the oven just before it reaches its internal target temperature. Smaller cuts of meat should be taken out when they are 3 degrees below target, heftier cuts should be taken out when they are 5 degrees below target and large roasts and whole birds should be taken out when they are 10 degrees below target.
This is because meat tends to continue cooking after it is taken out of the oven. If it continues to cook to the point where it overshoots its target temperature, it will start to dry out.
After food is removed from the oven, it should be left to rest. Smaller cuts should rest 10 minutes and larger cuts should rest 15 minutes. This will give the meat a chance to reabsorb juices. You can tent the food with aluminum foil while it's cooling to make sure it doesn't get too cool.
Swiss Steak with Mushroom Gravy
Many people just can't have their steak unless there is a nice helping of gravy on top of it. Mushroom gravy can be the perfect topping for a Swiss steak since it is a beef and vegetable based dish.
Gravy is relatively simple to make since it is made from the juice of the meat that you are using while cooking, in this case, your Swiss steak. To make the gravy, it is best to get a quart of the stock, but you can supplement with store bought stock if necessary.
To make a great mushroom gravy, simply add butter, mushrooms and flour to thicken. You can season as desired, but we recommend adding salt, black pepper and fresh thyme leaves.
The recipe involves heating the butter and adding salt and mushrooms. Heat until the liquid evaporates. Then gradually stir in flour and beef stock and mix thoroughly. Season and simmer until thickened stirring often.
The recipe we have for Swiss Steak is pretty basic. In involves tenderizing the beef with a flour, salt and pepper mixture browning the meat in a skillet and then allowing it to simmer with the other ingredients until it is tender.
The difference in our recipe is that we do not allow the meat to bake in the oven. This may be the perfect way to avoid dryness, but cooks should still check regularly to make sure the meat isn't overcooking and becoming dry.
Once the meat is cooked to perfection, you have a great meal to serve to your family. Bon appetit! 
If you enjoyed this recipe, make sure to check out our Ramen Noodle Salad Recipe and our Sloppy Joe Recipe.
Print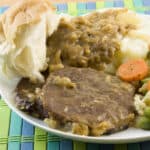 Swiss Steak
---
Author:

Total Time:

2 Hours, 30 Minutes

Yield:

4

Servings

1

x
Description
The recipe is not Swiss in origin. Rather, it is named for the process of swissing which is normally performed by smoothing cloth between a set of rollers. The recipe involves the meat being pounded flat, a method that can be likened to that of swissing, hence the name.
---
4

beef cubed steaks (

4 ounces

each)

1 Tablespoon

canola oil

1

large onion, chopped

1

celery rib, chopped

2

garlic cloves, minced

1 teaspoon

salt

½ teaspoon

ground black pepper

1

can (14½ ounces) stewed tomatoes, chopped

1

can (8 ounces) tomato sauce

1 teaspoon

beef bouillon granules

1 Tablespoon

cornstarch

2 Tablespoons

cold water
---
Instructions
In a large nonstick frying pan, brown cubed steaks on both sides in oil over medium high heat; remove and set aside.
In the same frying pan, sauté the onion, celery and garlic for 3 to 4 minutes or until tender.
Add the tomatoes, tomato sauce and bouillon.
Return steaks to the pan. Bring to a boil.
Reduce heat; cover and simmer for 1¼ to 1¾ hours or until meat is tender.
Combine cornstarch and water, whisking until smooth. Stir into tomato mixture.
Bring to a boil; cook and stir for 2 minutes or until thickened.
Prep Time:

30 Minutes

Cook Time:

2 Hours

Category:

Main Course

Method:

Simmering

Cuisine:

American
Keywords: swiss steak in oven, swiss steak with mushroom gravy