A bit of a variation on traditional steak, Salisbury steak is made from ground beef as well as other ingredients. It is usually served with steak sauce or gravy.
The origin of Salisbury steak can be traced back to the 4th and 5th century in the early Roman cookbook Apicius. There, a recipe can be found for isicia omentata, a baked patty that features chopped beef with pine kernel, black and green peppercorn and white wine.
The Salisbury steak recipe continued to evolve with the introduction of minced meat. This type of meat came about during the reign of Genghis Khan (1167-1227). During this time, fighters were often too busy to stop for a meal so they put meat in their jackets while riding. The motion and friction of their movement would cook the meat and so minced meat was born.
Over the years, ground beef has been used in many ways. However, the term Salisbury steak was not coined until 1897 when American chemist and physician John Salisbury advocated a meat centered diet to promote health. It was here that he mentioned a recipe that would from then on be referred to as the original Salisbury steak although many variations have been made over the years.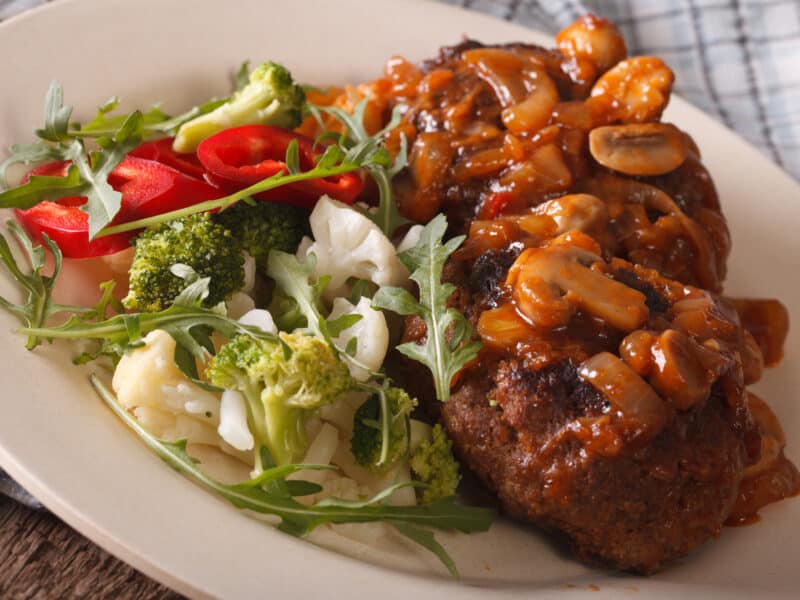 The recipe called for taking a lean cut of ground beef, pressing it together loosely, broiling it and seasoning it with butter, pepper, salt, a Worcester or Halford sauce, mustard, horseradish or lemon juice. Celery was also recommended as a relish substitute.
Easy Salisbury Steak
Salisbury steak can be made in a variety of ways, but it is usually relatively easy to make taking most cooks 30 minutes or less in total.
The recipe we have provided is pretty simple. It takes a combination of ground meat, oats, onion, eggs and tomato juice. The ingredients are combined and then formed into patties which are then broiled until they are cooked through. The steak is then topped with gravy and served. It can be topped with onions and mushrooms as well.
Many variations can be made on Salisbury steak. In fact, it is often confused with Hamburg steak and meatloaf. Although many will argue that there are certain ingredients, like tomato paste, ketchup or breadcrumbs, that can distinguish one dish from the other, these ingredients can be interchangeable in recipes.
Of course, the ingredients you add can make the dish a bit more complicated. For example, if you use vegetables as a side dish, you may want to sauté them in advance.  Added ingredients can also make for complications in finding the perfect balance of flavors, especially if you are not following a pre-existing recipe.
However, for the most part, Salisbury steak is an easy dish to make. Most will find the most challenging part to be making sure you get the perfect cook.  
Ground beef usually takes no more than 5 minutes a side to cook and should reach an internal temperature of 160 degrees to be suitable for eating. If in doubt, you can always try to look inside the patty to make sure the meat there is not pink and is cooked through.
Salisbury Steak Gravy
As stated earlier, Salisbury steak can easily be confused with Hamburg steak or meatloaf, but one characteristic that may define it is that it's almost always topped with gravy. However, the type of gravy it is topped with can vary and the one you choose can come down to a matter of personal taste.
Here are some types of gravy that make the perfect topping for Salisbury steak:
Mushroom gravy: This gravy is made from a mushroom base, stock and roux. It is often enhanced with nutmeg.
Brown Gravy: Brown gravy is the most basic type of gravy. It is made from the juices of the meat you are cooking with and thickened with wheat flour or corn starch.
Onion Gravy: Onion gravy is made with onion and chicken or beef broth or stock and flour.
Mushroom and Onion Gravy: Made with a combination of mushrooms and onions, stock and flour are added to give this topping the best of both worlds.
The gravy you use on your steak can be homemade or store bought although homemade gravy is always bound to be a crowd pleaser. Fortunately, gravy is not difficult to make. It simply takes adding the ingredients together and heating them in a pan. However, attention must be paid to ensure the consistency is perfect.
Although Salisbury steak is dish that can be traced back many years, it remains popular today. It is often served with mashed potatoes or pasta for a meal that is guaranteed to please even the fussiest of eaters. Serve it to your brood today and watch their faces light up with delight. 
If you enjoyed this recipe, make sure to check out our Tater Tot Casserole Recipe and our Easy Potato Soup Recipe.
Print
Salisbury Steak
---
Author:

Total Time:

25 Minutes
Description
The recipe we have provided is pretty simple. It takes a combination of ground meat, oats, onion, eggs and tomato juice. The ingredients are combined and then formed into patties which are then broiled until they are cooked through.
---
1

½

pounds lean ground beef

¾

cup quick cooking oats

¼

cup finely chopped onions

1

large egg, beaten

½

cup tomato juice

1

jar homestyle brown gravy
salt and pepper to taste
---
Instructions
Combine all ingredients except brown gravy in large mixing bowl.
Shape into 4 thick or 6 thin oval patties.
Place on broiler rack and cook to 160°F turning once.
Heat brown gravy in small saucepan. Pour evenly over beef patties.
Notes
Optional: Serve with sautéed onions and mushrooms on top.
Prep Time:

10 Minutes

Cook Time:

15 Minutes

Category:

Main Course

Method:

Broiled

Cuisine:

American
Keywords: easy salisbury steak, salisbury steak gravy