Healthy Baked Pork Chops Recipe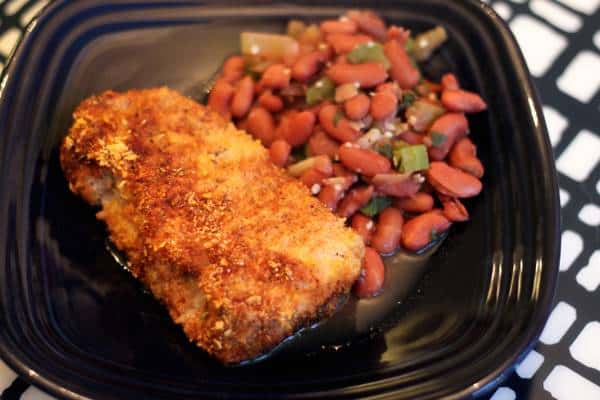 Ingredients:
6 lean center-cut pork chops, ½-inch thick*
1 egg white
1 cup evaporated skim milk
¾ cup cornflake crumbs
¼ cup fine dry bread crumbs
4 teaspoons paprika
2 teaspoons oregano
¾ teaspoon chili powder
½ teaspoon garlic powder
½ teaspoon black pepper
⅛ teaspoon cayenne pepper
⅛ teaspoon dry mustard
½ teaspoon salt
as needed nonstick cooking spray
*Try the recipe with skinless, boneless chicken or turkey parts, or fish—bake for just 20 minutes.

Directions:
1. Preheat oven to 375°F.
2. Trim fat from pork chops.
3. Beat egg white with evaporated skim milk. Place chops in milk mixture and let stand for 5 minutes, turning once.
4. Meanwhile, mix cornflake crumbs, bread crumbs, spices, and salt.
5. Use nonstick cooking spray on 13- by 9-inch baking pan.
6. Remove chops from milk mixture and coat thoroughly with crumb mixture.
7. Place chops in pan and bake at 375°F for 20 minutes. Turn chops and bake for added 15 minutes or until no pink remains. Serve with your favorite side, we had ours with leftover New Orleans Red Beans.

Yield: 6 servings
Serving size: 1 chop
Each serving provides:
Calories: 216
Total fat: 8 g
Saturated fat: 3 g
Cholesterol: 62 mg
Sodium: 346 mg
Total fiber: 1 g
Protein: 25 g
Carbohydrates: 10 g
Potassium: 414 mg