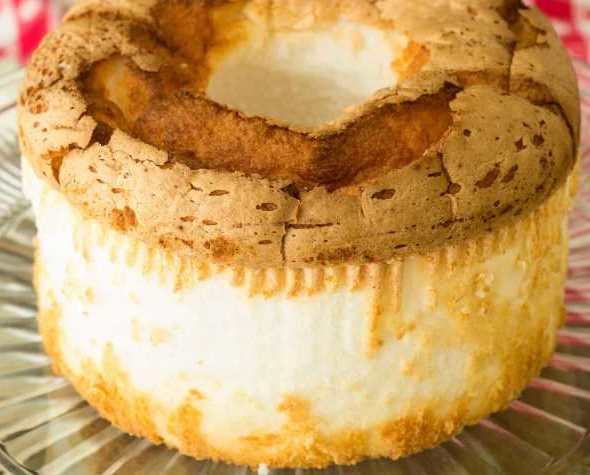 Angel Food Cake Recipe
Let's Get Ready for Baby!
Sign up for our monthly pregnancy email series, and you'll get regular updates on your baby's development, helpful timelines to get ready for their arrival, must-have baby needs and so much more! PLUS, you'll get instant access to the MomsWhoThink "Ultimate Guide to Baby Naming in 2022."
CLICK HERE
to get started!
This is a very moist and very light, fluffy angel food cake.  Angel Food is a great dessert if you're on a diet because it's made with egg whites and no fats added in like butter or cooking oil.  Egg whites contain only about 25% of the calories in an egg, and none of the fat.  You can enjoy a piece of angel food cake, and stay in line with most diets.  Angel food cake is perfect topped with strawberries or strawberry jam and whipped cream for a beautiful dessert.
Angel Food Cake
Ingredients:
1 1/2 cups powdered sugar
1 cup flour
1 1/2 cups egg whites (12)
1 1/2 teaspoons cream of tartar
1 cup  granulated sugar
1 1/2  teaspoons vanilla extract
1/2 teaspoons almond extract
1/4 teaspoon salt
Directions:
1. Place oven rack in lowest position. Preheat oven to 375 degrees F.
2. Mix powdered sugar and flour; set aside. Beat egg whites and cream of tartar in large bowl with electric mixer on medium speed until foamy.
3. Beat in granulated sugar, 2 tablespoons at a time, with mixer on high, add vanilla, almond extract and salt with the last of sugar.
4. Beat until stiff and glossy meringue forms. Do not under-beat.
5. Sprinkle sugar-flour mixture, 1/4 cup at a time, over meringue, folding in just until sugar-flour mixture disappears. Push batter into ungreased angel food cake pan (tube pan), 10×4 inches. Cut gently through batter with metal spatula.
6. Bake 30 to 35 minutes or until cracks feel dry and top springs back when touched lightly. Immediately turn pan upside down onto heat resistant funnel or bottle.
7. Let hang about 2 hours or until cake is completely cool. Loosen sides with knife or long spatula and remove from pan.