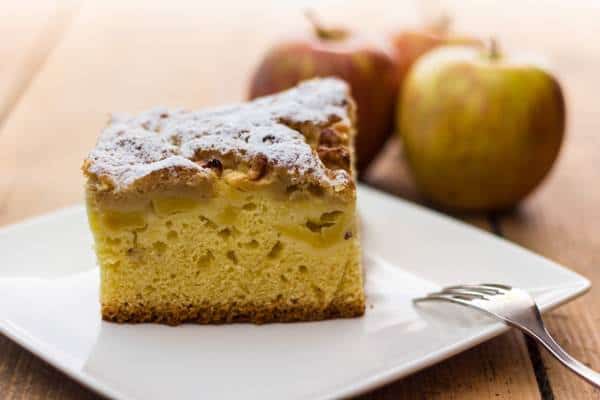 Healthy Apple Coffee Cake Recipe
Let's Get Ready for Baby!
Sign up for our monthly pregnancy email series, and you'll get regular updates on your baby's development, helpful timelines to get ready for their arrival, must-have baby needs and so much more! PLUS, you'll get instant access to the MomsWhoThink "Ultimate Guide to Baby Naming in 2022."
CLICK HERE
to get started!
Ingredients:
5 cups tart apples, cored, peeled, chopped
1 cup sugar
1 cup dark raisins
1/2 cup pecans, chopped
1/4 cup vegetable oil
2 teaspoons vanilla
1 egg, beaten
2 cups all-purpose flour, sifted
1 teaspoon baking soda
2 teaspoons ground cinnamon
Directions:
1. Preheat oven to 350 degrees F.
2. Lightly oil 13- by 9- by 2-inch pan.
3. In large mixing bowl, combine apples with sugar, raisins, and pecans. Mix well and let stand for 30 minutes.
4. Stir in oil, vanilla, and egg. Sift together flour, soda, and cinnamon, and stir into apple mixture about a third at a time—just enough to moisten dry ingredients.
5. Turn batter into pan. Bake for 35–40 minutes. Cool cake slightly before serving.
Yield: 20 servings
Serving size: one 3 1/2-inch by 2 1/2-inch piece
Each serving provides:
Calories: 196
Total fat: 8 g
Saturated fat: 1 g
Cholesterol: 11 mg
Sodium: 67 mg
Total fiber: 2 g
Protein: 3 g
Carbohydrates: 31 g
Potassium: 136 mg