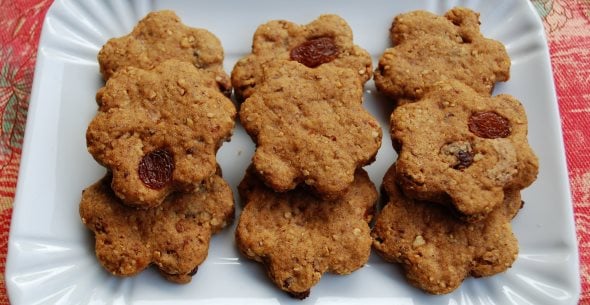 Indian Cookie Recipe
This Indian cookie recipe is filled with aromatic spices and a hint of coffee. Coffee and cookies, you can't go wrong!
Coffee Drop Indian Cookies
Ingredients:
1 cup sugar
1/2 cup butter
1 egg (beaten well)
2 cups flour
1/2 teaspoon baking soda
1/4 teaspoon salt
1 teaspoon baking powder
1/2 teaspoon cinnamon
1 teaspoon cloves
3/4 cup cold coffee
1/2 cup raisins (chopped)
1/2 cup nuts (chopped)
1 teaspoon vanilla
Directions:
1. Mix shortening and sugar together until creamy, add egg and mix well.
2. Combine flour, salt, baking soda, baking powder, cloves and cinnamon. Add coffee slowly and mix well.
3. Combine nuts, raisins, and vanilla. Mix well.
4. Place on a greased baking sheet.
5. Bake at 400 degrees F for 10 to 15 minutes.