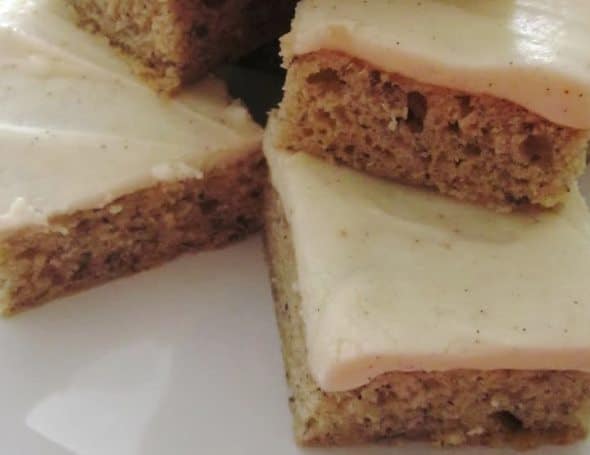 Banana Cookie Recipe
When making this banana bar cookie recipe, make sure your bananas are very ripe. The flavor and the moistness depend on it. Depending on the size you cut the bars, this yields approximately 24 bar cookies.
Banana Cookie Bars
Ingredients:
1 cup sugar
1 cup mashed very ripe bananas (2 medium)
1/3 cup vegetable oil
2 eggs
1 teaspoon baking powder
1 cup all-purpose flour
1/2 teaspoon baking soda
1/2 teaspoon ground cinnamon
1/4 teaspoon salt
1/2 cup chopped nuts
Cream Cheese Frosting:
2 cups powdered sugar
1 (3 ounce) package cream cheese — softened
1/3 cup butter — softened
1 teaspoon vanilla
Directions:
1. Heat oven to 350 degrees F. Grease rectangular pan, 13 × 9 × 2 inches.
2. Mix banana, sugar, oil and eggs in large bowl with spoon. Stir in flour, baking soda, baking powder, cinnamon and salt. Stir in nuts.
3. Spread batter in pan. Bake 25 to 30 minutes.
4. Cool completely. Frost with Cream Cheese Frosting. Cut into bars.
Cream Cheese Frosting:
1. Mix butter , cream cheese, and vanilla in medium bowl. Gradually add powdered sugar with spoon, mix until smooth.