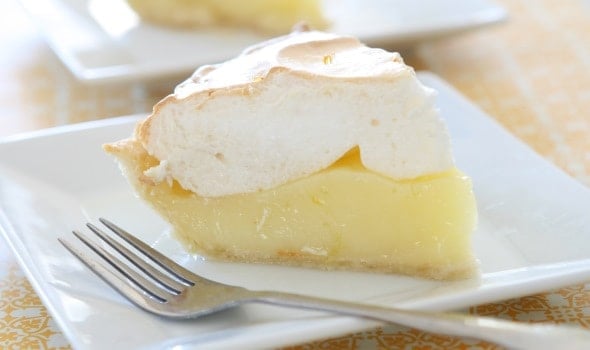 Lemon Meringue Pie Recipe
Let's Get Ready for Baby!
Sign up for our monthly pregnancy email series, and you'll get regular updates on your baby's development, helpful timelines to get ready for their arrival, must-have baby needs and so much more! PLUS, you'll get instant access to the MomsWhoThink "Ultimate Guide to Baby Naming in 2022."
CLICK HERE
to get started!
Tart and tangy, this lemon meringue pie recipe is silky perfection in every bite. Topped with fluffy meringue, this is an all time favorite.
If you're having trouble with meringue, try these tips. Have the egg whites room temperature, and make your meringue right before you need it so it doesn't lose air.
After the egg whites are almost completely stiff, add the additional ingredients very slowly (mixer set on high). If you add the sugar or other ingredients too soon, it falls flat.
Lemon Meringue Pie
Ingredients:
1 9-inch baked pie crust (recipe here)
1  1/3 cups sugar
6 Tablespoons cornstarch
1/8  teaspoon salt
2 cups water
1/2  cup fresh lemon juice
1 Tablespoon grated lemon zest
4 large egg yolks
2 Tablespoons unsalted butter, cut into pieces
Meringue (recipe below)
Directions:
1. In saucepan, mix cornstarch, sugar, and salt. Whisk to mix well. Gradually add water, lemon juice, and lemon zest; stirring constantly.
2. Add the egg yolks, whisking well into the mixture. Cook and stir over medium heat, whisking vigorously until mixture comes to boiling (about 5 minutes).
3. Reduce heat slightly; cook and whisk 2 minutes longer. Remove from heat.
4. Stir in the butter, one piece at a time. Combine well.
5. Pour filling into the cooled baked pie crust. Let cool on a wire rack.
6. When filling is cooled, spread meringue evenly over top of pie and touching the edges of the crust.
7. Bake at 350 degrees F for 10 to 12 minutes. Cool before serving.
Meringue Ingredients:
4 large egg whites, room temperature
1/4  teaspoon cream of tartar
1/2  cup white sugar
1/2  teaspoon vanilla extract
Meringue Directions:
1. Beat egg whites with an electric mixer on high speed until soft peaks form.
2. Slowly beat in cream of tartar.
3. Gradually add the sugar, one Tablespoon at a time, beating until stiff and glossy peaks have formed.
4. Add the vanilla and beat just to blend in. Spread meringue over pie and bake as directed.