Crab is considered a delicacy in many parts of the world, especially in areas far from the sea. Crab meat is an excellent source of low-fat protein, and each crab species has certain distinctions in flavor, texture, and cost.
Snow crab and king crab are two of the most common crabs eaten in North America. Both are cold-water species and can be harvested near Alaska, in the North Pacific, and the Bering Sea waters. But snow crab is also sourced from North Atlantic Ocean waters near Maine, Canada, Russia, Greenland, and Norway.
Due to its two harvesting seasons, fresh snow crab is available much of the year. The Alaskan season runs from January to April, while the Canadian season is from April to August. But fresh king crab is only available from October to January during its one harvesting season. Both crabs are readily available frozen, however. Keep reading to learn other differences between snow crab and king crab and discover how to cook and serve each type.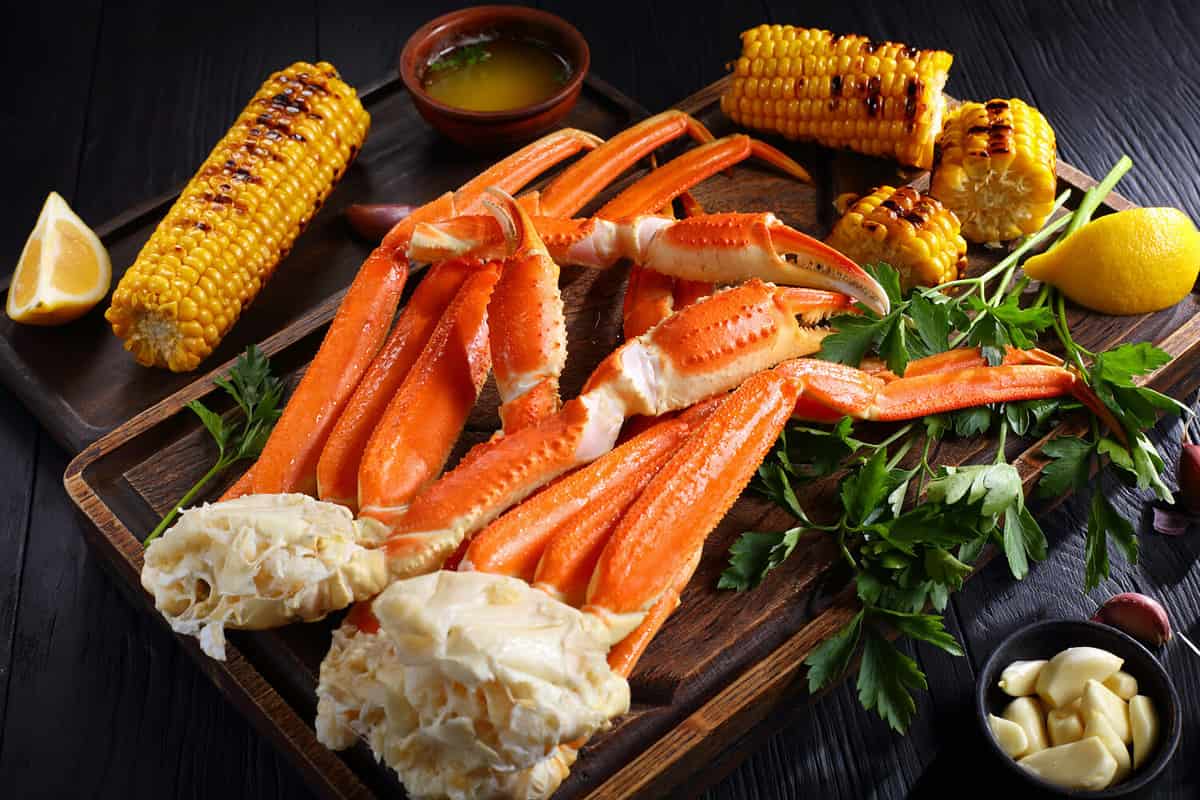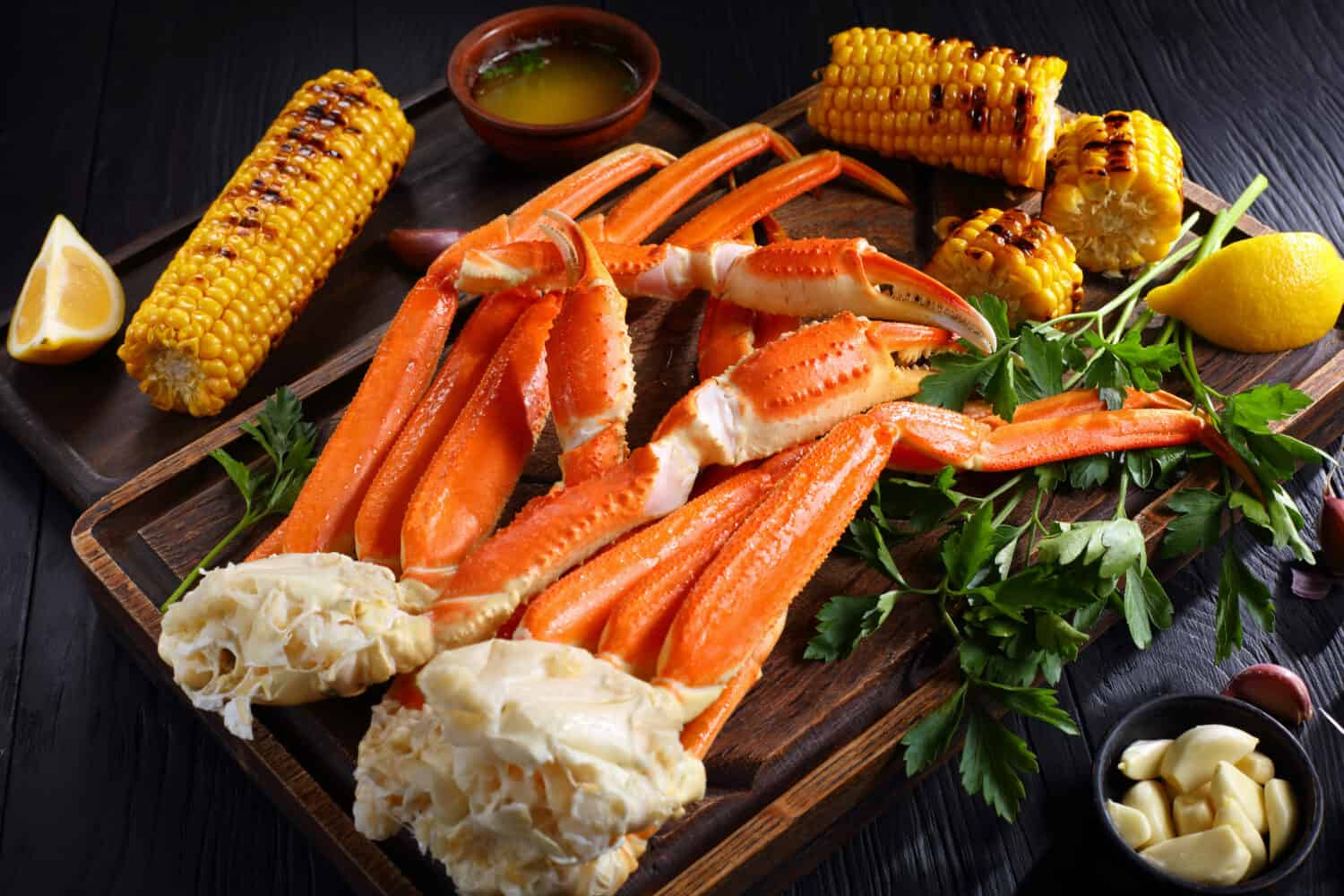 Facts About Snow Crab
We call them snow crabs because their meat is snowy white when cooked, but live snow crabs are ruddy brown with long, skinny legs. Their smooth shells are thin enough that most people can crack them open by hand. Snow crabs usually weigh between 2 and 4 pounds.
A snow crab leg cluster usually has four or more legs; one cluster may be enough for one serving. Snow crab is more affordable than king crab and is sometimes called queen crab. Expect to pay anywhere from $20 to $35 per pound, depending on where you live.
Snow Crab Flavor and Texture
This type of crab tastes like an excellent balance between briny, fishy, and sweet flavors. Snow crab has a delicate, somewhat fibrous texture that shreds easily. Some describe snow crab meat as having a chewy mouthfeel.
How to Cook Snow Crab
Making perfect snow crab is easy by boiling, steaming, or broiling the legs. Most people do not eat meat from the body. Snow crab is tasty eaten on its own or as an ingredient in crab cakes, crab salad, or pasta dishes with crab meat.
Unless you are buying crab fresh off the ship, chances are your crab legs have already been cooked and simply need to be heated before eating. This is because crabs are cooked soon after harvesting and immediately frozen to preserve freshness.
Facts About King Crab
King crabs can sport shells of different colors ranging from bluish-red to brown. Their shells are spiky all over and so thick that you must use a cracking tool to access the meat inside. Their legs are considerably shorter than snow crab legs but thick enough that a single leg provides a whole serving of crab meat.
As their name indicates, King crabs are much bigger and heavier than snow crabs. In fact, the National Oceanic and Atmospheric Administration (NOAA) says they are the largest of commercially harvested crabs. Most grocery store king crabs weigh an average of 6 pounds. But king crabs can grow to massive sizes, weighing over 20 pounds with leg spans over five feet long.
Rich and meaty king crab has a price tag reflecting its superior quality. Expect to pay between $60 and $75 per pound.
King Crab Flavor and Texture
King crab is often said to be the next best thing to lobster. Its meat is rich and sweet, with a tender texture similar to lobster. The meat is firm enough to hold together in one solid piece when removed from the shell.
How to Cook King Crab
King crab is easily prepared via steaming, boiling, baking, or grilling. Like snow crabs, any frozen king crab you buy will likely have been cooked before freezing. It's important not to overcook crab to maintain its tender texture.
Because of its signature flavor and high cost, it's almost always served on its own, perhaps with a squeeze of lemon and a dip into melted butter. Unlike snow crabs, the body of king crabs is also edible. In fact, the body may have as much meat as all the legs combined.
In Summary
Snow crab is considerably more affordable than king crab; unless you happen to be on the wealthier side, king crab is likely not something you can afford to get on a regular basis.
Snow crab's snowy white meat has a complex taste with briny, fishy, and sweet flavors. King crab is easily comparable to lobster, with its rich and sweet taste that many shellfish fans will find familiar.
Speaking to its name, king crab is exceptionally large. Snow crabs are on the more manageable side. Definitely only go for a king crab if you're confident you can eat it all!
Snow crab and king crab are two flavorful choices when you're craving a seafood supper. Their cooking techniques are similar, but you shouldn't swap king crab for snow crab in recipes. Not only is king crab expensive, but its delicate, complex flavor could also be lost when paired with too many other ingredients.
Try this delicious recipe:
Print
King Crab Stuffed Chicken Breasts
---
Author:

Yield:

6

servings

1

x
6 boneless skinless chicken breast halves (5 ounces each)
1/2 teaspoon salt
1/4 teaspoon pepper
1/2 cup king crabmeat, drained, flaked and cartilage removed
1/4 cup sliced water chestnuts, drained and chopped
2 Tablespoons dry bread crumbs
2 Tablespoons reduced fat mayonnaise
1 Tablespoon minced fresh parsley
1 teaspoon Dijon mustard
6 teaspoons marinade for chicken, divided
2 green onions, thinly sliced, divided
3 slices reduced fat Swiss cheese, divided
---
Instructions
1. Flatten chicken to ¼ inch thickness; sprinkle with salt and pepper.
2. In a small bowl, combine the crab, water chestnuts, bread crumbs, mayonnaise, parsley, mustard, 2 teaspoons marinade for chicken, and half of the onions.
3. Chop one cheese slice; stir into crab mixture. Spread over chicken; roll up and secure with toothpicks.
4. In a large nonstick skillet coated with cooking spray, brown chicken on all sides. Place seam side down in a shallow 3 qt. baking dish coated with cooking spray. Brush with remaining marinade for chicken.
5. Bake, uncovered, at 350° for 25 minutes. Cut each remaining cheese slice into six strips; place two cheese strips over each chicken breast. Bake 5 to 10 minutes longer or until a meat thermometer reads 170°. Discard toothpicks. Sprinkle remaining onions over chicken.
Nutrition
Serving Size:

1 stuffed chicken breast half

Calories:

225

Sodium:

469mg

Fat:

7g

Saturated Fat:

2g

Carbohydrates:

5g

Protein:

35g

Cholesterol:

95mg
Up Next
Dungeness Crab vs. Snow Crab: Taste and Cooking Differences
Crab Dip-Stuffed Mushrooms Recipe
The image featured at the top of this post is ©Nishihama/Shutterstock.com.