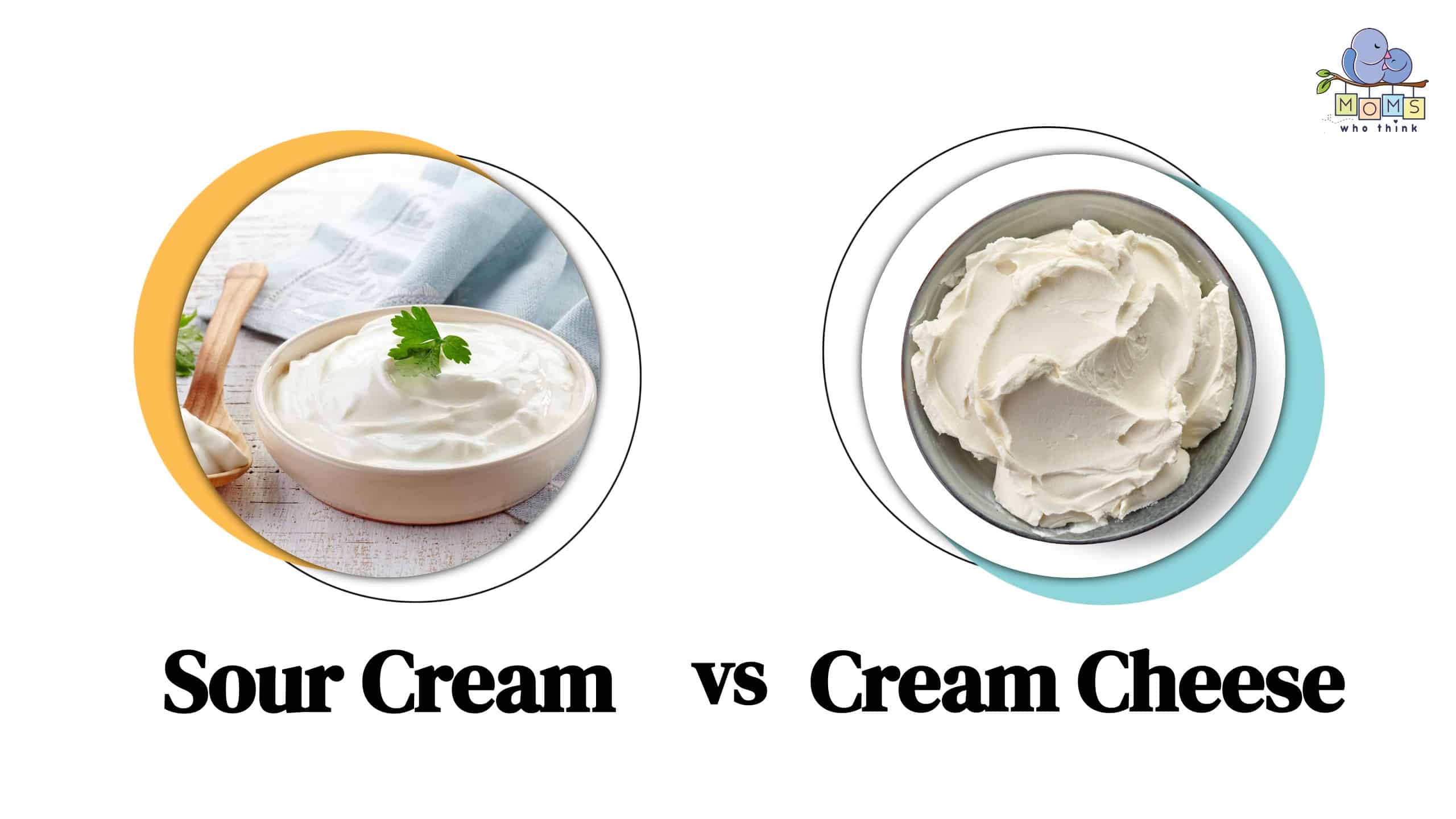 While cream cheese and sour cream appear to be very similar, there are numerous differences between these two hugely popular dairy products. If you're unfamiliar with any of these two classics, you'll probably need some help distinguishing them. So, what makes them different?
Read on to learn more about these two cooking essentials and if they are interchangeable or not.
The Primary Difference Between Sour Cream vs. Cream Cheese
Sour cream and cream cheese are both popular dairy products, but they differ significantly in terms of production, taste, and usage. Sour cream is created by fermenting cream with lactic acid bacteria while cream cheese is made by curdling milk with an acidic agent, draining the whey, and blending the remaining curds. This gives sour cream a tangy, slightly sour taste and a creamy texture that's thick. On the other hand, cream cheese is more solid and has a mild cheese flavor.
While both can be used in various recipes, sour cream is typically used for dips, dressings, and baked goods, whereas cream cheese is ideal for spreads, frosting, and cheesecakes.
Let's dive into the key differences between both these dairy products and some cooking substitutes for each.
What Is Sour Cream?
Sour cream is a type of dairy product produced by fermenting cream with lactic acid bacteria. Lactose (a sugar contained in milk) is converted by bacteria in the cream into lactic acid, which thickens and sours the cream. The end result is a thick, sour, and creamy sauce that may be used in cooking and as a topping for a variety of dishes. Sour cream is widely used to impart a tangy flavor and creamy texture to dips, dressings, sauces, and baked products. It can also be used to top baked potatoes, tacos, and other foods.
What Is Cream Cheese?
Cream cheese is a spreadable, soft cheese created from a combination of milk and cream. It's smooth and creamy, with a moderate, slightly acidic flavor. Cream cheese is commonly used as a spread on bagels, crackers, and bread, but it can also be used as a base for dips and spreads, as well as a component in cheesecake and frosting recipes.
To make cream cheese, warm milk, and cream are combined with lactic acid bacteria to begin the fermentation process. This mixture is then chilled and thickened with rennet or an acid like lemon juice or vinegar. The resulting curds are then drained, pureed till smooth, and flavored with salt. After that, the finished product is packaged and marketed as cream cheese.
Sour Cream and Cream Cheese: Differences and Similarities
Sour cream and cream cheese are both dairy products that are used in cooking and as condiments, but they differ in texture, flavor, and uses. Here are some of them:
Production
The manufacturing procedures of cream cheese and sour cream are very similar. Everything in sour cream begins with regular cream, whereas cream cheese begins with either cream or a milk-cream mixture.
The mixture is then supplemented with lactic acid bacteria (not necessarily of the same strain). These bacteria impart a somewhat tangy and sour flavor to sour cream and a slightly tangy flavor to cream cheese.
That is the point at which both products go their separate ways.
Cream cheese is made by fermenting the milk and cream mixture, which thickens it. The mixture is then sent through a separator, which separates it into curd and whey. The curd is then collected, stabilizers are added to keep the texture, and sometimes nitrogen is added to the mix to increase the volume and spreadability of the cream cheese.
Sour cream fermentation takes longer, but the result is a wonderfully thickened cream that only has to be packaged and chilled in the fridge. Of course, given that cream cheese has far more fat than sour cream, it stands to reason that the production begins with cream that contains a lot more fat than sour cream.
Texture and Taste
While the name 'sour cream' implies that the dairy product tastes sour, it is actually more acidic and tart than its connoted flavor of sour. However, it is acidic in nature compared to the taste profile of cream cheese.
Cream cheese, on the other hand, has a mellow flavor that is slightly salty. It's also sour, although in a subtle way. In terms of texture, sour cream is slightly liquid, more spreadable, and a whole lot softer, whereas cream cheese is much thicker.
Uses in Cooking
BotsSour cream and cream cheese are versatile ingredients that can be used in a variety of cuisines.
Sour Cream
Sour cream has so many culinary applications that you should always keep some on hand.
Here are some popular applications for sour cream:
Sandwich spread: Instead of using store-bought mayonnaise in your burgers, wraps, and sandwiches, try sour cream. Sour cream is not only a healthier option, but it also adds a unique layer of flavor to your cuisine.
Dips: Simple dipping sauces with herbs, spices, and sour cream go well with wedges or potato chips. They also pair well with fresh vegetables such as celery, peppers, and carrots.
Baked treats: Sour cream is a common baking ingredient. It's commonly used in batters. Sour cream can be used to make doughnuts and cookies. It's also fantastic for baking cakes. Sour cream should be on your recipe if you want your cakes to be creamy and have an even golden hue on the outside.
Salad dressings with sour cream go great with beef or chicken salads. A rich sour cream dressing will also improve a plain potato salad. In fact, you may use it on any salad and it will be fantastic.
Toppings for soup: Sour cream is an excellent soup garnish. A teaspoon of this ingredient is sufficient to balance the flavor of warm cream soups. However, sour cream is best used in soups to cool things down. If you make a soup that is excessively spicy, top it with sour cream and you'll be OK.
Baked potatoes: Sour cream is a traditional topping for baked potatoes. Simply top with bacon, onions, a little cheese, or anything else that tickles your fancy.
Cream Cheese
Cream cheese is another versatile food. If you have a block of cream cheese in your fridge, it's time to do something nice with it. There are numerous possibilities for savory dips as well as delicious cream cheese sensations.
Here are some popular uses for cream cheese:
Omelet: Yes, you can add it to the omelet and mix it with the eggs to enhance the flavor.
A sauce for pasta: If do not consider yourself a gourmet chef but you would still like to enjoy some pasta with a cheesy sauce, adding cream cheese while it's hot is a simple option.
Dipping sauce: Cream cheese is often used to make tasty dips for chips and vegetables. It can also be used on its own with spices and herbs. For a creamier texture, combine it with some heavy or sour cream.
Frosting: If you think about cream cheese uses, the first thing that comes to mind is probably cream cheese frosting. It's quite simple to create and may be used on cupcakes and cakes. You may even mix it right into the cupcakes to make them more creamy when you bite into them.
Soups: Sour cream is ideal for soup garnishes, while cream cheese is best used in the making of soups. Cream cheese works nicely in a variety of soups, from robust chicken soups to pureed vegetable soups, making them smoother and thicker.
Spread for bagels: Cream cheese is perfect for spreading on a bagel for breakfast. You can sweeten it with sugar and fruits, or top it with tomato slices, avocado, salmon, and whatever other toppings you choose.
Cream cheese, unlike sour cream, is not typically recommended for use in baking. It's a great filling or topping for baked goods such as cakes, among other favorites.
Cream Cheese vs. Sour Cream Nutrition: Calories, Fat, Protein, and More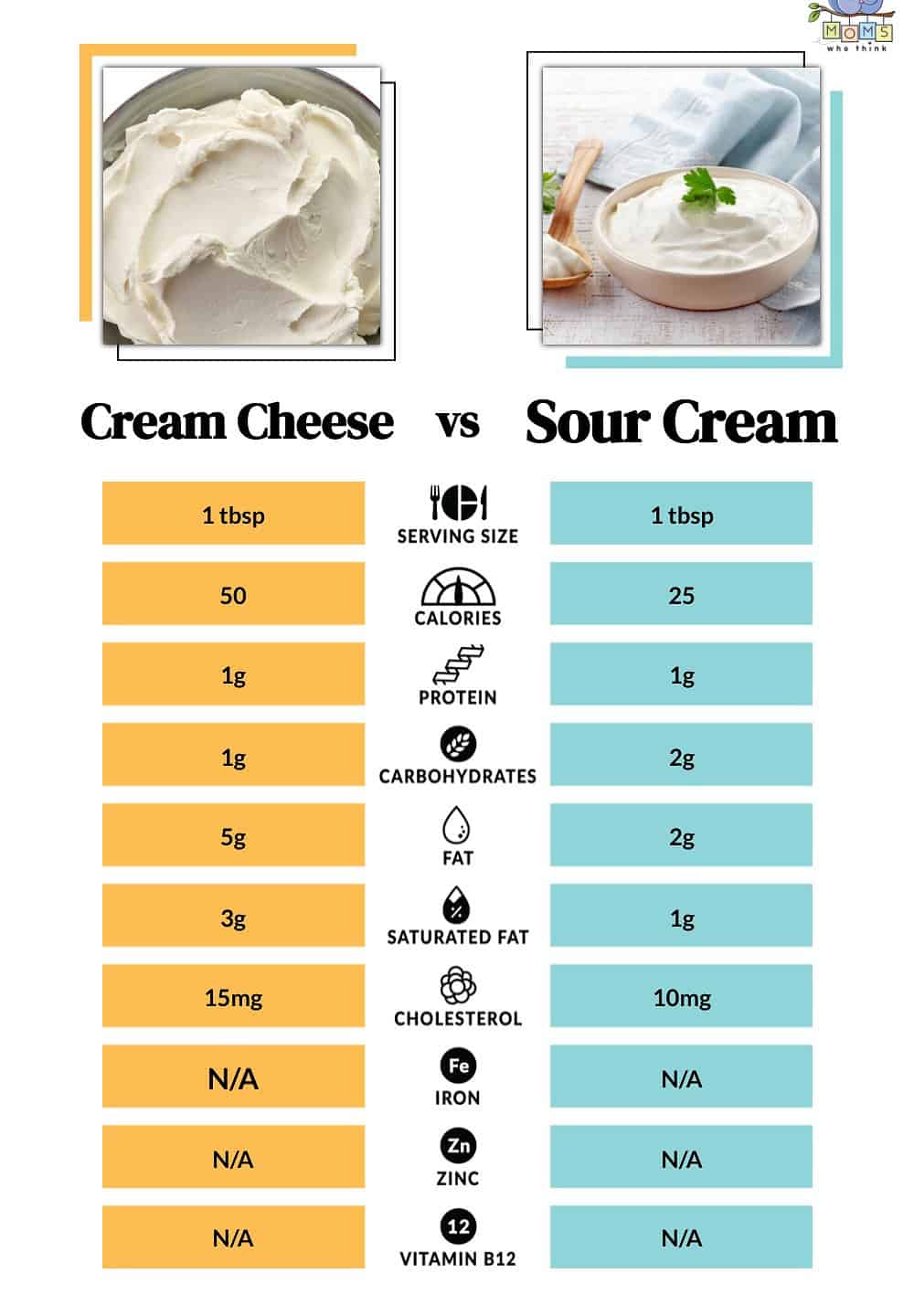 Nutritional comparisons between sour cream and cream cheese vary dramatically by brand. In both cases, you can buy brands with limited amounts of fat calories which will decrease total calories. The USDA places cream cheese at about 50 calories per tablespoon while sour cream is closer to 25. The primary difference is added fat content in cream cheese.
Can Sour Cream Be Used in Place of Cream Cheese?
Yes, you certainly can. Sour cream can be used in place of cream cheese in some recipes. Sour cream can be added to make a dish creamier, such as a sauce. Even so, it will be thinner than cream cheese. However, the difference in consistency will not be as pronounced as it would be with milk.
Sour cream tastes different than cream cheese. The flavor of sour cream isn't particularly sour; it has a tangy and acidic flavor, although it isn't as sour as a lemon.
Sour cream, in addition to cream cheese, is used in some cheesecake recipes. This prevents the cheesecake from being just a pile of cream cheese on top of graham crackers. However, sour cream alone cannot be used to make a cheesecake.
Overall, sour cream is one of the better cream cheese alternatives, however, it isn't ideal. But, if you have no other choice, it's probably worth a shot.
What Are Some Sour Cream Substitutes?
If you need sour cream for a dish and don't have any on hand, or if you don't want to buy an entire container, the following substitutes will work in a pinch:
Cream cheese or Mascarpone cheese – Sour cream is thinner than cream cheese and mascarpone cheese. Whisk in a splash of milk and a squeeze of lemon juice to thin them down. (for acidity). You should be able to get a consistency similar to sour cream.
Buttermilk – Buttermilk will add acidity and tang, but it will be considerably thinner than sour cream. If you're baking with it and using a tiny amount, you should be able to substitute one-to-one without issue.
Plain yogurt – By far the most similar to sour cream. Plain yogurt with fat (2% fat or ideally whole) is ideal. You may use either Greek yogurt or normal yogurt as a one-to-one substitution in almost any recipe.
Kefir – Kefir will add acidity and tang, although it is considerably thinner than sour cream. If you're baking with it and using a tiny amount, you should be able to substitute one-to-one without issue.
Crème fraîche – Crème fraîche is the second best option. Crème fraîche can be used as a 1:1 equivalent. Because creme fraiche is less acidic than sour cream, you can add a little lemon juice if you prefer a more tangy flavor.
Best Cream Cheese Substitutes
Plain Greek yogurt – This alternative has the smoothness and tang of cream cheese, and straining it overnight makes it more firm. It's an excellent substitute for cream cheese in many recipes.
Silken Tofu: A plant-based substitute for cream cheese, silken tofu requires a little salt and lemon to attain the same flavor profile. Replace your standard cheesecake recipe with a vegan one that includes tofu.
Cottage Cheese: The texture may appear off, but a short whirl in the blender or food processor smooths out the cottage cheese. If it's still too runny, add a squeeze of lemon and drain in a cheesecloth. (Using full-fat cottage cheese helps with thickness.)
Sour cream: This works well as a cream cheese substitute in dips and spreads, but it may not work well in dessert dishes.
Ricotta Cheese: Ricotta cheese, like cottage cheese, requires a little effort to be cream cheese – flawless. To make it more cream cheese-like, blend, and drain, then add a squeeze of lemon and a few pinches of salt.
Sour Cream Recipes
Cream Cheese Recipes
Shelf Life
To extend the life of sour cream and cream cheese, store them in the refrigerator. To preserve the texture and flavor of these dairy products, store them at 40 degrees Fahrenheit.
An opened package of cream cheese must be consumed within 10 days, although an unopened package can be stored for up to 10 weeks after the "best-by date."
Sour cream, on the other hand, will last for around 21 days after its "best by date," regardless of whether it has been opened or not, as long as it is stored appropriately.
Conclusion
So: which is better – sour cream, or cream cheese? The final solution to this question is determined by the intended use. Both sour cream and cream cheese are versatile ingredients that can be used in a wide range of recipes.
Despite having similar flavor and texture attributes, cream cheese is typically a superior match to bread goods. Sour cream, on the other hand, is a popular way to add depth of richness, and flavor to foods.
It's also worth mentioning that cream cheese and sour cream can both be used interchangeably. Sour cream can be used in place of yogurt or mayonnaise in recipes, however, cream cheese can be excessively thick — thin with 1 part milk for every 4 parts cream cheese.
In addition, if you want your cream cheese to taste like sour cream, add extra yogurt, lemon juice, or vinegar. You could also try crème fraîche as an alternative. This is a French sour cream that is easily comparable to cream cheese.