If you've ever reviewed the menu at your local Chinese restaurant and spotted both spring rolls and egg rolls on the appetizer list, you may have been confused. Aren't spring rolls and egg rolls the same thing? If not, how different can they be?
While both of these tasty apps are wrapped and served with tangy dipping sauce, the spring roll and the egg roll are actually quite different, with the biggest difference being the wrapper. Spring rolls are made with thin rice or flour wrappers. Egg rolls are wrapped in an egg-dipped wrapper that's much thicker and crispier.
Both of these delightful appetizers are delicious in their own way. To better understand each one, let's take a closer look at the differences between spring rolls and egg rolls.
What is a Spring Roll?
A spring roll consists of fresh vegetables (and sometimes meat) that are chopped and wrapped in a thin flour or rice wrapper. Due to the absence of eggs in the wrapper, spring rolls tend to be very light. Once wrapped, a spring roll can be either lightly fried in a wok, giving it a golden and slightly crispy exterior, or served uncooked, making the roll see-through.
Spring rolls also have a long history and the way they're made can vary by region. In Vietnam and Thailand, the wrappers are generally made out of rice and are served uncooked. Phillipino spring rolls generally contain meat and are pan-fried until light and flaky. Taiwan and Malaysia each have their own versions of spring rolls as well.
What is an Egg Roll?
Egg rolls get their name from their wrapper, which is made with an egg and flour base. These ingredients make for a thicker, sturdier wrapper. The ingredients inside egg rolls are almost always cooked, not fresh, and often contain meat. Once an egg roll is wrapped, it's deep fried to cook the doughy exterior. Fully prepared, an egg roll wrapper bubbles up and creates an extra crispy texture.
These savory appetizers have a much shorter history, which we'll dive into shortly. But egg rolls are thought to be an American-Chinese creation, meaning numerous variations relate more closely to American cuisine, not Chinese cuisine. One popular egg roll recipe is the Southwestern egg roll. Other variations include a taco-inspired recipe and a breakfast egg roll recipe.
Spring Roll vs. Egg Roll: What are the Differences?
As mentioned, spring rolls and egg rolls vary greatly in the type of wrapper that's used. Spring rolls are meant to be light, made with vegetables and a wrapper that can either be lightly cooked or served uncooked and translucent. Egg rolls, on the other hand, are deep-fried and wrapped in a thicker egg-based dough.
Besides the wrappers, what else sets the spring roll and egg roll apart? Here are four key differences between these two delicious appetizers.
Origin
Spring rolls have a lengthy and rich history. While the exact origin dates are unknown, this Chinese snack is thought to date back to the Eastern Jin Dynasty according to China International Travel Service. The wrappers were originally made out of what looked like thin pancakes and were eaten when celebrating the first day of spring. Centuries have passed since spring rolls were first created and this snack has certainly grown and changed over time. Additionally, as discussed, other countries have put their own twist on spring rolls, making this delightful snack extremely versatile.
Egg rolls have a much shorter history. While this snack is often found in Chinese restaurants, its origins are thought to be more American. There is no proof that egg rolls don't have legitimate Chinese origins, but according to Mashed, the snack is thought to have been created by New York restaurant owners Henry Low or Lum Fong back in the 1920s or 1930s.
Ingredients
One of the biggest differences between spring rolls and egg rolls is the ingredients used in each. We already know that these two appetizers have different wrappers, but what about the filling?
Spring rolls, as the name implies, were created to celebrate the beginning of spring. So the filling tends to be chalked full of fresh veggies. While there are different variations of spring rolls, most often these appetizers include carrots, bean sprouts, cucumber, and lettuce. Lightly fried spring rolls can contain meat and cooked vegetables, though meat is less popular in this spring-themed dish.
Egg rolls, however, tend to be heavier and heartier than spring rolls. So while egg rolls also include vegetables, they often also include meat mixed with soy sauce. Everything is cooked when the roll is deep-fried, as well. One last thing to note about egg rolls is that the traditional wrapper is made of egg and flour dough (hence, the name egg roll). However, some modern recipes for this appetizer don't call for eggs anymore. So if you make egg rolls at home, just keep in mind that recipes may differ.
Preparation
With the spring roll's fresh theme, preparation begins with gathering and chopping fresh vegetables. If you're using fresh, uncooked rolls, you'll want to choose rice paper wrappers. The rice paper wrappers will need to soak in water for 10 to 15 seconds first to become more firm. Once they have been removed from the water, you can fill them with your veggies and any meat should you choose to add protein. Then you can wrap your spring roll like a burrito and enjoy!
Egg rolls have a slightly different preparation method because they are deep-fried before consumption. The filling also consists of fresh vegetables, but egg rolls generally include meat like pork or chicken. Wrappers for egg rolls can either be homemade or purchased from the refrigeration section of your local grocery store. When prepping your egg rolls, you do not need to soak the wrappers in water first like spring rolls. You can simply wrap your filling into your dough, then place your rolls into hot oil for 3 to 5 minutes until the exterior is golden brown and bubbly.
Texture and Appearance
As we've learned, spring rolls and egg rolls have differing appearances and textures. Fresh, uncooked spring rolls are made with translucent rice paper, so the exterior is smooth and you can see the fresh veggies you're about to consume. Should you choose to cook your spring rolls, the exterior will not be see-through, but the roll will still be light, crispy, and smooth.
Egg rolls, on the other hand, have a thick, golden exterior due to their preparation method of being cooked in oil. Oftentimes, egg rolls are covered in small, crispy bubbles as well. They also tend to be chewier than spring rolls since their wrapper is made of dough.
Spring Roll vs. Egg Roll: Nutritional Value
Because spring rolls are made of fresh veggies and often eaten fresh, they are seen as a healthier option over egg rolls which are cooked in oil. As you can see below, spring rolls are lower in calories, fat, and cholesterol. Egg rolls are more likely to include meat, however, so they do contain more protein. To keep both options healthier, be sure to include plenty of vegetables and lean proteins.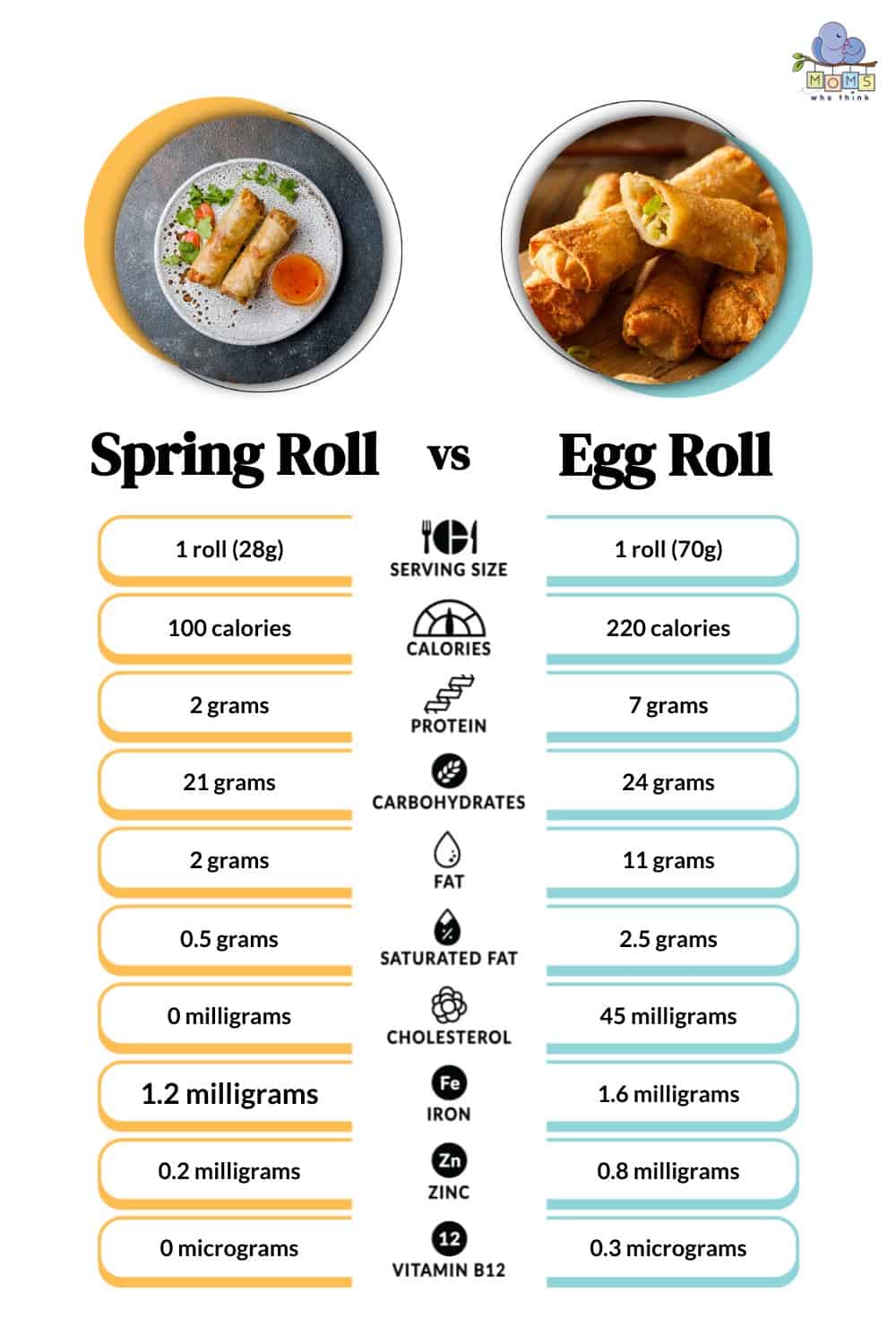 Final Thoughts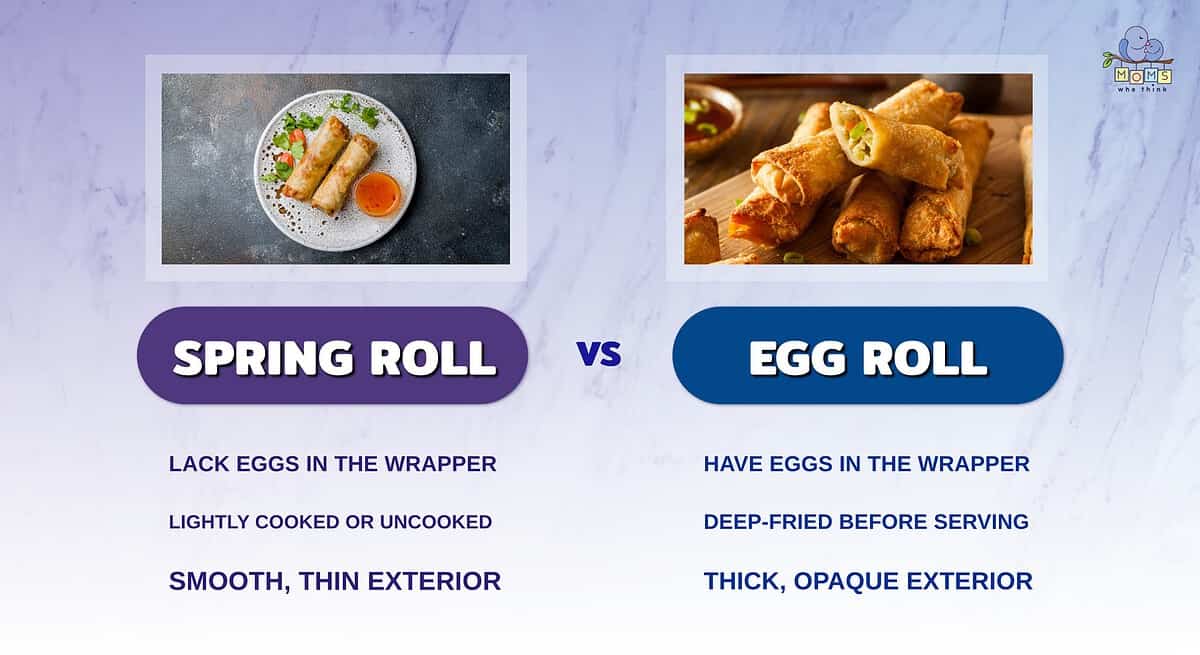 The main difference between spring and egg rolls is the use of egg; spring rolls do not have egg in their wrapper, while egg rolls do.
Spring rolls are either left uncooked or are lightly cooked, while egg rolls are deep-fried.
Because of the ingredients in their wrapper, spring rolls are thin and light. Egg rolls are thick, dense, and have an opaque exterior.
While spring rolls and egg rolls may sound and seem similar, they are not the same. From the taste, texture, appearance, preparation methods, and ingredients used, these two Chinese cuisine appetizers have many differences. Now that you understand the differences between the two, you can order with confidence the next time you grab carryout from your local Chinese restaurant.
Asian Cuisine Recipes
Print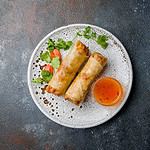 Spring Roll
---
For the Filling:
8

–

10

rice paper wrappers (spring roll wrappers)

2

cups

shredded lettuce or cabbage

1

cup

thinly sliced carrots

1

cup

cucumber, julienned

1

cup

bell peppers, thinly sliced (use various colors for visual appeal)

1

cup

fresh bean sprouts (optional)

1/2

cup

fresh herbs, such as cilantro, mint, or Thai basil
Cooked rice vermicelli noodles (optional)
Soy sauce or tamari for dipping (optional)
For the Dipping Sauce:
1/4

cup

soy sauce or tamari (for a gluten-free option)

2 tablespoons

rice vinegar

1

–

2

tablespoons honey or maple syrup (adjust to taste)

1

clove garlic, minced

1/2 teaspoon

grated ginger
Red pepper flakes (optional, for heat)
Chopped peanuts or sesame seeds (optional, for garnish)
---
Instructions
Wash, peel, and thinly slice or julienne the vegetables. If using rice vermicelli noodles, cook them according to the package instructions and let them cool. Prepare the herbs by washing and plucking the leaves from the stems.
Fill a shallow dish with warm water. Dip one rice paper wrapper into the water for about 10-15 seconds or until it becomes pliable. Be careful not to oversoak it, as it will become too soft and tear easily.
Place the softened rice paper wrapper on a clean surface, such as a damp kitchen towel or a cutting board.
Start by adding a small handful of lettuce or cabbage near the bottom third of the wrapper.
Layer on some carrots, cucumber, bell peppers, bean sprouts (if using), fresh herbs, and a small portion of cooked rice vermicelli noodles (if desired).
Carefully fold the sides of the rice paper wrapper over the filling.
Then, gently lift the bottom edge of the wrapper and fold it over the filling, tucking it under the filling to create a tight roll.
Continue rolling until the entire spring roll is sealed.
Repeat the process with the remaining rice paper wrappers and filling ingredients.
In a small bowl, whisk together the soy sauce or tamari, rice vinegar, honey or maple syrup, minced garlic, grated ginger, and red pepper flakes (if using). Adjust the sweetness and heat level to your liking.
Serve the vegetarian spring rolls with the dipping sauce on the side.
Optionally, garnish with chopped peanuts or sesame seeds for added texture and flavor.