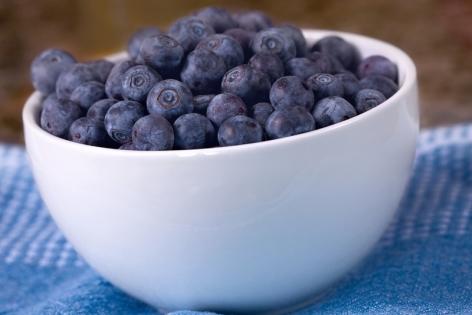 Blueberry Monkey Bread
Ingredients:
1 1/3 cups white sugar, divided into two 2/3 cup measures
1 tablespoon ground cinnamon
4 (10 ounce) cans refrigerated buttermilk biscuit dough
1 1/4 cups fresh blueberries
10 Tablespoons butter
1 teaspoon vanilla extract
1 tablespoon ground cinnamon
1 cup fresh blueberries
Directions:
1. Preheat oven to 350 degrees F. Thoroughly grease a 10 x 4 inch tube pan.
2. Mix 2/3 cup sugar and cinnamon. Cut biscuits in quarters, then roll each piece in sugar-cinnamon mixture.
3. Arrange about 1/4 of the biscuit pieces and blueberries in an even layer in pan.
4. Place blueberries between biscuit pieces, creating a mosaic effect. Repeat three times with remaining biscuits and blueberries, covering blueberries of one layer with biscuits in next layer.
5. In saucepan combine the second 2/3 cup sugar, butter, vanilla, cinnamon, and the additional cup of blueberries. Bring to a boil, then reduce heat. Cook, stirring frequently until sugar is dissolved and butter is melted.
6. Pour over biscuits in pan.
7. Bake for 35 minutes or until done. Lift or turn out onto a cake plate.