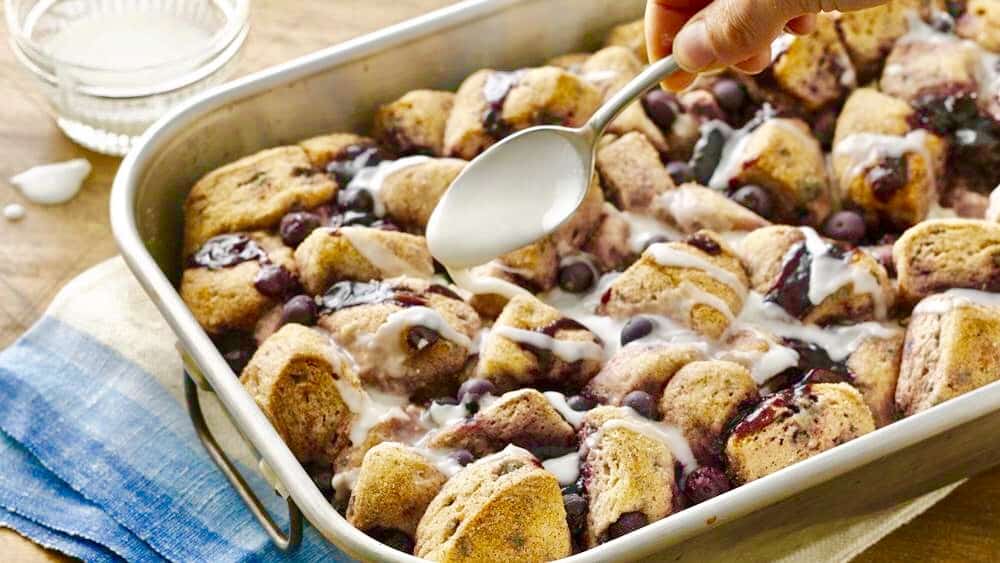 Blueberry Monkey Bread
Let's Get Ready for Baby!
Sign up for our monthly pregnancy email series, and you'll get regular updates on your baby's development, helpful timelines to get ready for their arrival, must-have baby needs and so much more! PLUS, you'll get instant access to the MomsWhoThink "Ultimate Guide to Baby Naming in 2022."
CLICK HERE
to get started!
Our blueberry monkey bread recipe is flavored with sweet blueberries, vanilla, cinnamon and a blueberry sauce. Kids love the sticky treat they can pull apart with their hands, and can help with the easy prep by rolling the dough balls.
For another great version of this classic sweet, try our gooey cinnamon Monkey Bread complete with the recipe for cream cheese frosting. Forget Cinnabon (and all those calories)…monkey bread is where it's at!
Ingredients:
1 1/3 cups white sugar, divided into two 2/3 cup measures
1 tablespoon ground cinnamon
4 (10 ounce) cans refrigerated buttermilk biscuit dough
1 1/4 cups frozen blueberries, dry pack
10 tablespoons butter
1 teaspoon vanilla extract
1 tablespoon ground cinnamon
1 cup frozen blueberries, dry pack
Directions:
1. Preheat oven to 350 degrees F. Thoroughly grease a 10 x 4 inch tube pan.
2. Mix 2/3 cup sugar and cinnamon. Cut biscuits in quarters, then roll each piece in sugar-cinnamon mixture.
3. Arrange about 1/4 of the biscuit pieces and blueberries in an even layer in pan.
4. Place blueberries between biscuit pieces, creating a mosaic effect. Repeat three times with remaining biscuits and blueberries, covering blueberries of one layer with biscuits in next layer.
5. In saucepan combine the second 2/3 cup sugar, butter, vanilla, cinnamon, and the additional cup of blueberries. Bring to a boil, then reduce heat. Cook, stirring frequently until sugar is dissolved and butter is melted.
6. Pour over biscuits in pan.
7. Bake for 35 minutes or until done. Lift or turn out onto a cake plate.