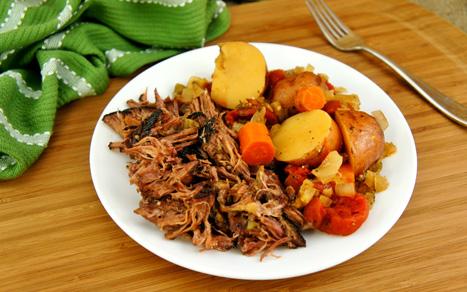 Sunday Family Roast
Ingredients:
1 (3 pound) chuck roast
1 can stewed tomatoes (16 ounces)
1 Tablespoon mustard
1/2 teaspoon Worcestershire sauce
1/4 cup water
1 teaspoon salt
1/2 teaspoon black pepper
1 teaspoon thyme
1 teaspoon rosemary
1 teaspoon basil
2 cloves garlic, minced
4 potatoes, thickly sliced
3 carrots, cut into chunks
2 onions ,chopped
3 ribs celery, sliced
Directions:
1. In the bottom of a crockpot add the juice of the canned tomatoes. Set the stewed tomatoes aside for step 4.
2. Add mustard, Worcestershire sauce, water, salt, pepper, thyme, rosemary, and basil.
3. Add the minced garlic.
4. Next add potatoes, the reserved stewed tomatoes, carrots, onion and celery. Rub roast with salt and pepper and place on top of the vegetables in the crock pot.
5. Cook on low for 7 to 8 hours, until all vegetables are tender and meat is no longer red inside.