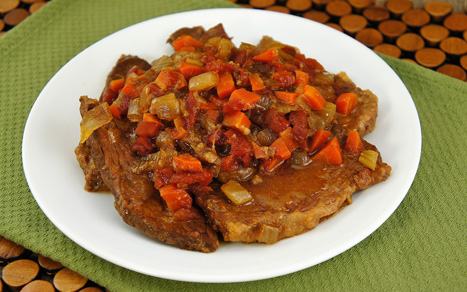 Savory-Sweet Slow Cooker Swiss Steak
The 10 minutes of prep time for this recipe before it goes into the slow cooker keeps the meat from getting the mush-meat texture of many dump and go slow cooker recipes. It also adds a noticeable flavor boost you'll love!
Ingredients:
1-1/2 lbs round steak
1/4 cup of flour
2 teaspoons dry mustard
1 teaspoon salt
1/2 teaspoon black pepper
1 teaspoon olive oil
1 medium onion, finely chopped
2 large carrots, grated
2 stalks celery, finely chopped
1 (16 ounce) can tomatoes, undrained
2 Tablespoons Worcestershire sauce
3 teaspoons firmly packed brown sugar
Directions:
1. Cut steak into 6 serving size pieces. In a shallow dish, combine the flour, mustard, salt and pepper.
2. Evenly coat the steaks with the flour mixture. Heat the olive oil in a large skillet.
3. Brown the meat in the skillet (about 1 minute each side). Transfer to the crock pot.
4. In the same skillet, sauté onion, carrots, and celery for about 3 minutes.
5. Add the tomatoes, Worcestershire sauce, and brown sugar to the skillet. Heat for about 2 minutes, scraping up browned bits, then pour over the steak in the crock pot.
6. Cover and cook on Low for 6 to 8 hours, or until tender. Spoon the sauce over the meat when serving. Serve with buttered egg noodes for a complete hearty meal.