Whether the holiday season or a birthday is coming up soon, check out some of the best outdoor toys for 6-year-olds. Looking for something that will get an active kid to let loose in the beautiful outdoors? We've got you covered. Or perhaps something to inspire a future athlete? Take your pick from unique sporting games to automatic baseball pitchers, and mega waterslides. There are some great two-player games for multiple 6-year-olds and toys that will get them up and out of the house for some active play. Let's dive in to learn more.
In this post, we'll cover some of the best outdoor toys for 6-year-olds, from rocket launchers to two-player games, outdoor science kits, and more. Get ideas for all your upcoming gifting opportunities, and encourage outdoor exploration with any of these great options. A full list of all items is featured below.
Active Play Toys
Starting off with some toys that will encourage and demonstrate active play, check out these great options. There are some outdoor exploration kits with everything you need for adventure, obstacle courses, and building materials for young creatives.
Flybar Maverick Pogo Stick
The Flybar Maverick Pogo Stick is perfect for 6-year-olds who need to get that extra energy out. It comes in red or blue foam with non-slip foot pads, grippable handles, and a wide base for balance. It's ready to use straight out of the box, and as a product of Flybar, it has been tested for quality assurance and safety. Give your 6-year-old something fun and active to do while ensuring they can be safe!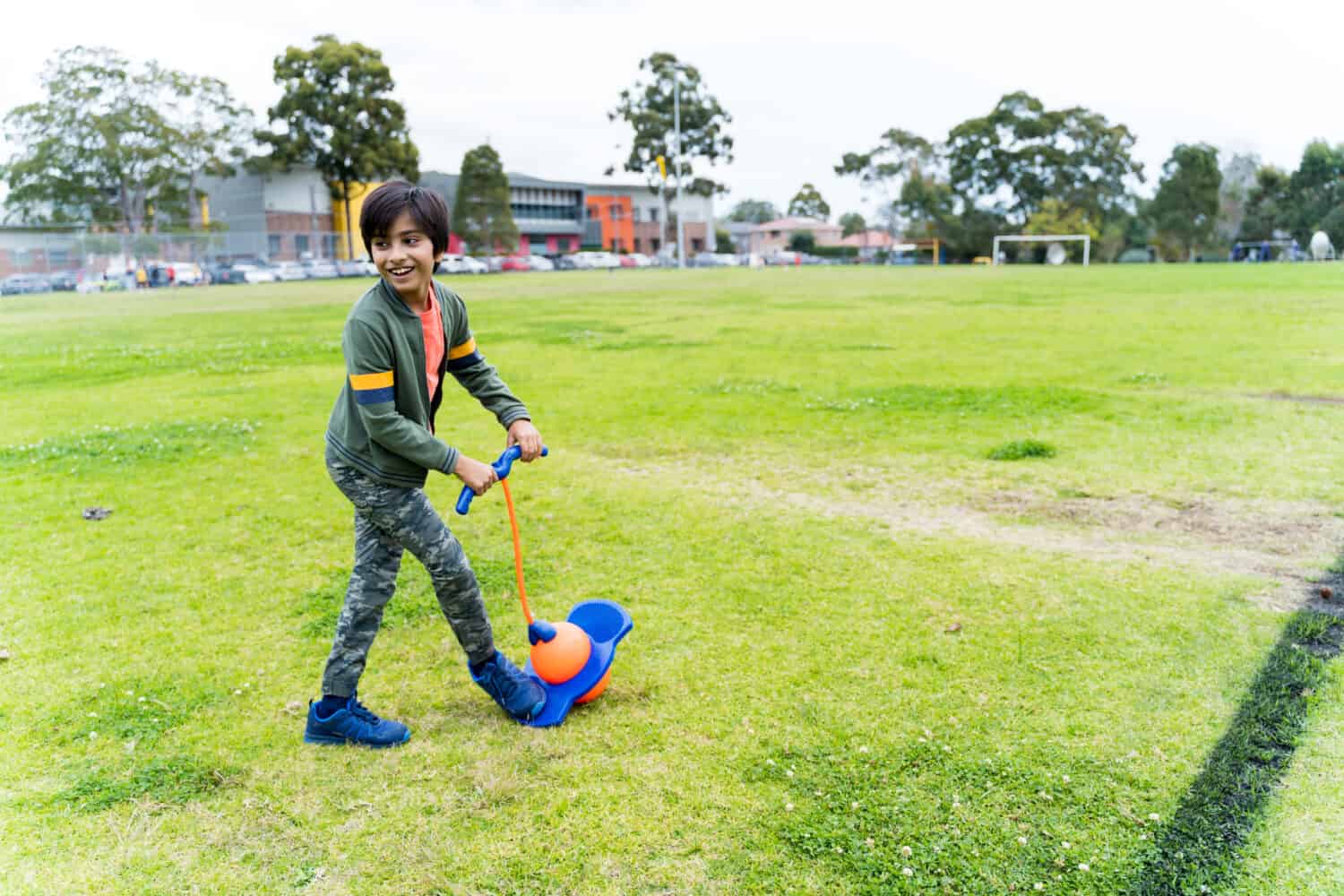 Kids XPlore Set
This Kids XPlore Set is perfect for outdoor adventurers. Use the included binoculars, magnifying glass, compass, and more to catch your friendly neighborhood bugs and safely get to know them better. Take notes on the world around you and learn about the beauty of nature as you do.
Ninja Warrior Obstacle Course
Next up, a gift that's sure to excite the most active of kiddos, check out this Ninja Warrior Obstacle Course. Made from high-quality strap material and anti-rust metal components, this kit includes a slackline and all kinds of accessories. There's an installable rope ladder, monkey bar, gymnastic ring, arm trainer, and a monkey fist-hanging feature. Super easy to set up in any wide open space, this gift is not only one of the best outdoor toys for 6-year-olds but fun for the whole family to boot.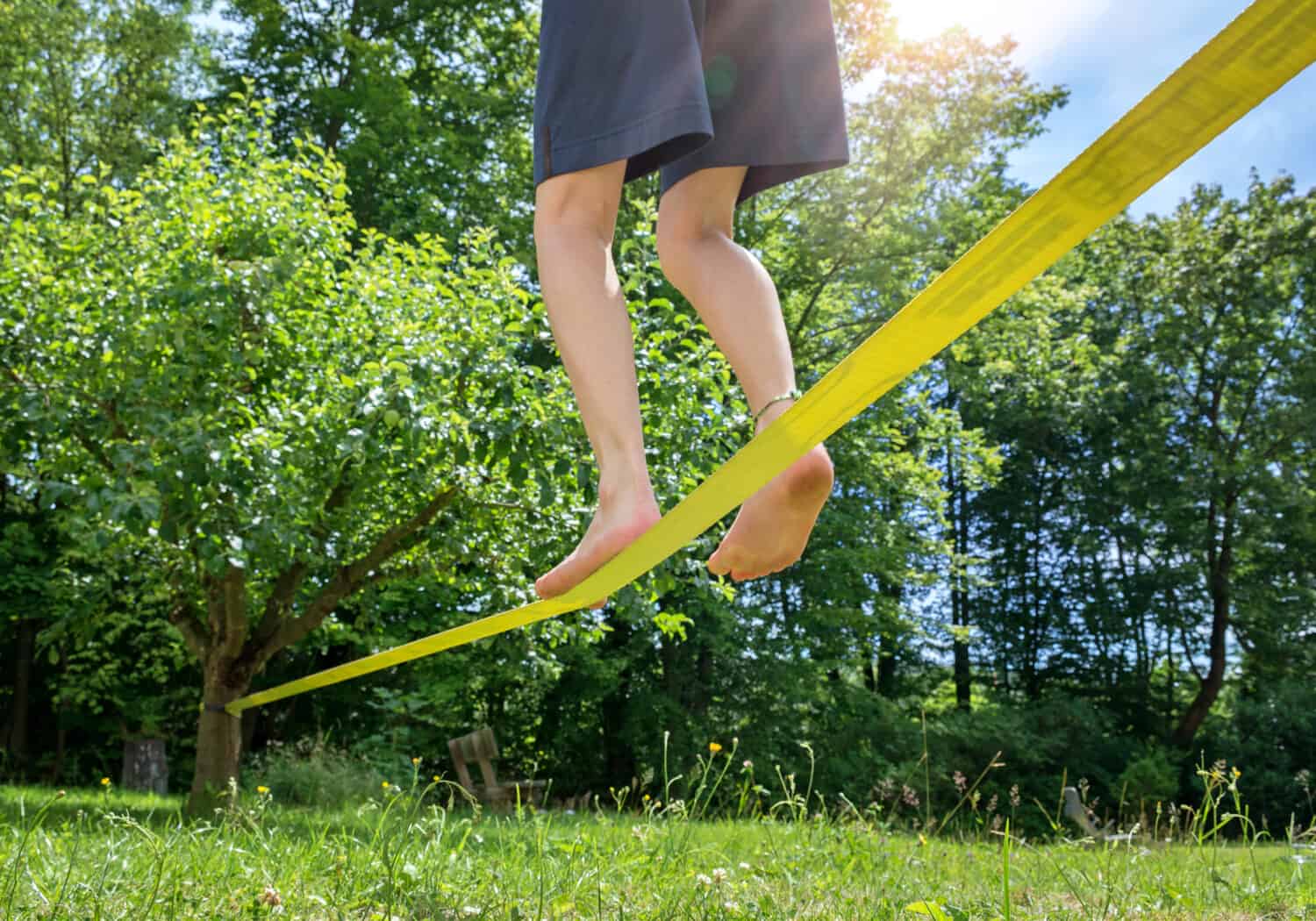 YEEBAY Fort Building Kit For Kids
Check out this YEEBAY Fort Building Kit that's perfect for the young builders in your life. With 121 pieces, children can create their own structures. Bring it outside on nice days and set up a fort near a picnic, or when their friends are over, they can all make a clubhouse. A great toy for encouraging creativity, understanding of space, and the beauty of building things with your own two hands.
JAMBO Slip Splash & Slide
And finally, take a look at the JAMBO Slip Splash & Slide waterslide. The kit comes with an inflatable crash pad, 2 body boards, and a 24-foot-long slide with a channel sprinkler system. If you're looking for a gift that encourages outdoor and active fun, this is absolutely the toy to get.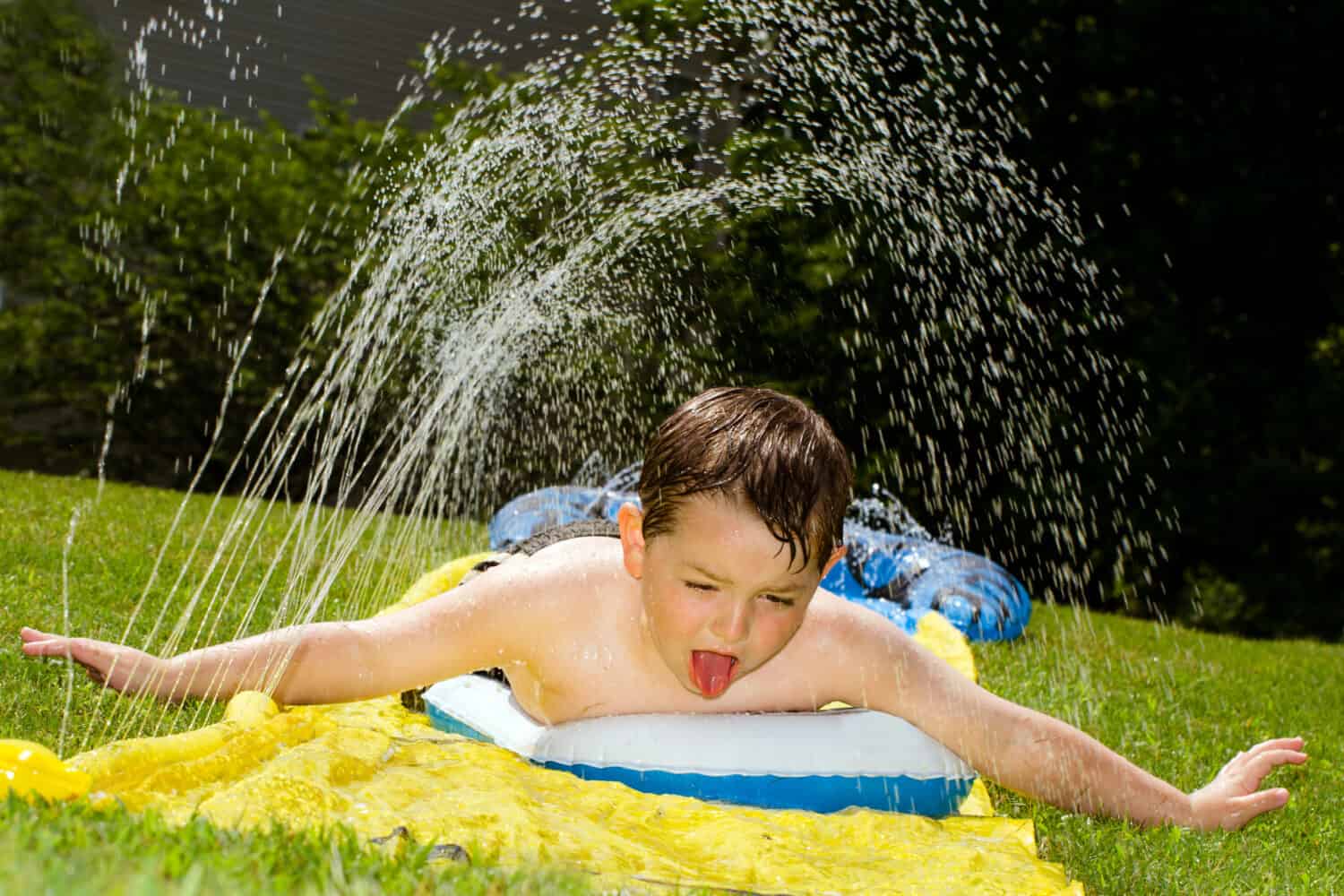 Sporting Games
These toys are perfect for young, active 6-year-olds. Give the gift of skill practice and sportsmanship. Safe-to-use archery kits to baseball and tennis practice pitchers, Amazon's got it all!
Bigdream Bow & Arrow Toy
Perfect for the young wannabe Robin Hood, this Bigdream Bow & Arrow Toy features section cup safety arrows, a target, and a collapsible bow. There are LED lights that flash when you've hit your target, and the arrows are easy to find in the grass, day or night. The whole set is made from foam and non-toxic plastic, and this toy helps improve a child's aim and coordination while they're having fun!
Kid's Basketball Hoop
This portable, adjustable Kid's Basketball Hoop is a great gift for outdoor play. Great for ages 3+, this toy can be set up in any driveway, or larger space where a child can practice their basketball skills. It comes with 3 bouncy balls and is not only easy to set up but very durable and safe to use. This toy will help with hand-eye coordination and visual tracking skills. It will encourage a child's sense of sportsmanship and perhaps start them young on a future NBA basketball career!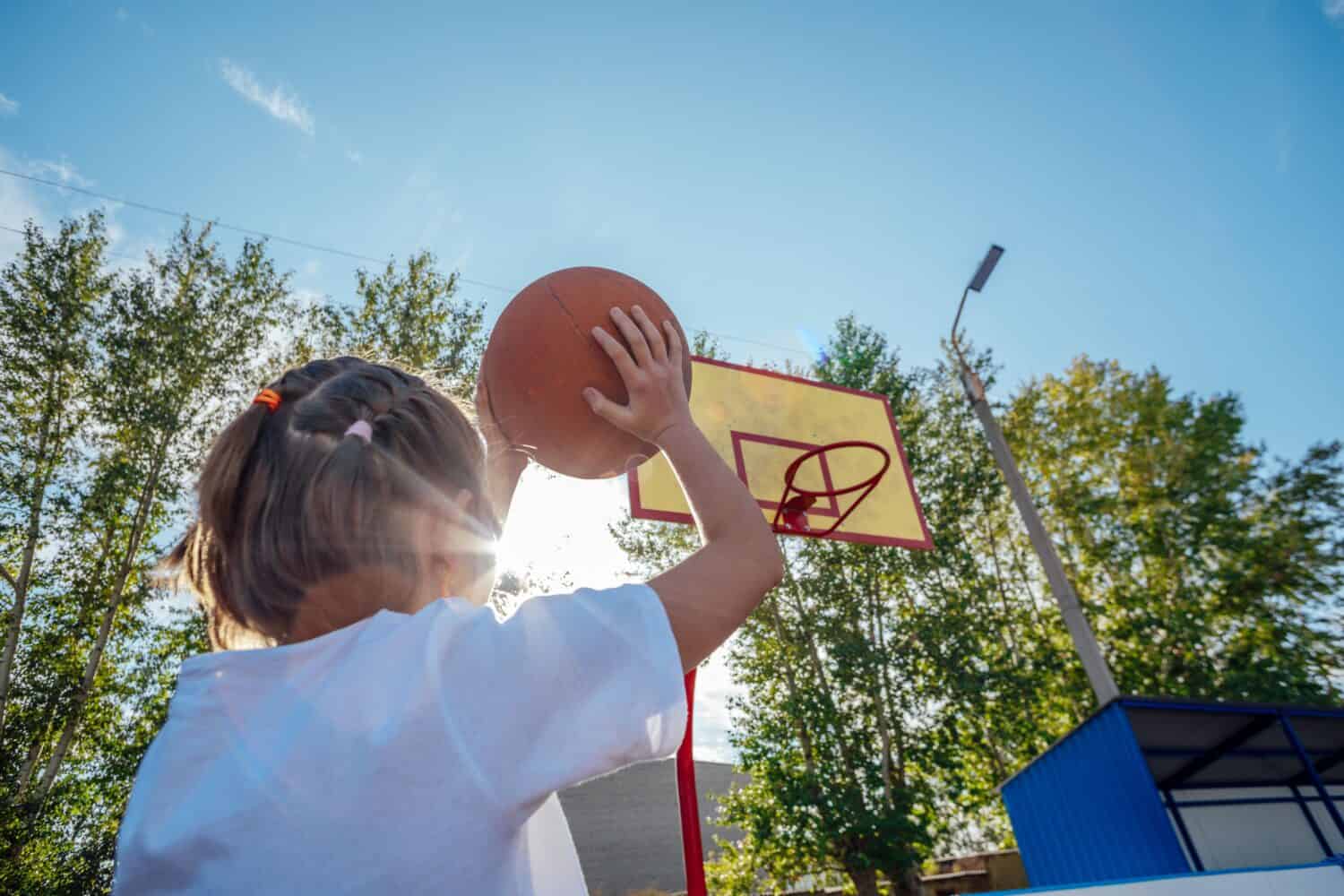 2 in 1 RC Baseball & Tennis Pitching Machine
A great gift for a young athlete, this iPlay, iLearn Kids 2 in 1 RC Baseball & Tennis Pitching Machine will help anyone with their swinging skills in both baseball and tennis. The kit includes a baseball bat, tennis racket, and six training balls. Batteries are not included but once they're installed, the machine is built for safety with a jamming reset feature. Adult supervision is recommended but overall this toy is fun, safe, and easy to use. No wonder this is one of the best outdoor toys for 6-year-olds.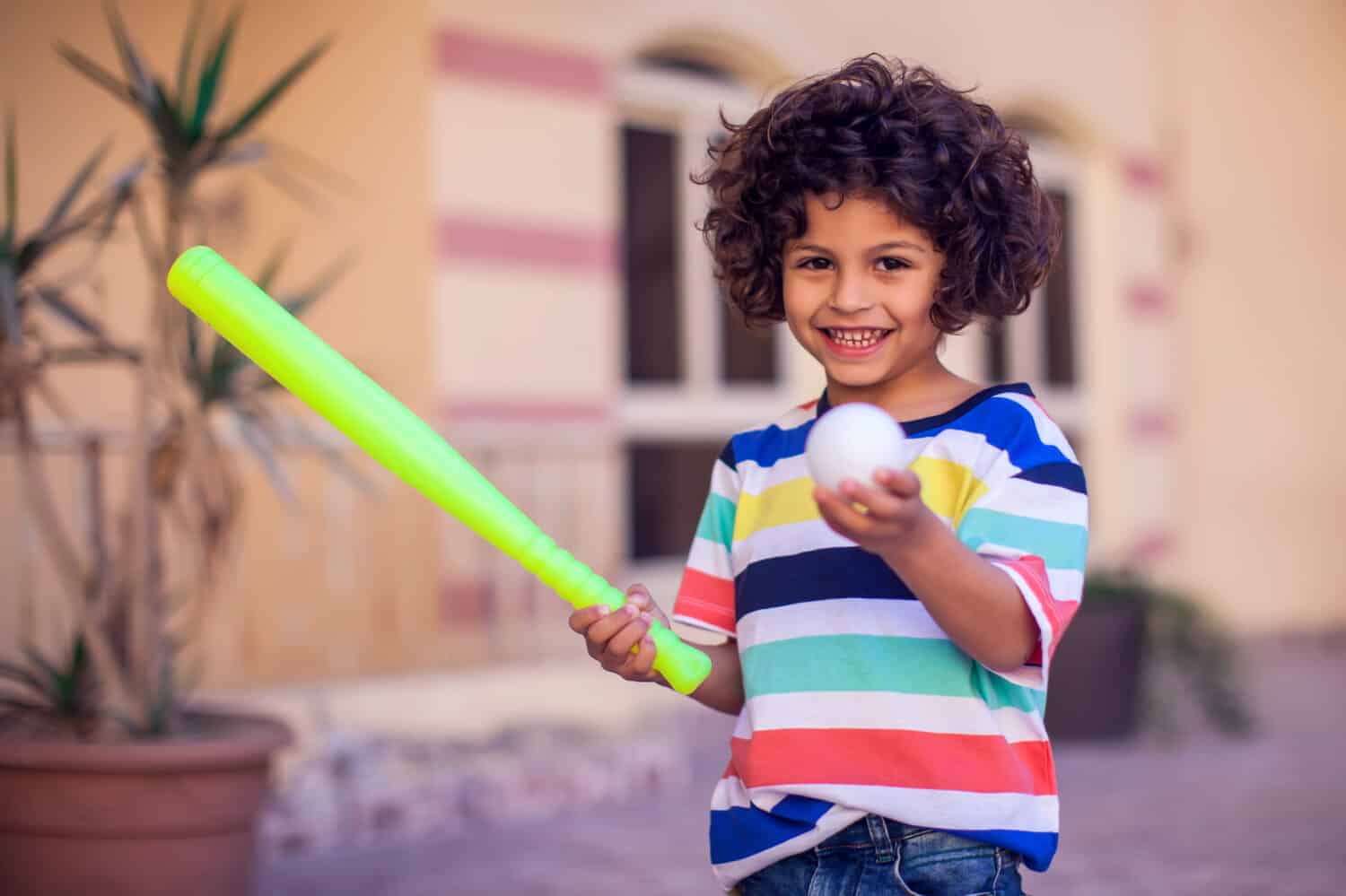 OMNISAFE Kids Golf Toys Set
And lastly, for any future Tiger Woods out there, check out this OMNISAFE Kids Golf Toys Set. In the kit are 15 golf balls, 1 practice tee, 1 golf club, and 2 golf club heads. Kids can practice their hand-eye-coordination skills while learning about the wonderful game of golf. Made from non-toxic materials, this toy is friendly for indoor and outdoor play. But who wants to play a game of golf inside on a sunny day?
Multi-Player Games
Sometimes gifts can best be enjoyed with other people. These toys are inclusive and easily played with more than one person. Try classic tic-tac-toe, cornhole, and other engaging outdoor activity toys.
Mattel Toss Across Kids Outdoor Game
This Mattel Toss Across game is perfect for any kind of birthday party, playdate, field trip, or camping adventure. Set it up on a lawn or outdoor area and prepare for an engaging game of tic-tac-toe with bean bags. In teams of two or one-on-one games, you can all enjoy a rousing competition.
SWOOC Games Cornhole Bounce Game
For another bean-bag game, check out this SWOOC Games Cornhole Bounce. This portable group of boards is perfect for a classic boardwalk-style game of cornhole. But it also comes with instructions for 15 different variations on the game. This is a great toy for the whole family or full-party participation!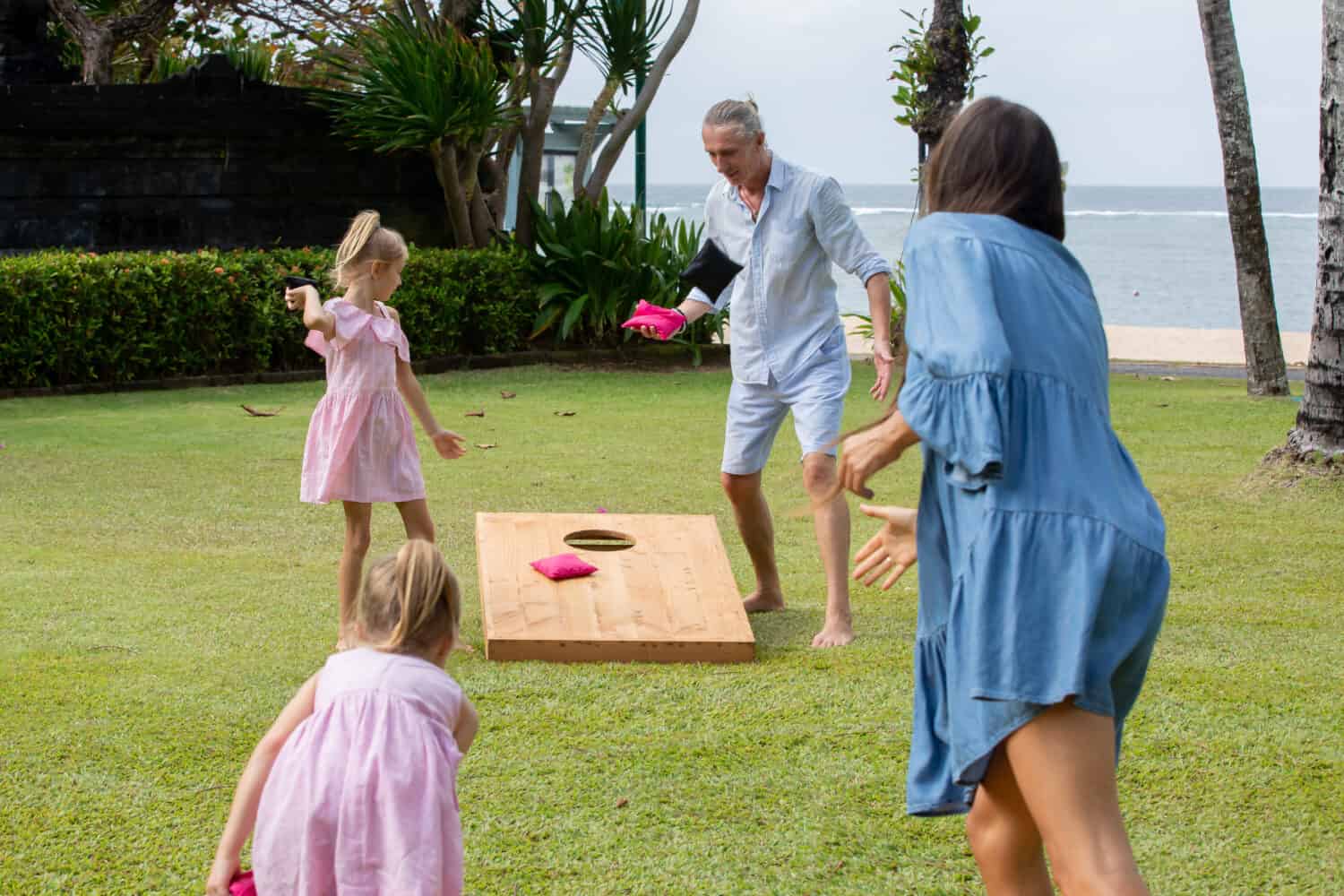 Koosh Double Paddle Play Set
The Koosh Double Paddle Play Set is one of the best outdoor toys for 6-year-olds. The kit comes with two paddles and a fidget toy for bouncing. Built with trampoline-like rackets, anyone can practice their bouncing skills solo or with a friend. Prepare your young one for tennis, ping pong, badminton, and more.
Swingball 5 In 1 Game
Lastly, check out this Swingball 5 In 1 Game has everything you need to play five different games! Set it up to play swingball, swingball soccer, tail ball tennis, volleyball, and flying disc. Adjust it easily and quickly for height differences. It's also very easy to set up and break down. With so many games to play, this is a perfect gift for active engagement and endless outdoor entertainment.
The image featured at the top of this post is ©Sergey Novikov/Shutterstock.com.