Las Vegas is one of the best cities in the world, and not just because of the casinos. There's so much fun to be had even when the sun rises. Whether you live there or you're just visiting, you'll find that there's great people, fun attractions, and awesome shopping opportunities, especially if you love thrift shops. Vegas is larger than it seems at first, and so there are many fine establishments to consider. So, without any further ado, here are the best thrift stores in Las Vegas.
1. Glam Factory Vintage
211 E Colorado Ave, Las Vegas, NV 89104
This is one of the most unique thrift shops you'll find. It's the kind of place where you'll hear people say, "Only in Vegas." You'll realize that you're in a special place before you even walk in. The colorful exterior screams "amazing," and you'll wonder if you've ventured into another world. Inside, you'll see a wide arrangement of fun clothes and items. Another aspect that makes this thrift shop so unique is that they focus on vintage clothing that's from the 1940s – 1970s, so you're sure to find something that will give you a blast from the past. As an extra bonus, the store tries to keep a fresh inventory by putting out new items on a daily basis.
2. Vintage Vegas Antiques
1229 S Main St, Las Vegas, NV 89104
If you really love Las Vegas and the great history of this amazing town going back to the beginning, then it's time to check out Vintage Vegas Antiques. While they have various items, including various housewares, games, and music, their primary focus is on authentic Vegas items. It's here where you'll find classic outfits worn by entertainers throughout the years and other items that were once in real Vegas casinos. They also have a wide selection of neon signs that look great in homes or in your own business. Their slogan is that they deal in "Dead People's Junk and Cool Crap." The owners also say that if you don't find something mind blowing, they'll go out and find it for you.
3. Take II Boutique
1209 S Main St, Las Vegas, Nevada 89104
There are several of these stores around the country, but the Vegas store has extra flair. This is a thrift store that focuses on clothes, especially those in vintage styles. If you have older clothes that are still in decent shape, then sell them here. They buy clothes every day and pay great prices. If you're just looking to add to your wardrobe, then this is still the place to be. The clothing and products available include plus sizes, menswear, shoes, jewelry, handbags, purses, activewear, outerwear, and everything in between. This storefront may be unassuming at first, but don't pass it up!
4. Chic and Cozy Consignment Furniture
10624 S Eastern Ave, Suite 1, Henderson, NV. 89052
Located not far from the strip is the fine town of Henderson, NV. It's where many people who work on the strip call home, and it's a great town in its own right. There are many great shops in this area, and Chic and Cozy Consignment Furniture is one of them. This is a great thrift store, and it sets itself apart by not having the usual clothing, toys, and books. Instead, this is the place to go when you want to find the finest second-hand furniture. They say that the furniture is gently used and they have some wonderful pieces. While here, you can check out bedroom decor, office furniture, living room pieces, patio furniture, and more. You could come here and furnish your entire house and get everything at a great price, so check it out.
5. Goodwill
Various Locations
There are several Goodwill locations in Vegas and the surrounding areas, and they all offer a clean shopping experience with friendly staff and a nice selection. Like other Goodwill stores, you can find all kinds of things at these stores, from clothing and shoes to toys and video games. The stores here also have great sales depending on the day, so look up your location before you go. Of course, you can also donate your clothes and belongings as well and know that what you no longer use will find a good home with someone else. In addition to the regular store, there's also the Goodwill Clearance Sale, where you can find great deals on new products every day.
6. Savers
1100 E. Charleston Blvd, Las Vegas, NV 89104
For many people, Savers is the ultimate destination when they look for a thrift store that has it all. This is like a superstore that sells clothes, wall art, housewares, dishes, and so much more. This is often the go-to place to find unique outfits that help folks fit in with the unique culture of Vegas. You can also choose to donate your gently used items here and know that they will find a good home. The company also works with various charities and non-profits. This shop is super trendy and is considered to be one of the best thrift stores in Las Vegas.
7. Castaways Resale Store
241 N Stephanie St, Henderson, NV 89074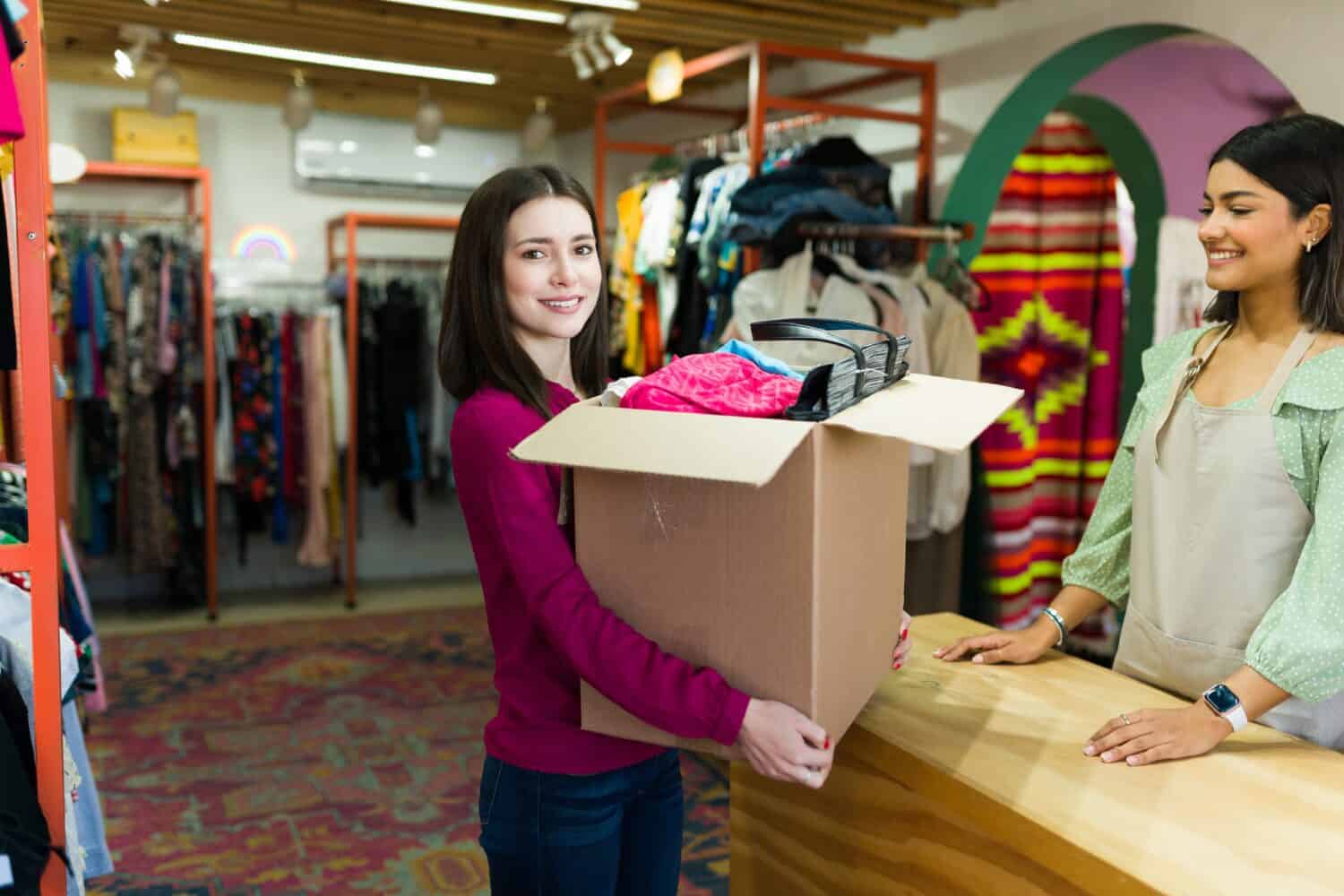 This is another gem in Henderson, Nevada. This store sells everything. They have tons of furniture, even full dining room sets. There are tons of clothing options for men, women, and children. If you have a new home or apartment, this is the place to find the household items to fill it. This is a non-profit that does great things for those in need, and they do it in a different way. Their mission is to give folks who have ended up in jail a second chance once they re-enter society. Once someone goes to jail for even a seemingly minor offense, it's almost impossible for them to find another job, and so when you buy from this store, you help them out.
8. Opportunity Village Thrift Store
390 S. Decatur Blvd. Las Vegas, NV 89107
The Opportunity Village Thrift Store has a unique mission. They're goal is to provide tools and services to disabled children and adults in the community. They serve to help those with intellectual and related disabilities and their families. In addition to providing these individuals with furniture and accessibility tools, they also provide incredible services, like workforce development, day services, and opportunities for social recreation. If you, or someone you know or care for, needs crutches, wheelchairs, canes, or anything in between, this is the place to go to get them at a great value. If you have items of that nature that you no longer need, consider donating them to the store.
9. Antique Alley Mall
1126 S Main St, Las Vegas, NV 89104
When you walk into Antique Alley Mall, you'll feel like you're transported back in time, and you'll know right away that you're in one of the best thrift stores in Las Vegas. Located in the heart of downtown Vegas, this is another one of those stores that sell some of the typical thrift store items, but they also sell vintage Vegas items, from those awesome neon signs to fancy outfits. This is more than just one store. It's actually a huge 12,000-square-foot space that houses over 65 vendors with different specialties. There's an incredible variety of merchandise at this mall, and you can find vintage clothing, collectibles, pottery, furniture, rock and roll memorabilia, and more.
10. Main Street Peddlers Antique Mall
1400 S Main St, Las Vegas, NV 89104
Similar to the Antique Alley Mall, Main Street Peddlers is a huge 7,500-square-foot antique mall that is loaded with nostalgia. It's been in operation since 2015, and there are currently over 18 vendors that call the space home. As you go from booth to booth, you'll find modern clothing and appliances, and then you'll find those vintage outfits that put Las Vegas on the map. Many residents and visitors consider this to be the best thrift stop in the city.
Conclusion
These are undoubtedly the best thrift stores in Las Vegas. There's a lot to see in this fantastic city, and these shops are a great starting point. You'll find incredible products that will show you the impressive history of Sin City. You'll also find products that look great in any home. The next time you hit Vegas, try one of these shops.
The image featured at the top of this post is ©Sean Pavone/Shutterstock.com.