As hard as it is to believe, your 9-year-old is growing up and entering their pre-teen years. They certainly still need your love and guidance even if they're not willing to admit it but they're also becoming more independent each day. One of the ways you can help them grow and foster independence is by providing them with toys and activities that allow them to be imaginative and creative. Even at 9 years old, play is still an important aspect of their development, but if you're not sure what toys to purchase, we've created a list of the best toys for 9-year-olds to help you decide.
No matter how old your kids are, play is an essential part of their childhood. Kids at this age enjoy socializing and playing with their peers, friends, and siblings. If you're looking for a way to surprise your pre-teen, keep reading to find out about some of the top toys for 9-year-olds.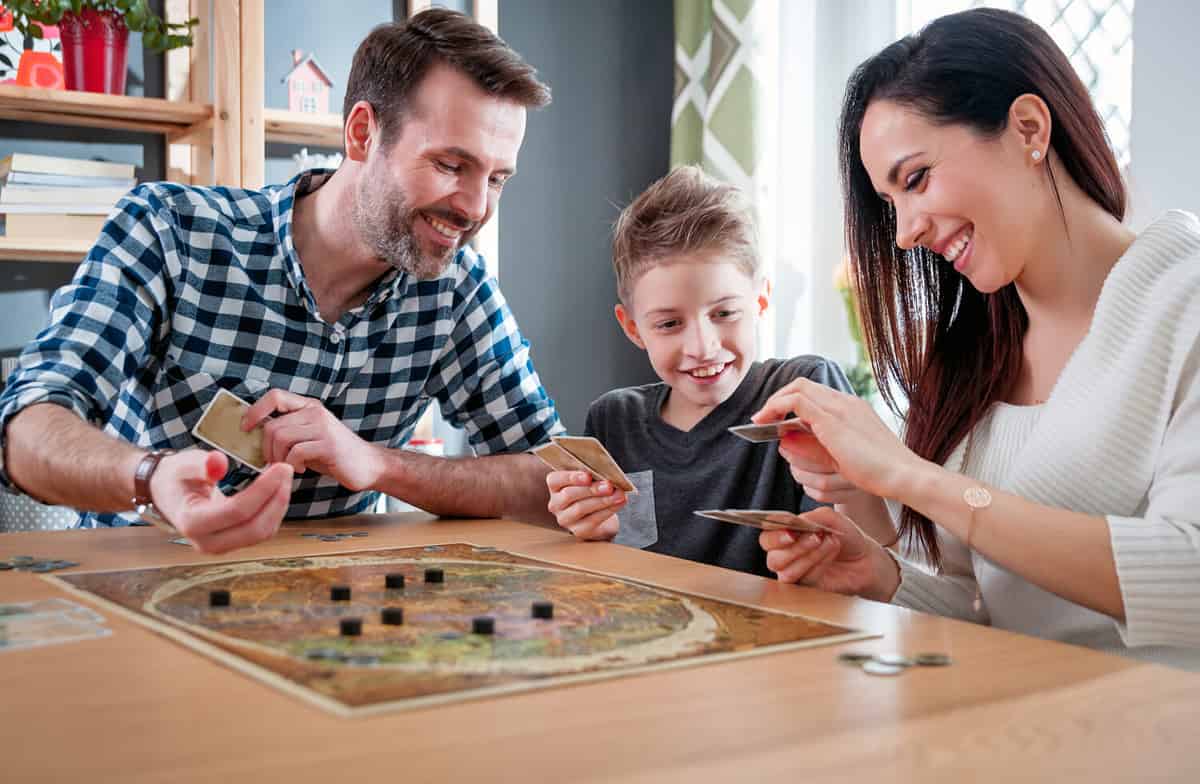 What To Look for in Toys for 9-Year-Olds
Whether you're looking for something fun, educational, or both, there are plenty of excellent toys out there for 9-year-olds. Just because they're growing up doesn't mean they can't enjoy playing with toys, games, and puzzles.
It can be helpful to keep in mind what 9-year-olds are learning developmentally to ensure you choose age-appropriate games and toys. Ages 9-11 are considered middle childhood and at this age, they're experiencing significant physical, emotional, and social growth.
At 9 years old, children are starting to:
Become more independent
Form stronger bonds and friendships with those around them
Face more academic challenges
Refine their motor skills like jumping and skipping
Speak like an adult
Increase their attention span
There are plenty of toys, games, and puzzles that any 9-year-old will enjoy. Let's take a look at some of the most engaging games for this age group.
Connect 4 Spin Game
Connect 4 is a classic game kids of all ages love and what's even better is Connect 4 with a fun and exciting twist. This is a two-player game, which makes it the perfect game for you to play with your child or for them to play with a friend or sibling.
The Connect 4 Spin Game is similar to the original Connect 4 except it comes with a spinning grid to make the game even more fun. This game is an excellent choice for kids ages 8 and up. It also includes a beginner mode and an expert mode that you can adjust based on their skill level.
We earn a commission if you make a purchase, at no additional cost to you.
Sorry!
Sorry is another classic game kids have loved for almost a hundred years. You can play this game together as a family or your child can enjoy a game of Sorry! with their friends. The game board comes with 12 pawns, 44 cards, and instructions.
Despite the simple instructions, It's fun for all ages and is a great choice for kids to learn on their own or play with younger siblings.
We earn a commission if you make a purchase, at no additional cost to you.
Rubik's Cube
Nothing could make your child feel more accomplished than solving a Rubik's Cube for the first time. This classic toy combines several types of learning and encourages critical thinking. No matter how many times your child plays with the Rubik's Cube, it's the kind of puzzle that doesn't get old.
This is a fun game or puzzle for kids if you're trying to encourage independent play, and it can also be a joint activity. Try encouraging your child and their friends to time each other and see who can solve the Rubik's Cube the fastest!
Trivial Pursuit Family Edition
Trivial Pursuit is already a fun game and this edition is perfect for the whole family to play. This game is simple enough for your 9-year-old to play, but it's also difficult enough to challenge them as well.
This game can be played with up to 4 players and comes with questions for kids and adults. Trivial Pursuit Family Edition comes with 100 cards for adults, 100 cards for kids, 2 cardholders, 6 scoring tokens, and 36 scoring wedges.
We earn a commission if you make a purchase, at no additional cost to you.
Mattel Blokus Game XL
Blokus is a fun game to engage your 9-year-old and the rest of the family. This XL version is 2 inches larger than the regular Blokus Game and it's a fun strategy game that's simple enough for pre-teens to learn.
Each player of Blokus has 21 pieces they get to place on the board. The rule of the game states that each new piece has to touch at least one other piece of the same color, but it can only touch the piece at the corners. The player who has the lowest number of pieces left at the end wins! Once your 9-year-old gets the hang of the game, you can also switch to advanced scoring for a more challenging game.
LED Constellation Globe
The LED Constellation Globe is perfect for 9-year-olds who are filled with curiosity and a desire to learn about the world around them. This detailed and easy-to-read globe is a great way to build interest in geography and has numerous uses.
The LED Constellation Globe can be an educational toy or your child can even use it as a desk lamp or nightlight. It includes a tip-resistant stand and rotates 360 degrees. Your child can discover 88 constellations, stars, and navigational lines through the LED Constellation Globe.
We earn a commission if you make a purchase, at no additional cost to you.
Henoda STEM Robot
For your tech-loving 9-year-old, this STEM robot is the perfect gift. This programmable building kit comes with over 460 pieces and is great for children 8 and up. After building the robot, they can use a remote control or an app to move the robot in all different directions.
Not only is this kit fun for kids who love to problem-solve and build, but it's also an educational toy that can teach kids practical skills and aligns well with STEM learning.
We earn a commission if you make a purchase, at no additional cost to you.
Light-Up Terrarium Kit
This terrarium kit is an interesting and fun project for your 9-year-old. A terrarium is a miniature version of a garden within a natural environment. It's a beautiful way for your child to learn about nature and the environment and they'll love watching their terrarium grow.
The terrarium kit is all-inclusive and comes with a terrarium jar, light-up jar lid, charging cable, soil, sand, rocks, decor, and tools for planting the seeds. At night, the built-in LED light allows the terrarium to glow.
We earn a commission if you make a purchase, at no additional cost to you.
Japace Experiments Science Kit
Japace Experiments Science Kit is a great gift idea for 9-year-olds. This kit includes over 100 science experiments and each experiment comes with detailed instructions and all the necessary materials. From an underwater volcano to a crystal-growing tree, there are plenty of fun experiments for your child to enjoy.
This is also a great gift if you're looking for something for your family to do together or for your pre-teen to do with siblings. The Science Kit conforms to all U.S. toy safety standards and provides a safe way for kids to learn different scientific concepts.
We earn a commission if you make a purchase, at no additional cost to you.
Zingywise STEM Building Toys
This STEM building toy from Zingywise is another great way for 9-year-olds to learn and play at the same time. The STEM Building Toys comes with 171 pieces and features a 7-in-1 building set. There are 7 different model cars to build and it's great for kids ages 7-12.
The STEM model-building kit allows kids to have fun while also fostering creativity and building critical thinking skills. The included pieces are shatter-resistant with smooth edges, so they're safe for your child to play with.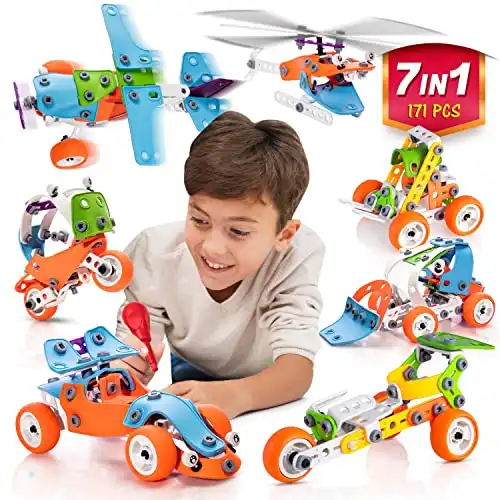 We earn a commission if you make a purchase, at no additional cost to you.
Choosing the Right Toy for Your 9-Year-Old
If you're looking for the best toys for 9-year-olds, there are plenty of options out there to choose from. At this age, they're learning to socialize more and are growing more independent. Puzzles and games are always great choices that can be fun and challenging for pre-teens.
There are numerous games out there they can play with the whole family or even their siblings. Educational toys and games that promote creativity and problem-solving will be a hit with your 9-year-old.
The image featured at the top of this post is ©Monkey Business Images/Shutterstock.com.