Turnips and radishes are both nutritious, edible root vegetables that belong to the Brassicaceae family. The turnip is known for its white, plump taproot and grows in moderate environments around the world. Radishes, on the other hand, are smaller and can be red or purple. Radishes also vary in intensity depending on where they have grown. In this article, we are going to compare turnip vs. radish: nutritional comparisons & 3 important differences.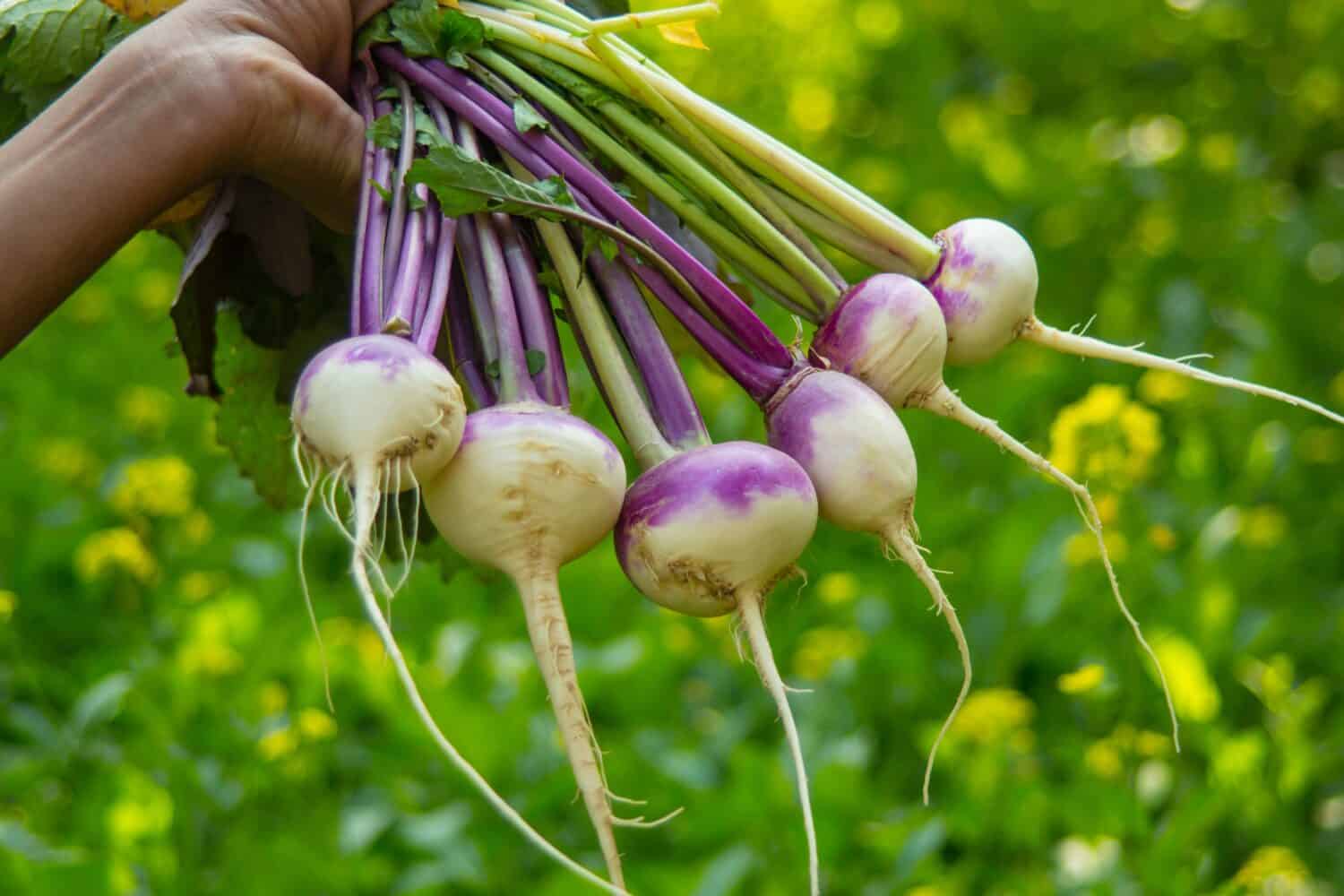 Turnip vs. Radish: 3 Key Differences
While these two tasty root vegetables may seem similar, there are 3 key differences between them in terms of shape, color, texture, and flavor. Let's take a closer, in-depth look.
Turnips and radishes have different shapes and sizes. Turnips are bigger and more round, with a white purple shade of skin and yellow or white flesh. Turnips can grow to an average size of about 2-3 inches and weigh about 120-180 grams. Yet, radishes are smaller, with a lively red or pink color skin and white, crunchy flesh. They grow to about 1-2 inches, weighing approximately 14-28 grams, although the size and weight do vary.
Both vegetables have different tastes; some claim that older turnips taste similar to raw potatoes. When eaten raw, turnips are also slightly bitter but taste wonderful when cooked properly. However, young turnips have a sweeter flavor similar to carrots. On the other hand, radishes have a distinct, strong peppery flavor. Depending on the variety, some can be hot and others mild. Many people eat the top greens of turnips and radishes and add them to salads.
Turnips can be eaten raw or cooked. As mentioned earlier, when eaten raw, they have a raw potato-like flavor. However, when cooked, they become sweet and tender, making them perfect for soups and stews. As opposed to radish, they are most often eaten raw in salads and used as a garnish, adding that extra spicey, peppery flavor to your dish.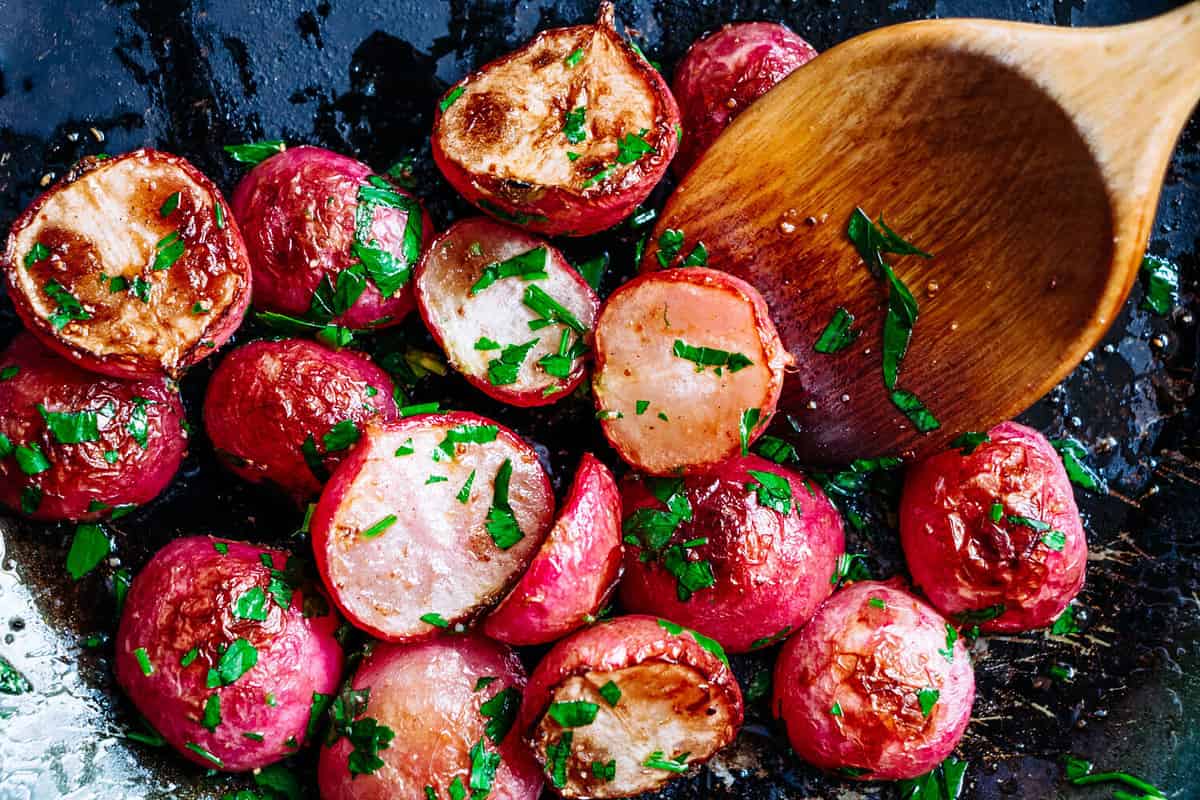 Nutritional Comparison
Both turnips and radishes are excellent sources of vitamins. Turnips are high in vitamin C, calcium, iron, and folate. Health professionals believe that turnips could relieve intestinal problems because the fiber can reduce inflammation and pressure in the colon. Based on a study in 2013 foods such as turnips and collard greens containing dietary nitrates may have health advantages such as lowering blood pressure, reducing the risk of cancer, improving digestion, and weight loss.
Radishes also contain a high source of vitamin C, which helps protect your cells. They are also a good source of vanillic acid, catechin, pyrogallol, and other phenolic compounds. Another difference is that radishes contain more water than turnips.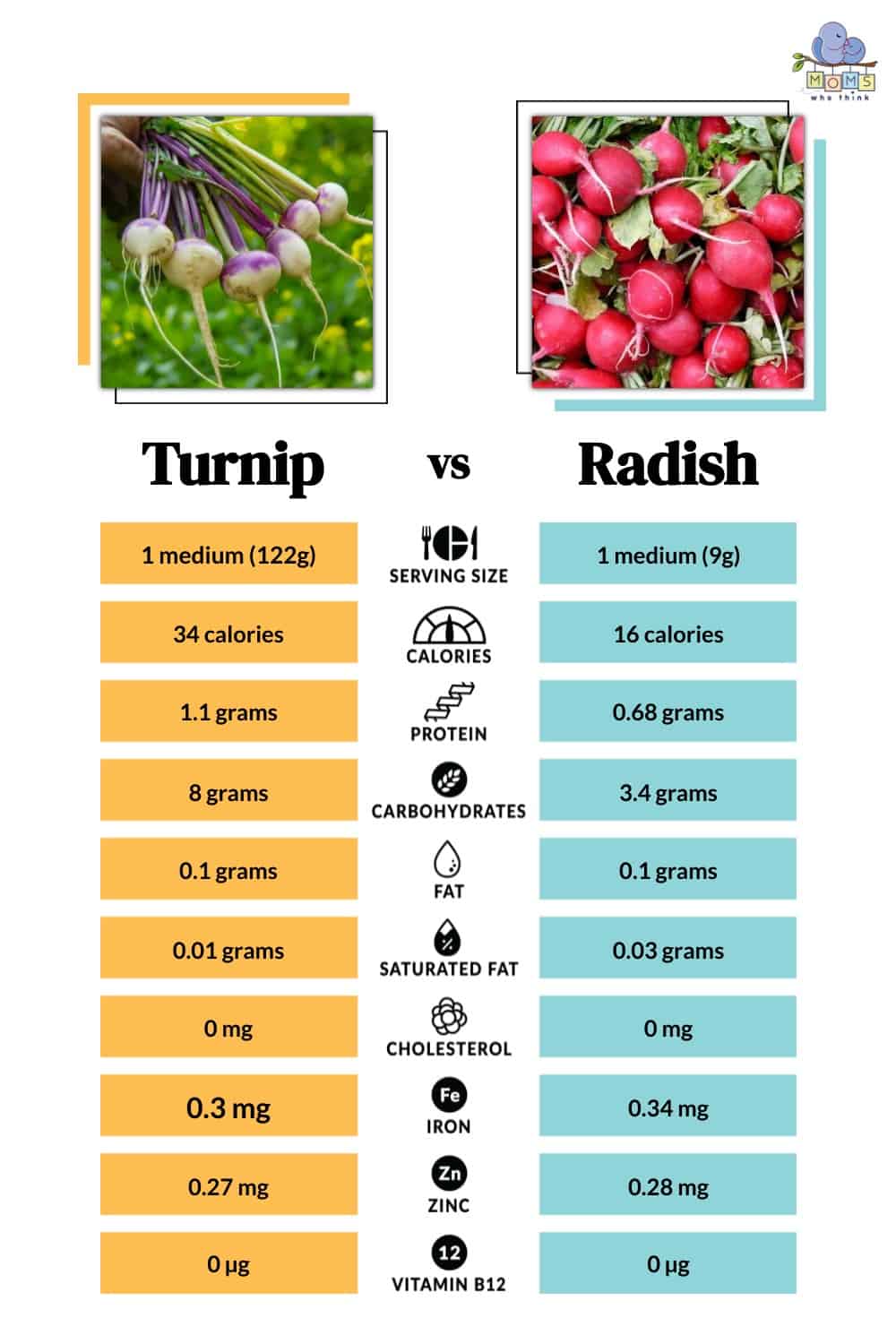 Fun Facts: World's Biggest Turnip and Radish
As a momswhothink writer, we love incorporating fun and interesting facts into our articles for our readers. You may find it hard to believe that these two seemingly humble root vegetables hold a place in the Guinness Book of Records. Let's take a look at the biggest and longest turnip as well as the biggest and longest radish.
In November 2020, Gaspé gardener Damien Allard, who is a cabinetmaker by profession, unearthed a 29-kilogram turnip with a width of 46 centimeters, a height of 35 centimeters, and a circumference of 138 centimeters, crushing the previous 2004 Guinness World Record turnip weighing 17.7 kilograms. In 2016, Damien dug up a seven-kilogram turnip and decided to look into the Guinness Book of World Records to see if he could compete. He made it his goal to surpass the 2004 record.
During September 2022, Joe Atherton from the United Kingdom broke his 2019 record for the longest turnip, measuring 4.605 meters, at the CANNA UK National Giant Vegetables Championship. Martyn Davis from the National Vegetable Society confirmed the length. Furthermore, he holds the world record for the longest salsify 5.57 meters, parsnip 6.550 meters, carrot 6.245 meters, beetroot 8.56 meters, and radish 6.703 meters.
A company named Manda Fermentation Co. in Japan, which specializes in fertilizers and supplements made from fermented botanical raw ingredients, set the Guinness World Record in February 2023 for growing the biggest radish, weighing 45.865 kg. Its root was 80cm long and had a circumference of 113 cm. This was verified at the HAKKO Park in Onomichi. Radishes generally take about 3 months until harvest, but this particular radish took just over 6 months.
Final Thoughts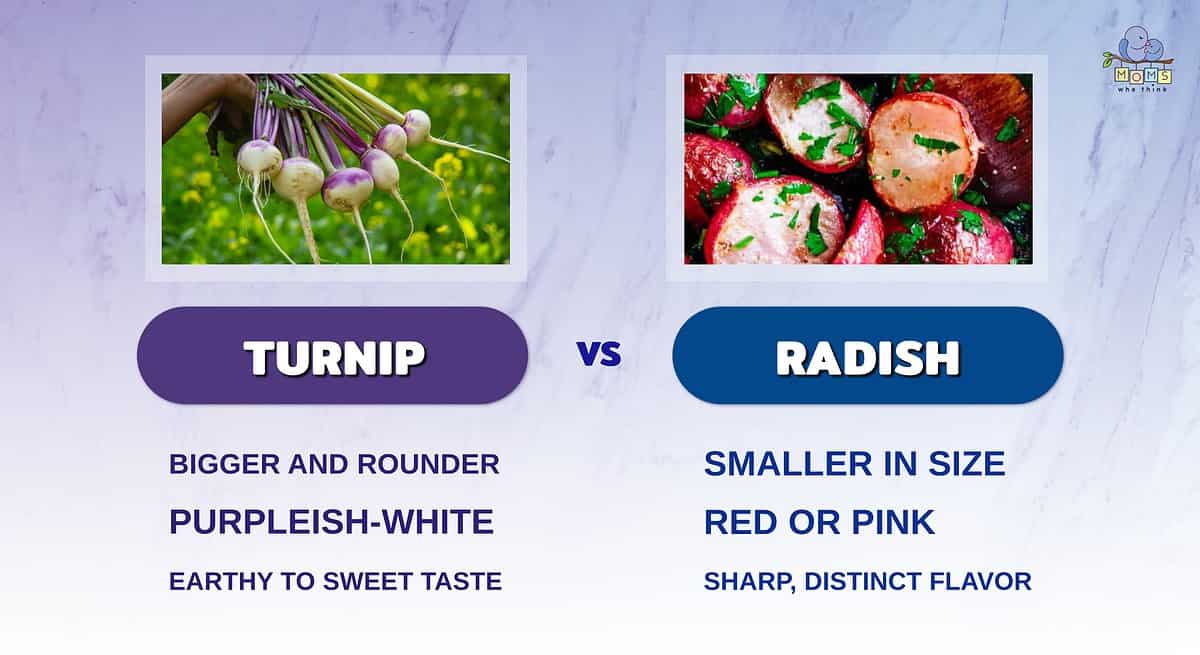 Turnips tend to be bigger and rounder in comparison to radishes.
An easy way to tell these two vegetables apart is by color. Turnips tend to be a purpleish-white, while radishes are red or pink.
Depending on their age, turnips can taste earthy or sweet. Radishes have a sharp, distinct flavor that some describe as peppery.
Finally, both turnips and radishes are nutritious. By adding these delicious root vegetables to your diet, you can reap their health benefits and incorporate their nutrients and flavors into your meal plans. We hope this article, "Turnip vs. Radish: Nutritional Comparison & 3 Important Differences," has provided you with informative information in understanding the differences between these two nutritious vegetables.
Print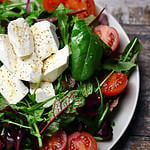 Spring Salad
---
Author:

Yield:

6

servings

1

x
2

medium tomatoes, seeded and chopped

2

cups

thinly sliced radishes

1

large cucumber, quartered, seeded, and chopped

1/2

cup

white vinegar

1/2

cup

water
Sugar substitute equivalent to 1/2 cup sugar

1/2 teaspoon

salt

1/4 teaspoon

pepper
---
Instructions
In a large bowl, combine the tomatoes, radishes, and cucumber.
In a small bowl, whisk together remaining ingredients until sugar substitute is dissolved (mixture will foam up slightly). Pour over vegetable mixture; toss to coat evenly. Cover and refrigerate for at least 1 hour. Serve with a slotted spoon.
Nutrition
Serving Size:

¾ cup

Calories:

44

Sodium:

208mg

Fat:

0g

Saturated Fat:

0g

Carbohydrates:

10g

Fiber:

1g

Protein:

1g

Cholesterol:

0mg
Related Articles