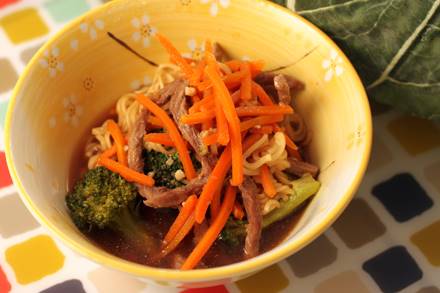 Beef and Broccoli Noodle Bowl
Ingredients:
8 ounces packaged beef stir-fry strips
1 Tablespoon cooking oil
2 teaspoons grated fresh ginger or bottled minced ginger
3 cloves garlic, minced
2 (14 ounce) cans beef broth
2 Tablespoons soy sauce
2 teaspoons rice vinegar
2 cups broccoli florets
1½ cups packaged fresh julienne carrots
1 (3 ounce) package ramen noodles (any flavor)
Directions:
1. In a large saucepan, cook beef strips in hot oil until brown.
2. Stir in ginger and garlic, cook 1 minute more.
3. Add beef broth, soy sauce, and vinegar. Bring to boiling, reduce heat.
4. Add broccoli and carrots. Simmer, covered, for 3 minutes or until crisp-tender.
5. Break ramen noodles into smaller pieces (discard spice packet).
6. Add noodles to saucepan. Simmer, uncovered, for 3 minutes or until noodles and vegetables are tender. Makes 4 servings.
Try one of our favorite 30 Minute Meals: