Could any meal be more delicious than a fresh, juicy hamburger? If you're a fan of all kinds of burgers, you might have seen bison burgers on a menu and wondered about the difference between a bison burger vs. beef burger.
The main difference between a bison burger and beef burger is the nutritional value and the price. You can find a beef burger at nearly every restaurant, but bison burgers are not as common and are much more expensive than your standard beef burger. Beef is also higher in fat and calories than bison meat.
Once you understand the difference between bison burgers and beef burgers, you might wonder if bison burgers are worth the hype. Read on to learn more about the difference between these two burgers and the benefits of each.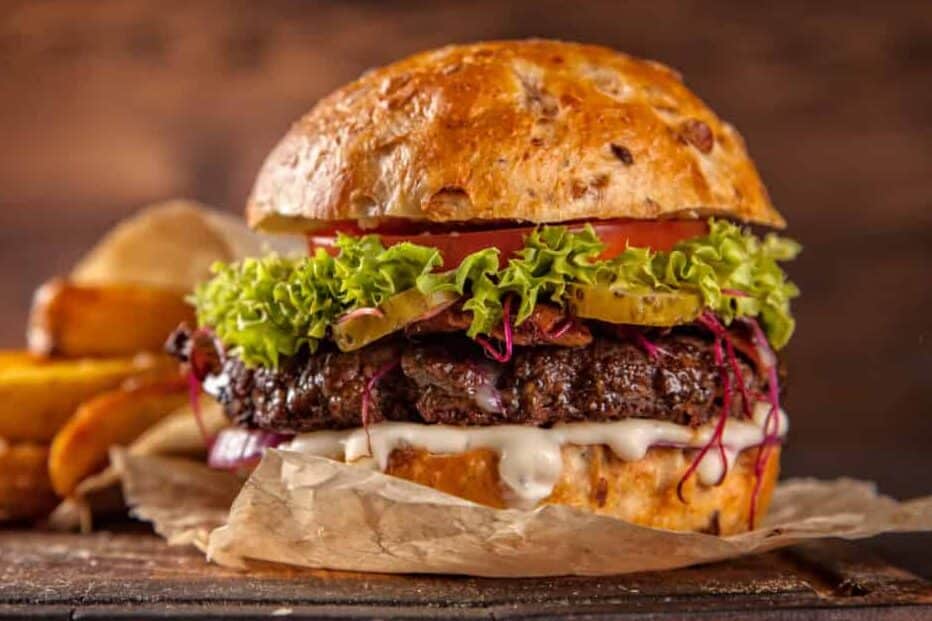 What Is the Difference Between a Bison Burger vs. Beef Burger?
With the evolution of burgers over time, it's not surprising when a new creation takes the stage. The bison burger isn't exactly a new creation, but it has grown in popularity over the past decade.
While you may not have tried one yet, you probably noticed how much more it costs than a beef burger. Still, the cost isn't the only difference between beef and bison meat. There are several other distinctions, including the taste, texture, and nutritional values.
For instance, bison meat has a higher price tag than ground beef but is also a higher quality meat. Some have compared a bison burger to the flavor and texture of a high-quality steak. Many also claim that bison meat is sweeter than ground beef, and since it's lower in fat, it has a less greasy flavor and texture.
The biggest difference between them is their nutritional values. Bison meat is lower in fat, cholesterol, and calories than beef. Some research has even shown that bison meat could be considered a healthier alternative.
When comparing the two types of burgers, which one you choose will depend on your preferences and what you're in the mood for. Both can make a delicious meal, but they will have different prices and different nutrition.
Main Differences Between a Bison Burger vs Beef Burger
Bison meat has less fat and calories than beef.
The nutritional value of these two types of burgers is definitely something to consider. While most people don't order beef burgers because of the health benefits, it is important to consider that bison meat does have less fat and calories than beef. However, other factors can impact the nutritional value of a burger.
The cost is different.
Bison burgers cost more than beef burgers because bison meat costs more. Beef is much more widely produced than bison, and the rarity of bison makes it more expensive.
The animals are raised differently.
Bison and cattle are treated differently, which can impact the taste and safety of the meat. Typically, bison is grass-fed and pasture-raised. Due to the high demand, this isn't as practical for those who raise cattle.
Nutritional Value of Bison Burger vs. Beef Burger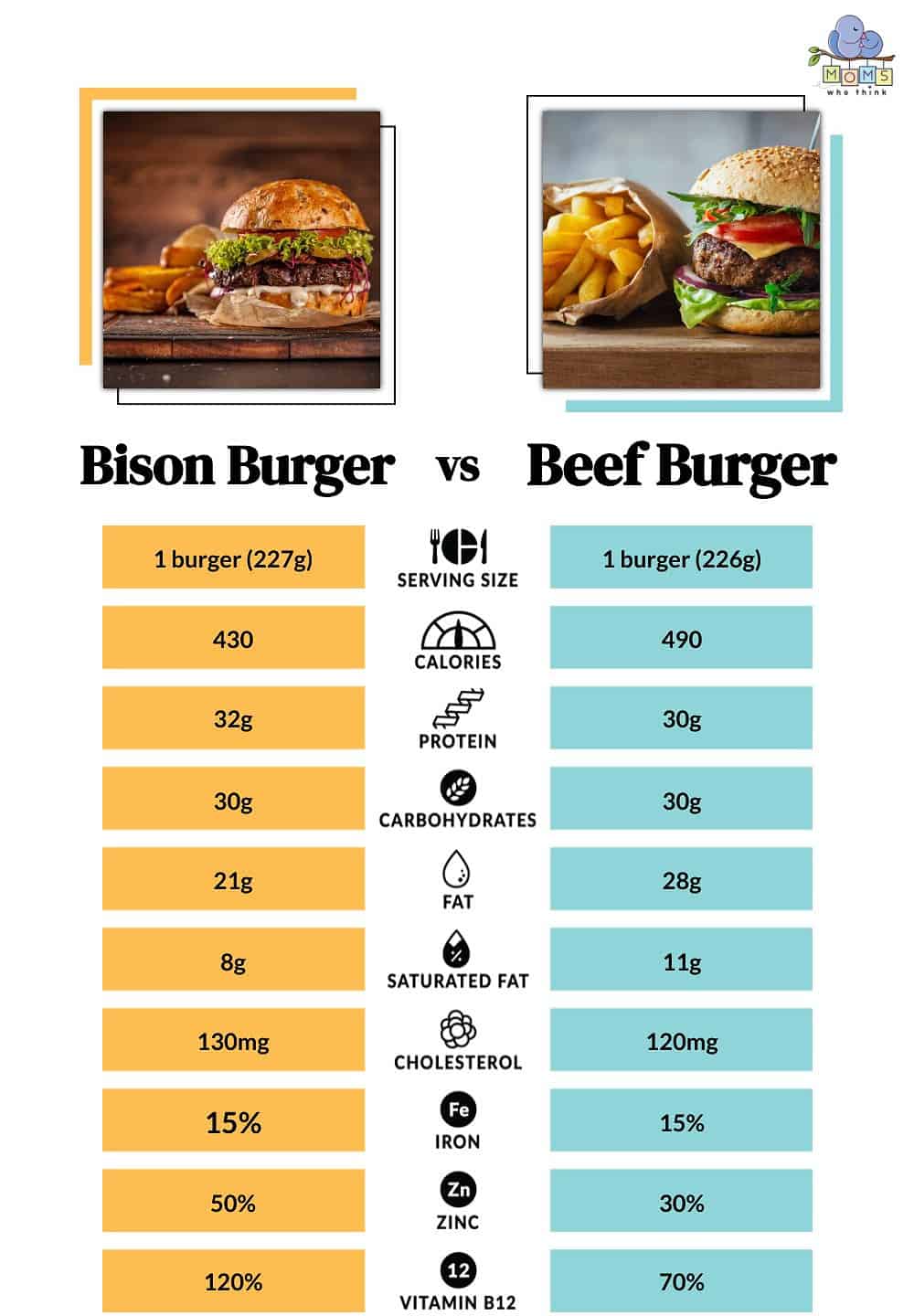 What Is a Bison Burger?
Like a standard beef burger, a bison burger is made from bison meat instead of ground beef. While these burgers aren't necessarily new, they have grown in popularity over the past decade. Bison burgers have become particularly popular in certain areas, such as South Dakota, where most of the bison used for farming are produced.
Bison burgers are cooked similarly to beef burgers but are often cooked rare or medium rare. This is because they're much lower in fat. If you cook a bison burger too long, it will dry out faster than a beef burger.
You can eat bison burgers the same way you would a beef burger. You get to choose from a variety of toppings depending on your preferences. While many people prefer one to the other, both bison burgers and beef burgers can make a delicious meal when cooked properly.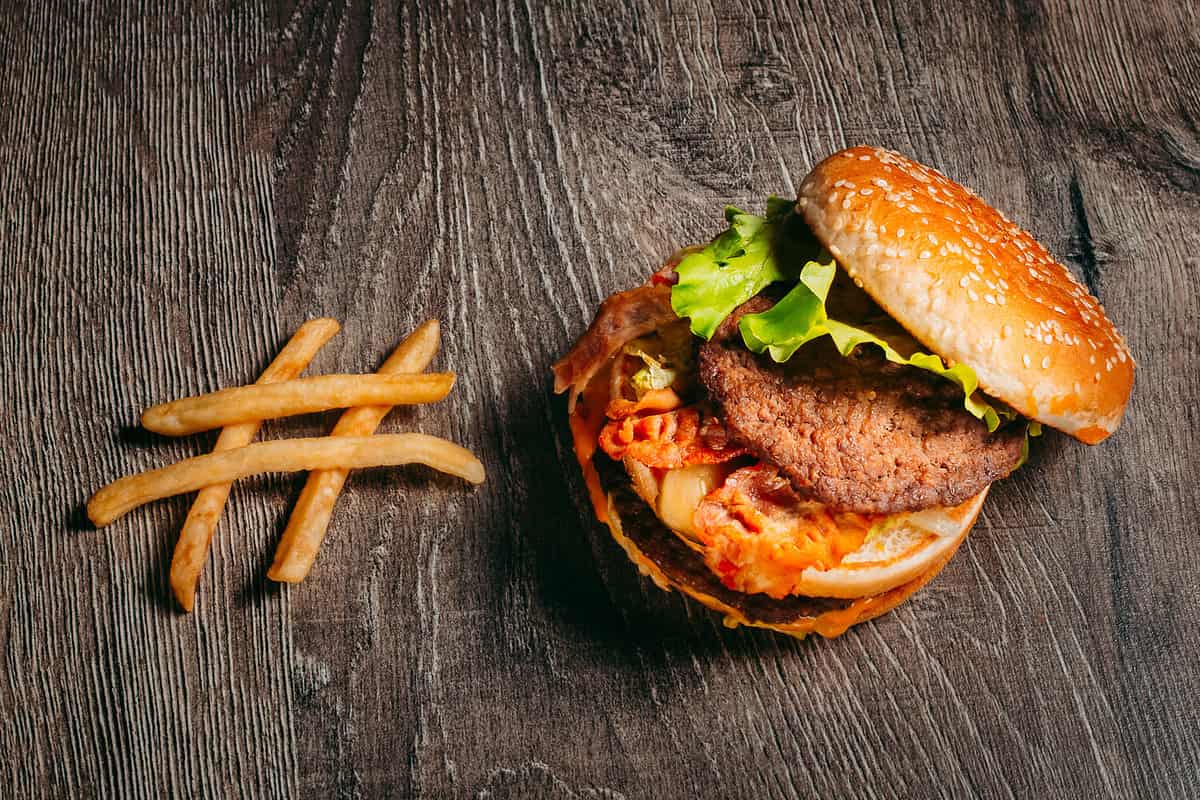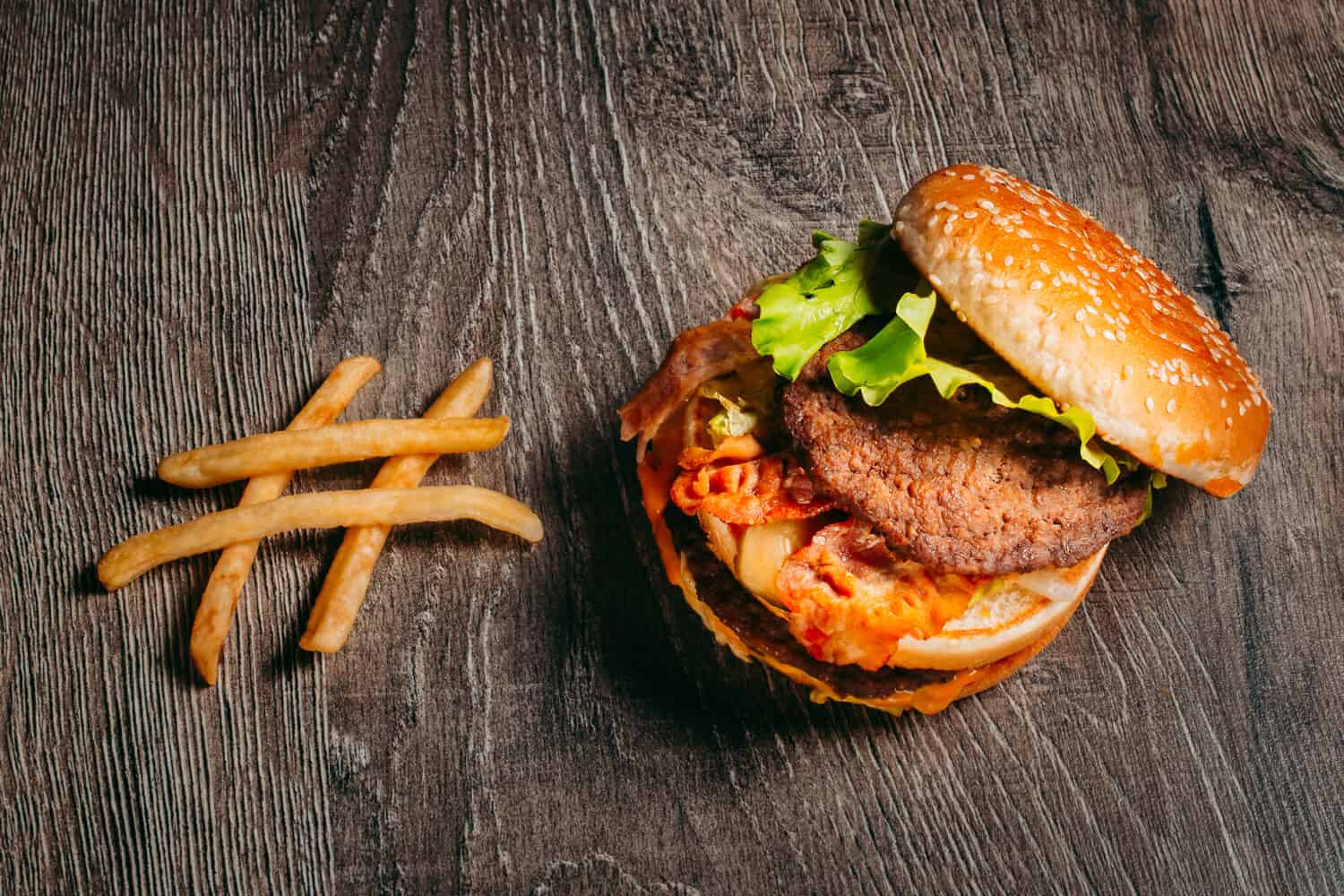 What Is a Beef Burger?
Even though there are many varieties, the beef burger is still the standard for delicious, juicy burgers. A beef burger is a burger made of a ground beef patty. Traditionally, these burgers are served anywhere from rare to well-done, although many enthusiasts claim that no one should eat a well-dressed burger. According to one survey, the majority of people order their burgers medium, while only 16% eat them well done.
Beef burgers can be found at most restaurants, unlike bison burgers, which aren't as common. However, with the rising popularity of bison meat, bison burgers are becoming more common than they used to be.
When you order a beef burger at most restaurants, you choose how you want it cooked and what toppings you want. The classic burger toppings are lettuce, tomato, pickles, and ketchup, but unique toppings such as fried egg or onion straws are taking over the world of burgers.
Which Is Healthier: Bison Burger or Beef Burger?
When it comes to which type of burger is healthier, there are numerous things to consider. While we do know bison meat has less fat and calories than beef, how you eat your burger is going to have an impact as well.
If you choose to wrap your burger in a lettuce wrap instead of using a bun, the calories will be significantly lower. When eaten the same way, bison is considered healthier because it is lower in calories and saturated fat. Bison is also higher in protein and iron. When comparing the nutritional value of the two burgers, you may not notice much of a difference in calories due to the difference in toppings and condiments.
Picking the Perfect Burger for Your Next Meal
If you're a burger fan, there's no reason you won't love both bison and beef burgers. When it comes to the difference between a bison burger and a beef burger, the main differences are the cost, how the animals are raised, and the nutritional value of the meat.
Only you can decide whether you think the bison burgers out there are worth the hype, but if you're a fan of beef burgers, they're definitely worth trying!
Recipe Card
If you're searching for a delicious and easy burger recipe, look no further. Try this juicy bison burger that the whole family is sure to love!
Print
Bison Blue Cheese Burger
---
Author:

Total Time:

30 mins
1

lb

of bison ground meat

1 tsp

of salt

1 tsp

of black pepper

1/2

cup

of blue cheese crumbles

4

of hamburger buns

1

cup

of arugula

1/2

cup

of caramelized onions
---
Instructions
Preheat grill to medium-high heat.
Form the ground bison into 4 patties and season with salt and pepper.
Grill the patties for about 5 minutes on each side for medium-rare.
Top each patty with blue cheese crumbles in the last 2 minutes of grilling to melt slightly.
Assemble the burgers with buns, arugula, caramelized onions, and the bison patty.
Prep Time:

20 mins

Cook Time:

10 mins

Category:

Main Course

Method:

Grilling

Cuisine:

American