Ground sirloin is flavorful and versatile, making it a popular choice for many dishes. Let's look at what ground sirloin is and 4 mouth-watering recipes. Ground sirloin is the leanest meat from the sirloin sub-primal part of the cow and is ground up. It is high in protein and has fewer calories when compared to ground beef, making it a healthier option.
Print
Sirloin Chorizo Burgers
---
Author:

Total Time:

35 minutes

Yield:

8

1

x
Description
These sirloin chorizo burgers are succulent, full of flavor, and absolutely delicious.  The traditional Spanish sausage adds a hint of smokiness and spiciness to the burger. Your guests are going to enjoy every bite. 
---
8

slices pepper jack cheese

2

lb

. fresh ground sirloin

1

egg (whisked)

1

lb

. fresh ground chorizo

1/2

cup

red onion (finely minced)

2 teaspoons

garlic powder

1 teaspoon

ground black pepper

2 teaspoons

smoked paprika

2 teaspoons

kosher salt

2 teaspoons

ground cumin
---
Instructions
First, turn the oven on to grill mode and preheat the grill to high.
In a small bowl, mix the garlic powder, black pepper, kosher salt, cumin, and paprika.
Next, in a medium-sized bowl, mix the ground sirloin and chorizo until well combined. Add the dry ingredients and onion then mix again.
Then divide the meat mixture into 8 equal portions. Flatten each portion into a 4-inch wide and 1-inch thick patty.
Using a tablespoon, press the center of the burger and create a dimple. This keeps the burger flat and prevents it from swelling in the middle. Season with salt and pepper.
Put the patties on the grill and grill the burgers for 17 minutes until the internal temperature reaches 160°F. Remember to turn them over halfway.
Next, put a slice of pepper jack cheese on each one and grill for 1 minute until melted.
Remove from the grill. Serve each patty on a round bun and garnish with lettuce, rocket, and tomatoes.
Print
Meatball and Ziti Bake
---
Author:

Total Time:

35 minutes

Yield:

4

1

x
Description
This popular Italian-American dish is filled with flavorful meatballs, ziti pasta, and a rich tomato sauce. 
---
2

oz

. part-skim grated mozzarella cheese, about 1/2

cup

6

oz

. whole wheat uncooked ziti

28

oz

. crushed tomatoes

1/3

cup

panko Japanese breadcrumbs

1/4 teaspoon

freshly ground black pepper

1

large egg

1/2 teaspoon

crushed red pepper

1 tablespoon

olive oil

1/4

cup

fresh basil divided and chopped

12

oz

. lean ground sirloin

2 tablespoons

minced garlic, divided

1/2 teaspoon

kosher salt, divided
---
Instructions
First, preheat your broiler on high. Then cook the pasta according to the directions on the package. Drain in a colander and keep ½ cup of the cooking liquid.
Put the panko Japanese breadcrumbs, ¼ teaspoon salt, back pepper, 1 tablespoon garlic, sirloin, and egg in a bowl. Mix until well combined. Next, roll the sirloin mixture into 12 1-inch meatballs. Over medium heat, add the oil to a large ovenproof skillet. Then add the meatballs and cook for 5 minutes, turning to brown all the sides. Next, add the remaining teaspoon of garlic and cook for 30 seconds. Add the ½ cup cooking liquid and remaining ¼ teaspoon of salt, 3 tablespoons of basil, red pepper, and tomatoes to the pan. Lower, the temperature and simmer with the lid on for 15 minutes.
Finally, stir the pasta into the tomato mixture, sprinkle with cheese, and broil for 1 minute until the cheese melts. Remove it from the grill and sprinkle the rest of the basil on top. Serve with a fresh green salad and crusty garlic bread.
Print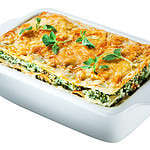 The Best Homemade Lasange
---
Author:

Total Time:

1 hour 45 minutes

Yield:

1

2

1

x
Description
This hearty, comforting lasagne dish is perfect for any occasion and can also be made ahead of time. This timeless Italian recipe is made with layers of meat, pasta, and cheese.
---
1/4

cup

Parmesan cheese, grated, for topping

2

lb

ground sirloin

16oz

bag of mozzarella cheese, grated

1/2 teaspoon

salt

1 1/2 teaspoons

dried oregano

1/2 teaspoon

pepper

1 tablespoon

fresh chopped parsley

1

diced medium yellow onion

1/4

cup

grated Parmesan cheese

1

clove of diced minced garlic

16 oz

container of cottage cheese with excess liquid drained

14 1/2 oz

can of whole tomatoes

16

lasagne sheets

15 oz

can of tomato sauce

1 tablespoon

granulated sugar

2 tablespoons

of chopped fresh parsley

2 teaspoons

of basil
---
Instructions
First, spray a 9" x 13" casserole dish with spray and cook. Put the rack in the center of the oven and preheat to 350°F.
Next, in a large pot brown the ground sirloin with garlic, onion, salt, and pepper. Once the sirloin has cooked, drain any access fat. Add the sugar, parsley, basil, tomato sauce, and whole tomatoes. Break the tomatoes as the sauce heats up. Bring to a boil then reduce the heat and simmer on low for 45 minutes until thickened.
In the meantime, parboil the lasagne sheets for 3-4 minutes. Drain and set aside.
In a small bowl mix the oregano, parsley, ¼ cup of parmesan, and cottage cheese.
It's time to build the lasagne. First, spread 1 cup of meat sauce on the bottom of the dish then layer it with 4 lasagne sheets. Next, spread some of the cottage cheese mixture over the layers and add another cup of meat sauce, sprinkle with mozzarella cheese.
Repeat in layers and finish off with a layer of lasagne, cottage cheese mixture, meat sauce, and mozzarella. Sprinkle some more Parmesan on top and cover with tin foil.
Bake in the oven for 30 minutes. Then remove the foil and bake for a further 15 minutes. Take the lasagne out of the oven and allow it to rest for 15 minutes before serving. Serve with a crisp green salad.
Prep Time:

1 hour

Cook Time:

45 minutes
Nutrition
Serving Size:

1

Calories:

407

Sugar:

5g

Sodium:

620 mg

Fat:

17 g

Saturated Fat:

5 g

Carbohydrates:

32 g

Protein:

35 g

Cholesterol:

28 g
Print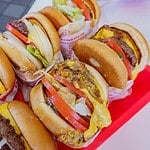 Smash Burgers
---
Author:

Total Time:

15 minutes

Yield:

4

1

x
Description
These burgers are super juicy in the middle, with crispy edges, and only take about 10 minutes to prepare.  The secret to making them is to cook them in a skillet and not on the grill, so they maintain their juiciness. Top them with your favorite burger fixings, like lettuce, onion rings, cheese, and tomatoes.
---
4

burger buns

1 tablespoon

canola oil

8

slices of American cheese
Kosher salt

2 tablespoons

butter softened

1

pound

ground sirloin
Freshly ground black pepper
Your choice of toppings
---
Instructions
First, brush a stainless steel or cast iron skillet with oil and put it over medium heat for 3-4 minutes. In the meantime, form ¼ pound of beef into 2 loose, 2-inch thick patties. It should barely hold its shape. Season each side with salt and pepper.
Next, butter the buns and put them butter side down on the skillet. Cook until nicely toasted, and set aside.
Turn the heat up to medium-high for 1 minute.
Put each patty in the skillet and firmly push them down using a spatula until they are about 4-4 ½ inches wide and ½ an inch thick. Season with salt and pepper.
Without disturbing the patties, cook until the outer edges are dark brown.
Next, turn the patties over and cook for 1 minute. Then add cheese and cook until your desired doneness.
Remove the patties from the skillets place them cheese side up on a paper towel, and then repeat the process with the remaining patties.
Finally, put them on the buns and add your favorite topping. Serve with fries and enjoy
Prep Time:

5 minutes

Cook Time:

10 minutes
Nutrition
Serving Size:

1

Calories:

601

Sugar:

4 g

Sodium:

1281 mg

Fat:

41 g

Saturated Fat:

18 g

Trans Fat:

2 g

Carbohydrates:

23 g

Fiber:

1 g

Protein:

32 g

Cholesterol:

134 mg
Conclusion
In brief, ground sirloin is an affordable lean flavorful, and versatile type of beef. It is commonly used to make meatballs, burgers, pasta, tacos, and more. So, the next time you're in the mood for a burger or lasagne try one of these ground sirloin 4 mouth-watering recipes.
You Might Like
The image featured at the top of this post is ©DronG/Shutterstock.com.