You may be a fan of black raspberries, but you also may be a fan of blackberries. The differences between the two are more specific than you may think. Sure, both are sweet and certainly healthy, but how do you differentiate one fruit from the other?
Let's dive into their differences and a nutritional comparison of the two.
Neither Are Real Berries
According to WebMD and contrary to popular belief, blackberries and black raspberries are not real berries. This is because they are made of drupelets, which are "individual nubs" that come together to form the entire berry.
Blackberries and black raspberries are, however, undoubtedly fruits. Blackberries tend to be soft and white or green in the center. Black raspberries, meanwhile, are hollow on the inside, just like a raspberry.
Blackberries Are Larger
In general, blackberries are larger and smoother than black raspberries, which aren't shiny and appear "matte" on their surface, according to WebMD. Blackberries are also darker, due to their higher anthocyanin content.
According to Savory Suitcase, blackberries provide a diverse array of nutrients. They contain a lot of vitamins C and K, and antioxidants, too.
Raspberries, meanwhile, are more known for their vibrancy and being more delicate. They are also sweet and also incredibly nutritious. Raspberries have few calories but a lot of fiber, and are, similarly, a good source of vitamins C and K. Raspberries are also essential in proper immune function and bone health.
Blackberries Are More Tart
In general, blackberries are considered more tart than raspberries, which are slightly more mellow in flavor. Naturally, however, blackberries vary depending on their ripeness.
When it comes to cooking, blackberries are often used in pies, jams, and other sauces.
Raspberries, on the other hand, are more "bright" and "refreshing," according to Savory Suitcase. They are far more subtle and delicate in nature, and often do well in sauces, too.
In terms of healthiness, one cup of blackberries is just 62 calories, and contain 14 grams of carbohydrates per serving. Raspberries, similarly, contain about 64 calories per cup, and about 15 grams of carbohydrates per serving.
A Quick Comparison of Black Raspberries and Blackberries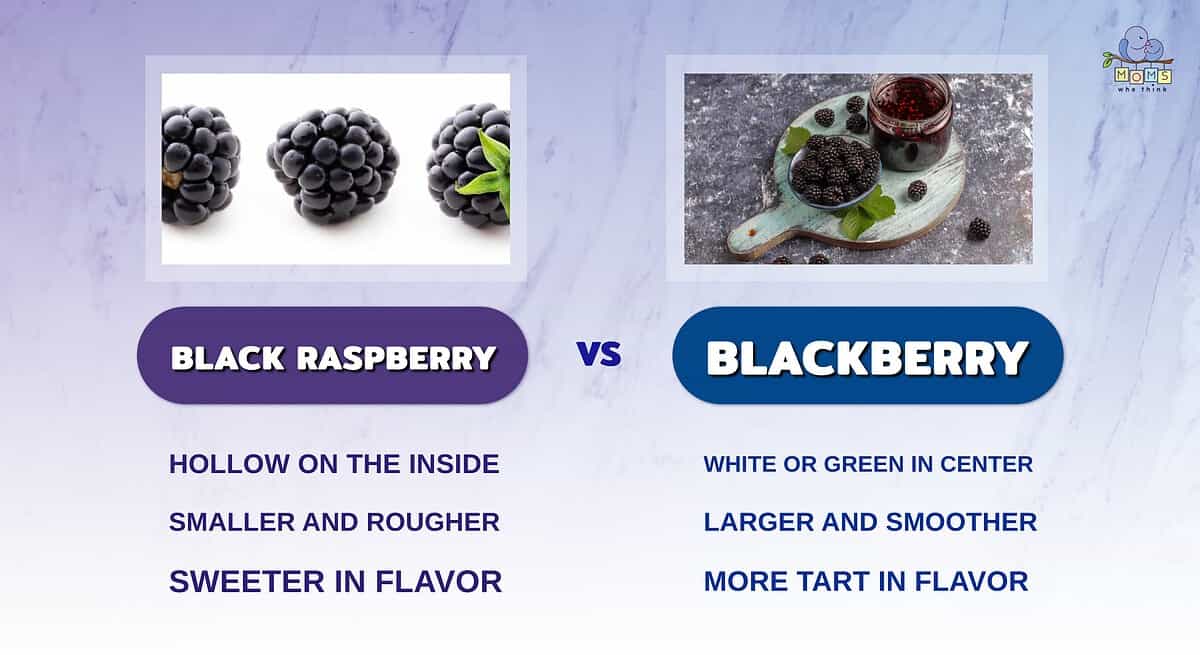 Like their red counterparts, black raspberries are hollow on the inside. Blackberries are white or green in the center. Blackberries are larger and smoother than black raspberries. Raspberries are known for their sweetness; black raspberries meet this expectation quite well! Blackberries have a tarter taste; which you prefer is ultimately up to personal preference!
A simple tip? Use either as a dessert topping, and you're sure to be satisfied! Or, you can use blackberries in this pie recipe:
Print
Blackberry Pie
---
4

cups

fresh blackberries

1/2

cup

all-purpose flour

1/2

cup

white sugar
Crust Ingredients:
Pastry for

2

crusts (recipe here)

2 Tablespoons

milk
1/4 cup white sugar
---
Instructions
1. Combine 3 1/2 cups of the blackberries with the flour and sugar. Spoon the mixture into an unbaked pie shell.
2. Spread the remaining 1/2 cup berries on top of the sweetened berries, then cover with the remaining crust. Pinch edges to seal.
3. Brush the top crust with 2 Tablespoons of milk, and sprinkle with 1/4 cup of sugar.
4. Bake at 425 degrees F for 15 minutes, then turn the oven down to 375 degrees F. Bake for an additional 20 to 25 minutes.
The image featured at the top of this post is ©Stock for you/Shutterstock.com.