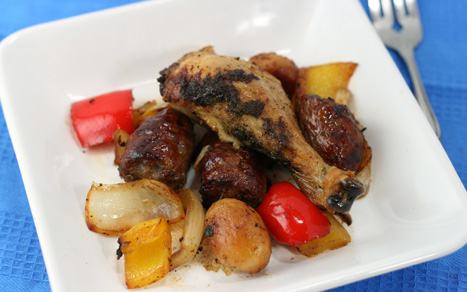 Chicken Supreme
Chicken and sausage create the perfect marriage of light and spicy in this hearty casserole. Potatoes with just the right amount of spice add to the rib sticking goodness, making this a soon to be classic comfort meal.
Ingredients:
6 medium potatoes, peeled and quartered
2 bell peppers (red, yellow or green), sliced
1 medium onion, thinly sliced
1 teaspoon oregano
1 teaspoon paprika
1/2 teaspoon garlic powder
1 teaspoon salt
1/2 teaspoon pepper
1 frying chicken, cut up
1 pound sweet Italian sausage links, cut up
1/4 cup vegetable oil
Directions:
1. Arrange potatoes, peppers and onions in large, shallow 3-quart casserole.
2. Mix oregano, paprika, garlic powder, salt, and pepper, and sprinkle half the mixture over potatoes.
3. Arrange chicken and sausage on top. Pour oil over and sprinkle with remaining seasonings.
4. Cover and bake at 425 degrees F for 1 hour.
5. Uncover, and bake at 375 degrees F for 30 minutes, or until browned. Serves 6.
Try one of our fan-favorite chicken recipes:
Click for more Chicken recipes