Traditionally, meat loaf is ground meat mixed with other ingredients, molded into the shape of a loaf and then baked or smoked. It is usually made with ground beef but other meats like ground lamb, veal, pork, venison, seafood, or poultry can be used as well.
Other ingredients are added to the meatloaf to keep it moist. The added ingredients can vary depending on personal taste. Many add cheese or vegetables and cover it with sauce.
Meatloaf has different origins in different cultures. It was first mentioned in a Roman cookery collection in the 5th century. However, it is more often seen as a cousin to the Dutch meatball in Belgian, Scandinavian and German cultures.
In America, its origins can be traced back to scrapple, a mixture of ground pork and cornmeal popular with early German-American immigrants. However, it did not appear in American cookbooks in its contemporary form until the late 19th century.
Today, meatloaf is popular in several countries, each having their own versions of the classic dish.
How to Keep your Crock Pot Meatloaf Moist
Because ground beef is prone to drying out, some may be reluctant to prepare it in a crock pot. After all, it seems reasonable that leaving meat in heat for such a long amount of time will cause it to lose its moisture. However, if you follow the right recipe, your meatloaf will be so moist and tender, it will practically fall off your fork.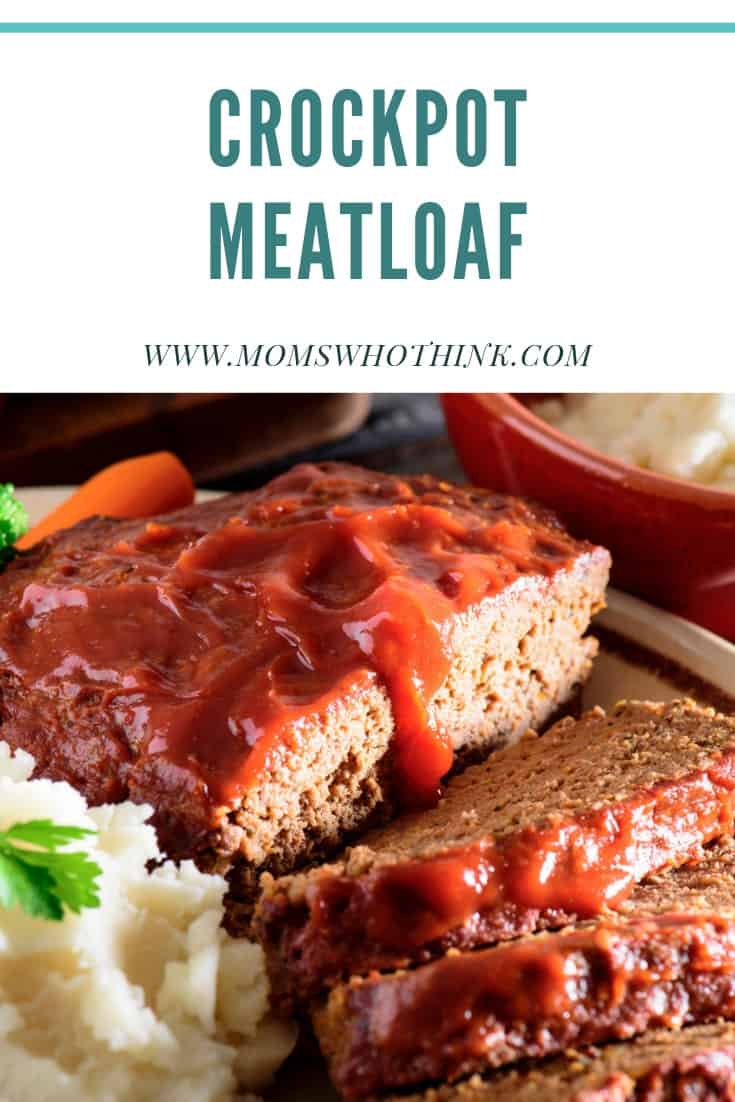 And cooking in a crock pot is always easy and convenient. Just prepare food and throw it in your crock pot at the beginning of the day. Then, look forward to coming home to the aroma of a nice, home cooked meal.
This meatloaf crock pot recipe is easy to make. Just mix the basic ingredients, form into a loaf and cook. It always comes out perfect, not crusty or dried out.
So tonight, why not take it easy on yourself and make a meal your family is sure to love? Try this recipe and find out how happy it will make your hungry crew!
If you enjoyed this recipe, make sure to check out our German Sauerbraten with Cabbage and Apples Recipe and our Game Day Chili Recipe.
Meatloaf in Crockpot Recipe and Ingredients
Print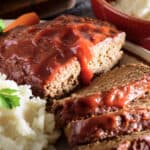 Crock Pot Meatloaf Recipe
---
Author:

Total Time:

8 Hours, 25 Minutes

Yield:

One Meat Loaf
Description
This meatloaf crock pot recipe is easy to make. Just mix the basic ingredients, form into a loaf and cook. It always comes out perfect, not crusty or dried out.
---
2 1/2

pounds ground beef

1 Tablespoon

brown sugar

1/4 cup

ketchup

1 Tablespoon

Worcestershire sauce

1

egg

1 cup

breadcrumbs

1/4 cup

water

1

small onion (diced)
---
Instructions
Mix all ingredients in a large bowl.
Form into a loaf to fit crock pot. Place a strip of foil under the meatloaf and place in crock pot, cover with 2 tablespoons ketchup.
Cover and cook on low for 8 hours.
Prep Time:

25 Minutes

Cook Time:

8 Hours

Category:

Main Course

Method:

Crockpot

Cuisine:

American
Keywords: crock pot meatloaf, meatloaf in crockpot
Sides to Serve with Meatloaf
Looking for something extra to throw together for dinner tonight? We've got some ideas that pair perfectly with this meatloaf recipe.
Mashed potatoes. What sides list is complete without mashed potatoes? Certainly not this one. Mashed potatoes are a popular side to serve with meatloaf. Throw on some homemade gravy, and you're good to go. If you want quick and simple mashed potatoes, buy them pre-made.
Applesauce. If it's fall, then applesauce is the perfect comfort dish to serve alongside meatloaf. If apples are plentiful in your area, consider making your own applesauce. Sprinkle cinnamon on top for an added flair.
Mixed vegetables. Getting your daily vegetables in is so important. This is a great and simple way to do it. Buy a bag of frozen mixed veggies from the store and serve them with your meatloaf.
French fries. This might be a bit of a different choice, but they can go well with meatloaf! It makes sense if you think about it- mashed potatoes go well with meatloaf, so a different variation of potatoes should as well.
Bread. You can't go wrong with classic bread. Make your own, or buy a nice loaf from your local bakery. Slather as much butter on as you want, and serve! This is a simple way to make your meatloaf dinner heartier and more filling.
Honey-glazed carrots. Kids in your family fussy about eating carrots? Make these honey-glazed carrots to hopefully solve that. The honey will add a level of sweetness to the carrots, masking their natural slight bitterness.
Sweet potatoes. Sweet potatoes are delicious, and can be a comfort food in the colder months. Make a sweet potato casserole, or serve them plain. Whichever option you choose, it's sure to go well with your meatloaf.
The image featured at the top of this post is ©iStock.com/4kodiak.